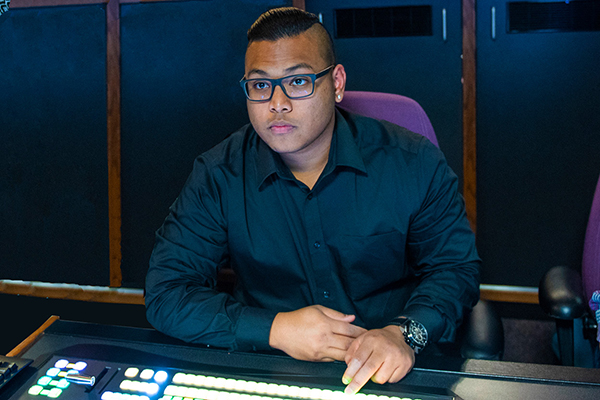 When Geoshan Lee graduates from University of the Ozarks this month, he will continue a family legacy that began approximately 40 years ago when his parents met as students on the Ozarks campus.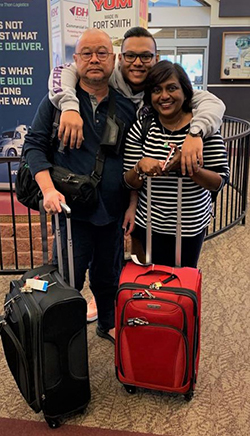 Lee, from Penang, Malaysia, will graduate with a communications degree and minors in marketing and theatre. His parents, George Lee and Naomi Paranjothy, met as Ozarks students in the early 1980s, both graduating with business administration degrees in 1985. Married since 1990, the Lees live in in Penang, where they've established impressive careers in public relations, event management and software development.
Lee said even though his parents were both from the same city and attended the same church in Malaysia, they didn't meet until arriving at Ozarks.
"It's strange that they had to travel all the way here to meet each other," Lee said. "They both love Ozarks and have very fond memories of their time here, especially having made some lifelong friends. They're pretty happy and proud that I'm going to be an Ozarks graduate as well."
Growing up on the east coast of Malaysia and later in Penang, Lee and his two brothers would often hear about the University from his parents. Lee decided to attend Ozarks as a transfer student in 2018 after visiting campus with his parents and meeting with the professors in the communications program.
"I have always enjoyed taking photos and making videos, so communications was an easy choice," Lee said. "At a young age, my father introduced me to photography and he has always encouraged me to improve myself. Once I saw the facilities at Ozarks and visited with the professors, I knew this was the place where I could improve my skills and knowledge."
The University's LENS program forced Lee to think outside the box in choosing his minors, something he is now grateful for.
"I chose marketing as a minor because I enjoy marketing and the concepts behind it, and it is a great skill set to have," he said. "The reason I chose theatre as my other minor is because of the LENS program. When I came to the U of O, I was new to the world of theatre, and I was afraid that I would not be able to fit in. I probably wouldn't have taken theatre if it weren't for LENS, but I'm glad I did. The environment was very welcoming and being a part of it has helped me understand the process of theatre, the collaboration and cooperation needed to produce a good show. These are characteristics that are extremely beneficial to me as a communications major."
Lee said Ozarks has helped put him a career trajectory that has him excited and inspired.
"I want to be great in the field of filmmaking and photography and I believe my professors here have helped me down that path," Lee said. "I was able to gain new experiences and better knowledge in these areas and I'm excited about what the future holds."
Lee said one of the highlights of his time at Ozarks was working on a documentary with award-winning Northwest Arkansas filmmaker Larry Foley called, "Indians, Outlaws, Marshals & the Hangin' Judge," that is scheduled to be released this year. Several students had the opportunity to help out with the production through connections with Ozarks Professor Susan Edens.
"To be able to work alongside professionals in their field of work was a great experience," Lee said. "With the help and guidance of Professor Edens, it was an honor to have such a rare opportunity. That is just one example of many where Ozarks provided me with opportunities to grow both personally and professionally. The faculty and staff at Ozarks have been supportive and helpful from day one."
Lee said he plans to continue his formal education in photography and filmmaking after graduating from Ozarks and that he hopes his own children might one day follow in his footsteps at his alma mater.
"I am proud to have kept this legacy of my parents at Ozarks and I hope to pass it to my children one day," Lee said. "My two years here at Ozarks have been so beneficial to me as a student and as a person. I have made friends that I will forever hold close to my heart and the faculty and staff have impacted my life in ways that I never would have thought. I will forever be grateful for my parents meeting here and having an opportunity to attend here."
Topics: About, Academics, Alumni, Business Administration, Communication Studies, International, Marketing, Student Stories, Theatre