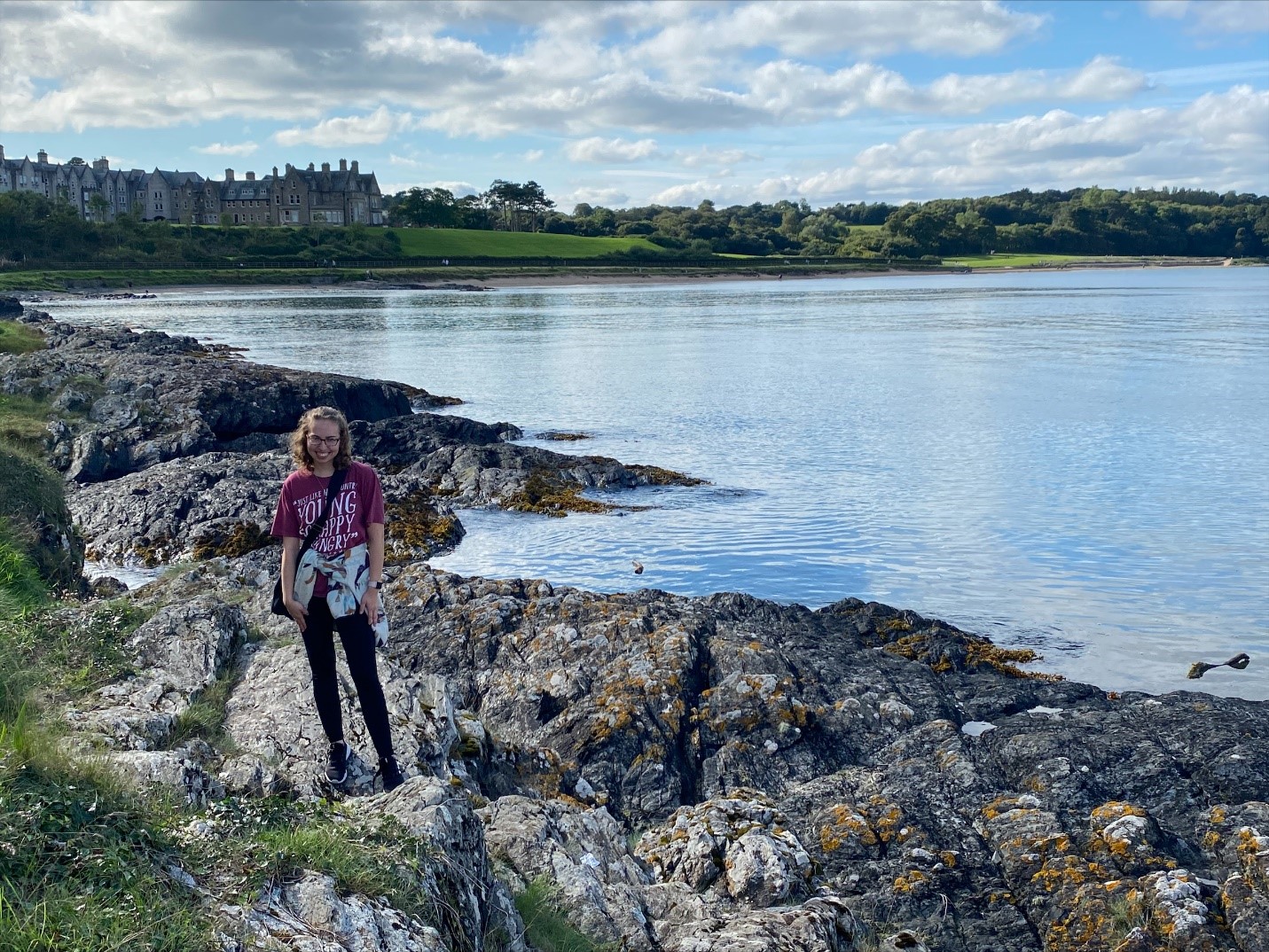 Jennifer Schmitt was apprehensive about going to Ireland for her study abroad experience, but not just because it was a country she was unfamiliar with, but because she was going in September 2021, during a very unsure time in the pandemic. Jenny is also one of our JLC students, so navigating the academic requirements of her program was also a huge concern for her.
University of the Ozarks provides many different options for students to participate in study abroad, with Ireland being a program that is offered through Study USA. For students to be eligible to participate in this specific program, they need at least a 3.2 GPA as well as be in their sophomore year at Ozarks. Nicole England, Ozarks' Director of Walton Scholars Program and International Program Manager, said that "Studying abroad is an enriching opportunity both personally and academically. Students have the opportunity to learn new languages, appreciate various cultures, different teaching methods, and global issues. The intercultural experiences gained while studying abroad are life-changing to students. University of the Ozarks participates in several exchange programs with universities around the world – we have partners in countries in Europe, Asia, Central America, South America and the Caribbean."
Speaking on her time in Ireland, Jenny said that one of the most difficult things for her to adjust to is that she had no school assignments until the last 5 weeks of school. During her time before her assignments came due, Jenny participated in the culture of Ireland and was able to immerse herself in the beauty of the country. "Ireland is a beautiful country that pulls you in, not only with its rich history, but also its welcoming diversity" she said of her experience.
While she was studying abroad during the pandemic and at times that made things a bit more challenging, Jenny went on to say that she thinks of her experience "as a positive one" and that the study abroad program has "changed [her] life forever."
The program was so influential and positive for her, that she has even encouraged two of her friends to participate in the program in the future. Madisyn Doddridge, Ozarks health science major, said that Jenny's experience with the "people, places, and even the campus" made her decide to go. Madisyn went on to say that she hopes she gets to encounter all that Jenny did and more.
Another student who has decided to take advantage of this opportunity is Claudia Garcia, Ozarks elementary education major. Claudia was persuaded that this was the opportunity for her after Jenny mentioned her experience and the connection with the education program. "Talking with Jenny has been extremely helpful in my application process and getting accepted, but I also hope to have the same experience she went through as well as gain all the knowledge and more that she brought back with her from Ireland."
Tina McCain, Jenny's JLC Academic Coordinator, was so excited for her to be able to participate in the program. Tina said of Jenny "[she] has always been independent, determined, and self-motivated. Studying abroad allowed her to build on that independence to grow her self-confidence and establish new friendships."
When it comes to the academic support that Jenny was accustomed to while on Ozarks campus, Tina and Jenny continued to meet a few times each week via Zoom in order to make sure she was on track and not experiencing anything that could potentially set her back during her studies. During these sessions, Tina said that Jenny's "excitement was contagious. It was so fun to hear her describe her experiences and share about the culture of Northern Ireland."
Jenny was drawn to Ozarks through the JLC. As a student who has been diagnosed with A.D.D. (Attention Deficit Disorder), it is difficult for her to pass tests and to say on top of assignments. Through the JLC program, she is able to take normal classes with the additional support that she sometimes needs. Jenny said that "the JLC has helped me reach my goals by being an educational support system and I even used the JLC while I was in Ireland. That was helpful because I was able to talk with my coordinator and use the writing assistants."
One of Jenny's favorite things about Ozarks is our size. "My favorite part of University of the Ozarks is how small it is and how it feels like your second home. When I first saw the chapel in person that was the biggest draw."
Jenny is from Defiance, Missouri and is a junior. Outside of her studies, she enjoys singing and dancing. Help us celebrate the 50th anniversary of the JLC during our Homecoming weekend April 8-10! See the weekend schedule and register for events now.
Topics: Campus Life, JLC, Student Stories, Study Abroad