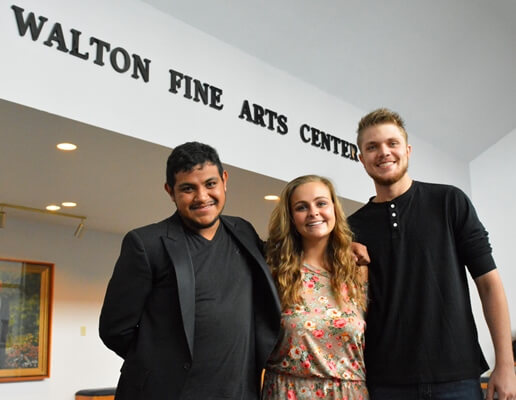 Several University of the Ozarks theatre students spent their summer break honing their skills and gaining invaluable hands-on experience in internships across the country.
Three of those students — Rhett Sells, Haley Hanks and Eleazar Coronado — made presentations to their classmates last week about their experiences.
Rhett Sells
Sells, a junior theatre major from Waggoner, Okla., worked as a carpentry apprentice at the Brevard Music Center in Brevard, N.C.; Hanks, a junior theatre and history major from Carthage, Texas, served as a general technician and actor for the Lee Street Theatre in Salisbury, N.C., and Coronado, a junior theatre major from Jonesboro, Ark., was a general technician for the Shenandoah Summer Musical Theatre in Winchester, Virginia.
Sells worked as many as 60 hours and six days a week preparing the Brevard Music Center for operas such as "Don Pasquale" and "Street Scene." He helped construct the largest and most elaborate set in the center's history for "Street Scene."
"Being a part of the biggest set was a great experience," Sells said. "It was a lot of work and we didn't have a day off for two weeks, but there was a great sense of accomplishment."
Sells said the skills and knowledge he gained in his internship will benefit both him and the University's theatre program.
"I hadn't done a lot of carpentry work at Ozarks so I really learned a lot and gained so much more confidence in my abilities," he said. "Not only were my skills enhanced, I got a feel for what it's like to work in the profession on a daily basis. I can't wait to apply what I learned to some of our productions here at Ozarks."
Haley Hanks
Hanks served the Lee Street Theatre as a props master, scenic charge artist and light operator. She also had the opportunity to direct and act in the theatre's library show called "Fire and Ice."
"It was a great all-around experience because I jumped head-first into new situations that I was very unsure about and I was able to succeed," Hanks said. "The whole experience certainly made me appreciate the theatre program at Ozarks and how it's preparing us for the real world."
Eleazar Coronado
Coronado was the third Ozarks theatre student in recent years to serve an internship at the Shenandoah Summer Musical Theatre. He worked in the carpentry shop and as a spotlight operator during performances.
"The internship exceeded my expectations," Coronado said. "I was able to learn and experience so much that will help me in the future. Working in the business also made me realize that I want to make a career of theatre."
Other theatre students who participated in internships include, Ronnie Edwards, who worked at The Great Plains Theatre in Abilene, Kan.; James Allen, who served with the Westport Country Playhouse in Westport, Conn.; and Daniel Hall, who worked with the Argenta Community Theater in North Little Rock, Ark.
Topics: Academics, Internships, Theatre