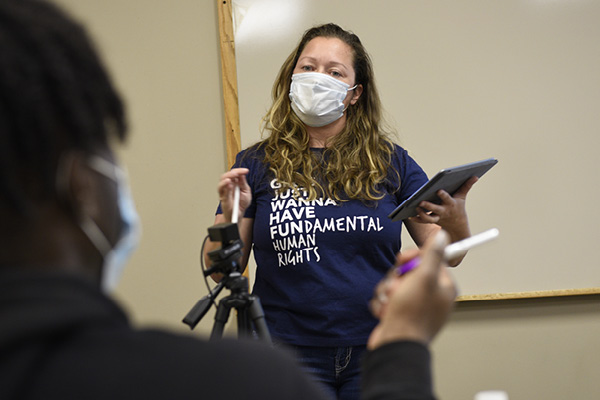 Several University of the Ozarks science programs will benefit from the addition of two new pieces of equipment this semester, thanks to a pair of shared instrumentation grants.
The grants, which totaled more than $52,000, are from the Arkansas IDeA Network of Biomedical Research Excellence (INBRE) and the National Institutes of Health (NIH), National Institute of General Medical Sciences (NIGMS). The grants will be used to purchase a metabolic cart as well as a microviscometer.
The grant for the Quark CPET metabolic cart was spearheaded by Assistant Professor of Health Science Dr. Piroska Boros (pictured above) in collaboration with Drs. Steven Machek and Derek Warren.  The metabolic cart is a research-grade equipment that measures cardiorespiratory function, and indirectly the energy requirements, during exercise on a treadmill or on an exercise bike.
"This equipment will enhance several biomedical research projects at the University in the health science, biology, and physical education departments," said Boros. "The main research component is studying cardiorespiratory fitness as a predictor of endurance performance as well as a clinical marker of chronic diseases. A metabolic cart is a basic tool for many research areas in health science, being fairly ubiquitous in exercise science and physiology laboratory settings."
Boros said that the metabolic cart will aid in instruction in both laboratory and classroom settings in a variety of classes and areas.
"The metabolic cart can be used to demonstrate exercise response in introductory anatomy and physiology classes," she said. "Our more advanced health science and biology classes will be able to use the metabolic cart to measure cardiorespiratory fitness from a wide variety of test protocols. Due to the variety of potential applications, we see the use of the metabolic cart expanding to additional programs. We foresee the physical education and athletic coaching programs using it for upper-level classes, such as physical activity and public health, and measurement and evaluation as well."
Boros added that the metabolic cart will fit in nicely with the additional laboratory spaces in the new Wilson Science Center, scheduled to open early this semester.
"We plan to use the new health science laboratory as a community outreach laboratory where we can offer various exercise testing and individual-based recommendations to University athletics, students, faculty, and staff, and eventually for the larger Clarksville community," Boros said. "The addition of the metabolic cart will allow us to add an important cardiorespiratory function measure to our list of services that has the potential to open room for undergraduate research opportunities as well as for our students to gain more practical skills in the field of health science. Gaining practical skills in administering tests with the metabolic cart will aid students to become more well-rounded scientists, as well as exceedingly more competitive amidst job and graduate school applications via the acquisition of critical evaluation skillsets."
Dr. Radwan Al Faouri, assistant professor of physics, was the lead professor on the grant for the Lovis 2000 M Microviscometer. He said the instrument can measure the dynamic and relative viscosity of different solutions with a high degree of accuracy, versatility, and time-saving features. He added that the microviscometer can be used in biology, chemistry, health science and physics classes.
"It is used in many pharmaceutical, biological and chemical applications," Al Faouri said. "It is used to measure the viscosity of pharmaceutical and medical products such as nasal sprays, ear drops, blood plasma and biological liquids, infusion liquids and contrast media, microcrystalline cellulose, protein solutions and DNA. It is also used to measure the viscosity of chemical products such as polymer solutions, printer inks, solvents, acids, and bases. After getting the essential training on using the microviscometer, Ozarks students will be ready to apply this knowledge in a wider range of research."
The primary goal of the Arkansas INBRE is to expand biomedical research capacity in the state.
Topics: About, Academics, Biology, Chemistry, Health Science, Physics