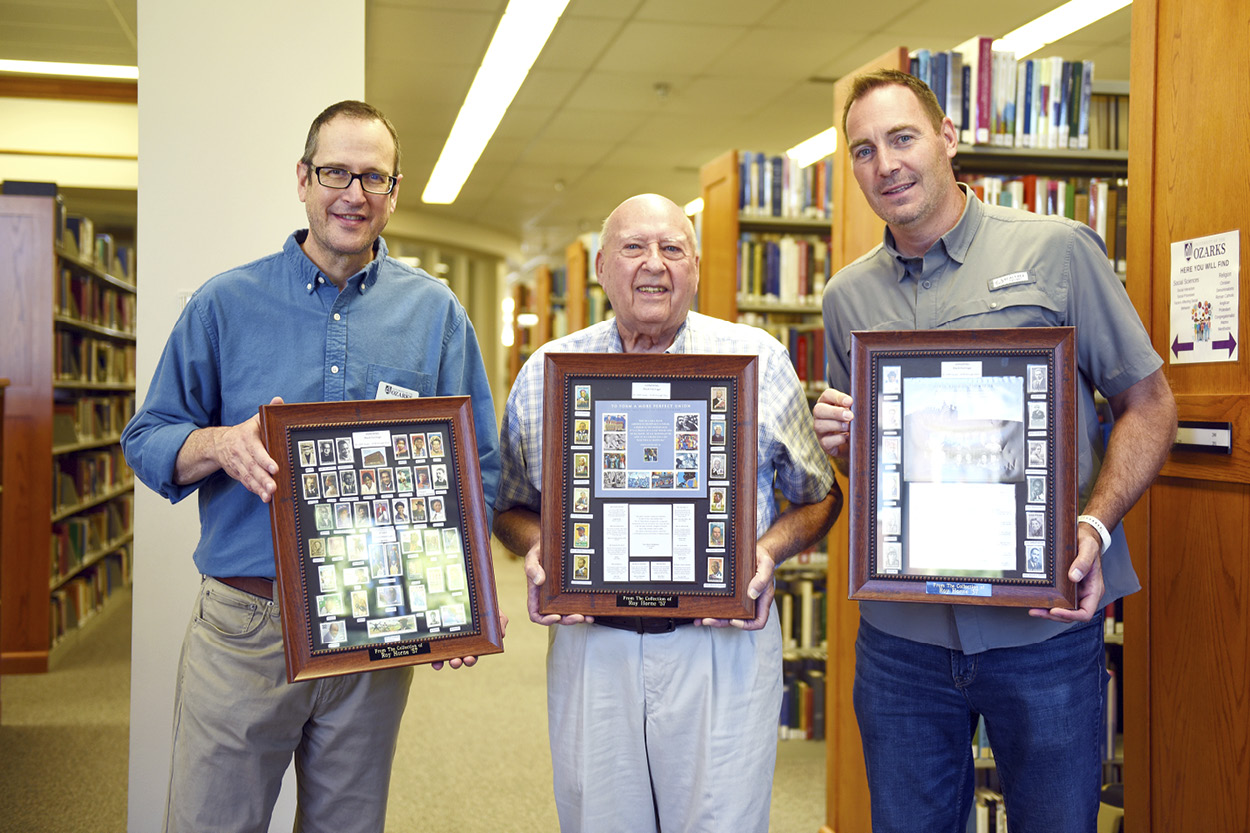 University of the Ozarks alumnus Roy W. "Bud" Horne '57 of Fayetteville, Ark., has donated a commemorative Black Heritage stamp collection dating back nearly 50 years to his alma mater.
Horne (pictured, center) was joined by Doug Denne (left), director of Robson Library, and Brian Henderson, director of alumni engagement and annual giving, during the Sept. 30th presentation of the framed stamp collection. The collection will be displayed in the University's Robson Library.
A 1957 graduate of Ozarks, Horne is retired from a long career as a high school band teacher and sporting goods business owner. He met his late wife, Irma Esther Guzman, at Ozarks in the early 1950s and they were married in Munger-Wilson Chapel. They went on to raise five children.
"This University has always meant so much to me and I met my wife and so many wonderful life-long friends here," Horne said. "That's why I felt this is something I wanted to do for the University. I'm happy to be donating this collection to the University so that students, faculty, staff and visitors can see it, enjoy it and maybe learn a little bit about Black history."
Horne said he began collecting stamps in the 1970s when his wife was teaching history. He estimated he has more than 250,000 stamps in his personal collection.
"My wife and I were teaching in Harrison [Ark.] and she was teaching elementary school history," Horne said. "We thought it would be helpful to the students to teach history through stamps. So it was my job to buy the stamps and the hobby just grew from that."
The Black Heritage stamp series collection includes more than 80 commemorative stamps from the U.S. Postal Service dating back to 1978 and running to 2022. A couple of the stamps date back to the early 1930s. Many of them feature iconic Black individuals, such as Sojourner Truth, Harriet Tubman, Louis Armstrong, Mayou Angelou, Thurgood Marshall, Jackie Robinson, Daisy Bates, Joe Louis, and Lena Horne.  
Several of the stamps depict the highly-charged 1957 integration of Little Rock Central High School. Ironically, Horne was a member of the Arkansas National Guard that then-President Dwight D. Eisenhower federalized to help stabilize the situation in the state capitol.
The Black Heritage stamp series is the longest running commemorative stamp series ever issued by the United States Postal Service. The first stamp in the series was introduced on February 1, 1978, and featured Harriet Tubman. It was also the first time an African American woman appeared on a U.S. stamp. Since then, the USPS has continued adding to the Black Heritage stamp series by issuing a new stamp every year that honors individual African Americans and their contributions to American society.