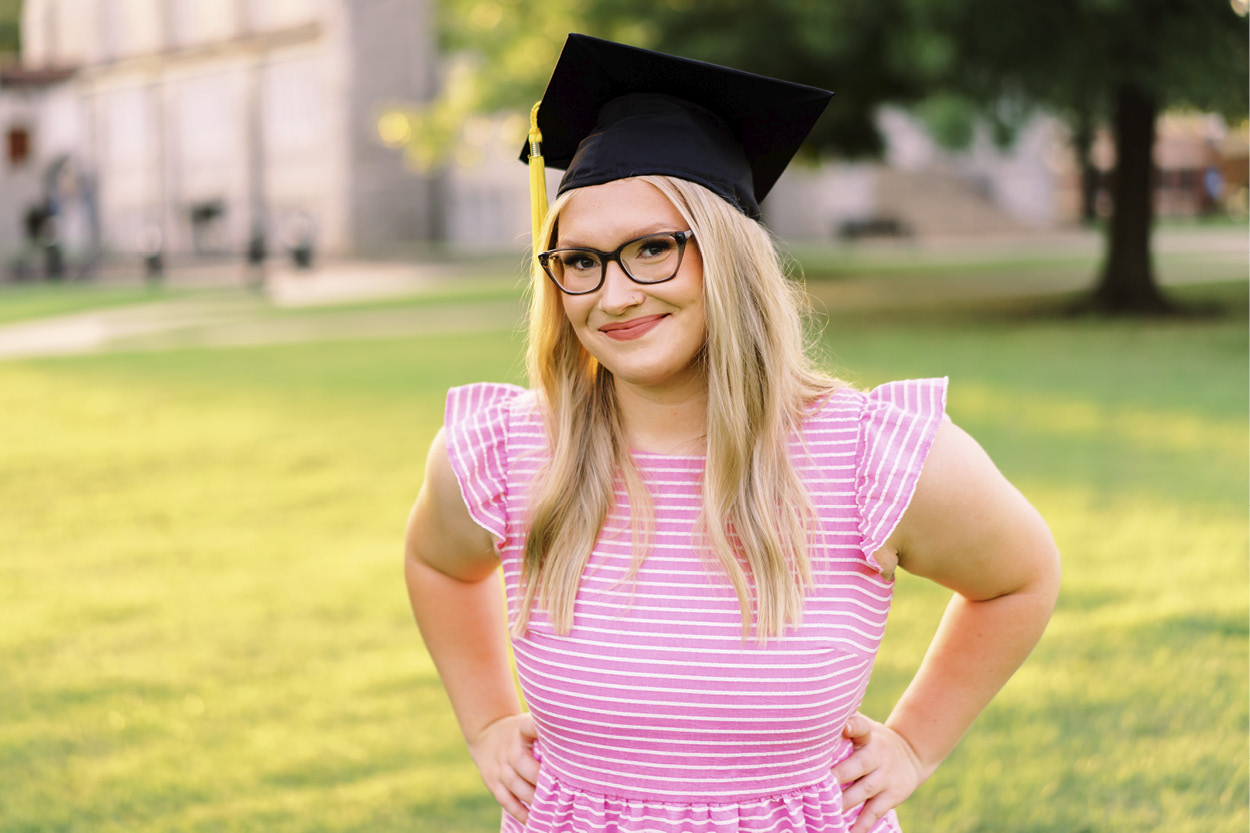 When Cody Sparks graduated from Lamar (Ark.) High School in 2019 as third in her class academically and with superior honors, she had numerous options on where to attend college. Three and a half years later, she knows that her "hometown" University was the right choice for her.
Sparks will graduate from University of the Ozarks during the 2022 Fall Semester Commencement ceremony on Dec. 17 with a degree in health science and with Magna Cum Laude honors. Looking back, Sparks said her decision to attend Ozarks was one of the best choices she has ever made.
"I was worried about staying too close to home. College is about getting out and experiencing new things, but I was not sure I would have that staying in the same town I grew up in," Sparks said. "I originally came to the University to play softball and stay close to my family. My late grandpa was very sick when I decided to come here, and I knew I needed to be close to home. When I toured Ozarks, it felt like I was still right at home. There were professors and students that would come up and talk to me and my parents during my tour and I did not have that at other schools that I visited. Once I broke my foot and my softball career ended, I knew that I still had the same support system from my friends and professors and that never went away."
Sparks said she has known since the eighth grade that she wanted to be an occupational therapist. She was accepted into her first choice of graduate schools, the OT doctoral program at Baylor University in Waco, Texas, and will begin her studies there in early January.
She found out that she had been accepted into Baylor when she received an email while sitting in Dr. Piroska Boros' kinesiology class.
"I was ecstatic when I found out I had been accepted," Sparks said. "Baylor was the school that I had been looking into since I started Ozarks due to their hybrid program and allowing placements close to home for fieldwork. Only so many get accepted and I am so thankful I was chosen to be a part of their upcoming cohort. Dr. Boros thankfully let me step out of class so I could call my family and my boyfriend, Truman [Hensley]."
Sparks credited her professors at Ozarks, especially Dr. Isaac Hunter, assistant professor of psychology, for helping her achieve her goal of being accepted into the occupational therapy doctoral program at Baylor.
"I had to write a personal statement based off of my coursework and experiences at Ozarks and my professors made sure that I had the experiences and courses to make that statement impactful," Sparks said. "Dr. Hunter was my Ozarks Seminar professor and I have had him every year since. His classes allow you to dig deeper within yourself so that you can be the person you want to be by the time you graduate Ozarks. I thank Dr. Hunter for this experience because he truly tries to get to know all his students and he has their education in his best interest."
Along with a major in health science, Sparks is graduating with minors in education, American studies and psychology.
"I chose to minor in education in case occupational therapy did not work out," Sparks said. "I know that my passion is to help those around me, and I felt like with those two choices, one of them would work in my favor.  My American studies minor allowed me to see different perspectives from an abundance of time eras with my English and history classes. I also added a third minor in psychology my senior year in case I wanted to eventually go into the mental health field."
Sparks said her ideal job would be as a director of rehabilitation at a local hospital.
"I shadowed at the hospital for observation hours in the rehabilitation unit and it was very rewarding seeing the look on the patients' faces whenever they were able to complete a task that they thought they would never be able to do again," she said. "Some of these tasks are things that sometimes we take for granted, such as being able to put a sock on. Using my doctorate degree, I will be able to efficiently work alongside a team of therapists for the benefit of our patients."
Sparks said she was blessed to have received the University's Frontier Scholarship, which along with working outside jobs, helped pay for her education.
"The scholarship allowed me to focus on my studies and not have to burden my parents," she said. "I have always had a very strong work ethic and worked smaller jobs up until I was hired part-time at Clarksville Connected Utilities and Friendship Community Care. Both jobs worked around my school schedule, which was hard to manage at first. I worked at Clarksville Connected my freshman and sophomore years of college and Friendship Community Care during my junior and senior years. Both jobs blessed me with the ability obtain income and focus on my schooling."
Sparks, whose mother, Christy (Warren) Sparks, graduated from Ozarks in 1999, called her time at Ozarks "very rewarding."
"I have met some of my best friends and I have gained several experiences across different areas of studies," she said. "I have been able to complete internships, be a part of campus activities, and several sporting activities. Now at the end of my time at Ozarks, it has allowed me to make the decision to continue to stay in Clarksville and hopefully open my own practice to better serve the community that I grew up in."
(Photo By Janae Spencer)
Topics: About, American Studies, Education, Health Science, Psychology, Student Stories