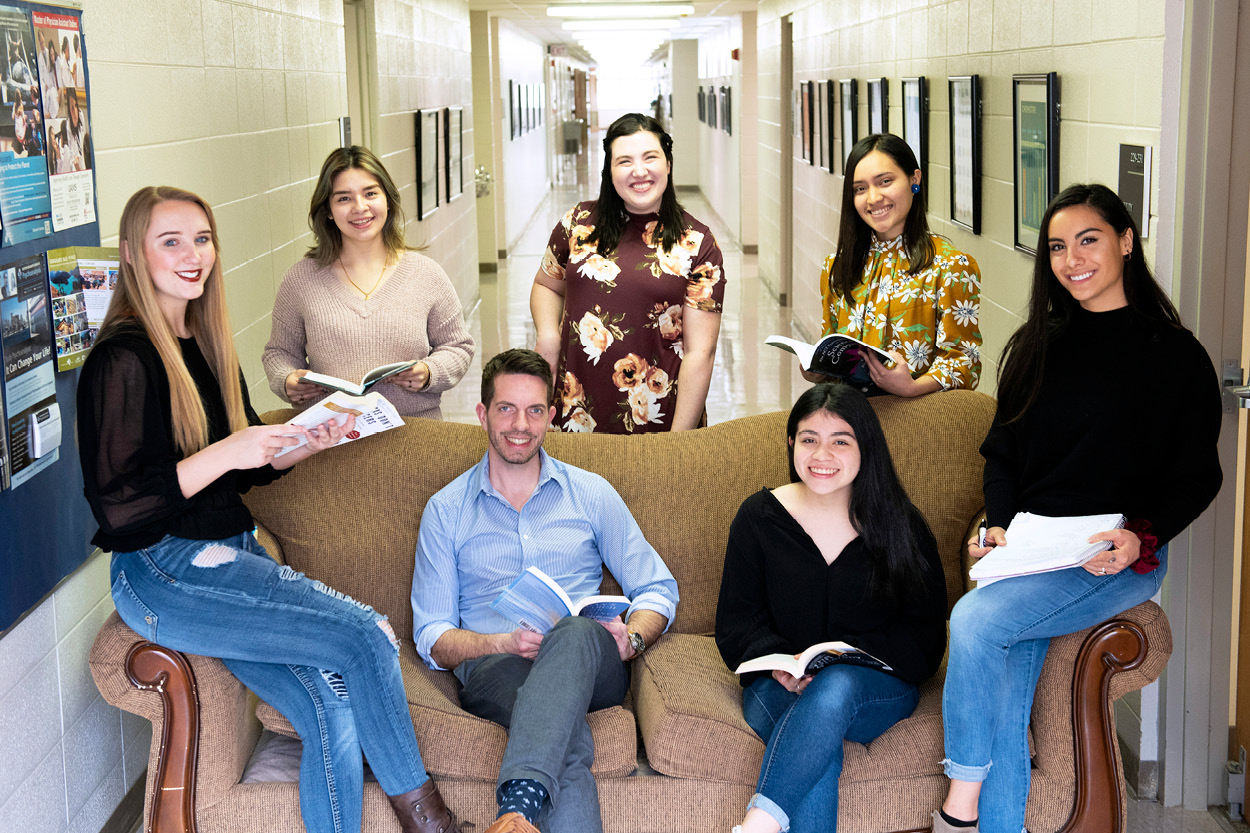 University of the Ozarks Assistant Professor of Psychology Dr. Isaac Hunter and five of his students are heading to the Mile High City this spring to share their research on calling as it applies to vocation and profession.
The U of O contingent will participate in the Rocky Mountain Psychological Association conference in Denver in April. The trip is sponsored in part by the Dr. Helen McElree Enrichment Endowment, a fund established in 2015 by the Ozarks alumna and long-time professor of biology at Emporia (Kan.) State. Dr. McElree created the fund to support faculty scholarly and creative activities at Ozarks.
The students who are participating are a part of a research team that Hunter pulled together called the Good Life and Meaning Making Lab, GLAMMLab for short.
The self-proclaimed Glammies include, Katerin Alvarado, a sophomore psychology major from Honduras; Laura Gochez, a senior business administration and psychology major from El Salvador; Isabella Matute, a sophomore psychology major from Honduras; Diana Ocampo, a junior psychology major from Paris, Ark.; and Angel Wyatt, a sophomore psychology major from Lamar, Ark. Allie Alayan, a visiting psychology professor at Ozarks and a graduate student at Colorado State University, is also a part of the team and will attend the conference.
Calling, as it applies to meaningful life domains, has been a recent academic area of interest for Hunter, a native of Idaho who earned his Ph.D. from Colorado State. He will present some of his most recent research on calling across generations at the conference.
"This research is an extension of my published master's thesis work and is focused on better understanding how the term 'calling' is understood within the Generation Z population, or current college students," Hunter said. "I have around 400 students in my sample size and can compare this to the millennial data I examined for my master's thesis.  Calling research is a hot topic in the field of psychology right now and is a construct that is growing in popularity in general. I conceive a part of my job as professor, advisor and mentor as someone that is helping students grow and find work that feels like a calling in this world. The more we can understand this the more we can help promote it and live into our mission of helping students live life fully."
The students will also present oral reports at the conference regarding the GLAMMLab's research on how personality dimensions and parent influence affect meaning and calling.
Hunter said about one in a thousand psychology undergrads have the opportunity to present oral research at a major academic conference.
"Not only were these projects accepted, but they were accepted as oral presentations, which is very much something to celebrate for these five students," Hunter said, "None of them have ever attended a psychology conference or given such a presentation. This will be tremendous educational opportunity for them, and their enthusiasm will no doubt ripple outward with their peers when they return. Very few undergrads have this opportunity at a regional conference, and I am thrilled for them and for us being able to represent University of the Ozarks. These types of high-impact learning experiences will not only help our students love their education and this school, but also set them up well for whatever future goals they have."
One of the more interesting findings in the Glammies research was the impact of parents on the Gen Z population.
"Students were asked to identify if their parents approached their careers as a job, career or calling and then we also asked the student to identify what sort of message their parents or guardian gave them, regarding a job or career," Hunter said. "Essentially, we wanted to find out what had a greater influence on students — what parents did or what parents told their kids to do. Our findings showed that the message had a more positive impact on both meaning and calling for college students; Do as I say, not as I do seems to be true in this case. It's cool stuff."
McElree funding also went to the following professors for upcoming research and professional development projects:
Dr. Edward Ardeneaux IV, assistant professor of English, will be attending the Popular Culture Association (PCA) conference in Philadelphia in April. He will serve as a session chair of the panel, "The Dark Side of Technology," which covers topics related to his literature courses and the digital technology unit in the academic writing curse.
Dr. William Clary, professor of Spanish, will attend the Central American Studies Conference at Cal State Irvine in April, where he will present his current research project that focuses on the novel "El informante nativo" by Ronald Flores and its reflection on the long history of colonialist archeology projects carried out in Guatemala.
Dr. Greta Marlow, professor of communication, will enroll in a 15-week online screenplay story and structure workshop offered by the New York Film Academy during the summer of 2020.
Dr. Amy Oatis, associate professor of English, will attend the American Literature Association conference in San Diego in May. She will present a paper based on her scholarly research on Nathaniel Hawthorne and will also present a paper at a pedagogy panel sponsored by the Society of Early Americanists.
Dr. Warren Sconiers, assistant professor of biology, will present at the Entomological Society of America (ESA) Joint North Central and Southwest Branch meeting in March in Oklahoma City, Okla. He will also attend a research symposium during the 2020 ESA meeting in Orlando, Fla., in November. The symposium is "Entomology in Urban Food Systems: Growing Food for All", and the topics include the challenges growers in urban system face.
Dr. Danielle Young, assistant professor of political science, will attend the International Studies Association (ISA) annual conference in Honolulu, Hawaii, in March.
Topics: About, Academics, Psychology