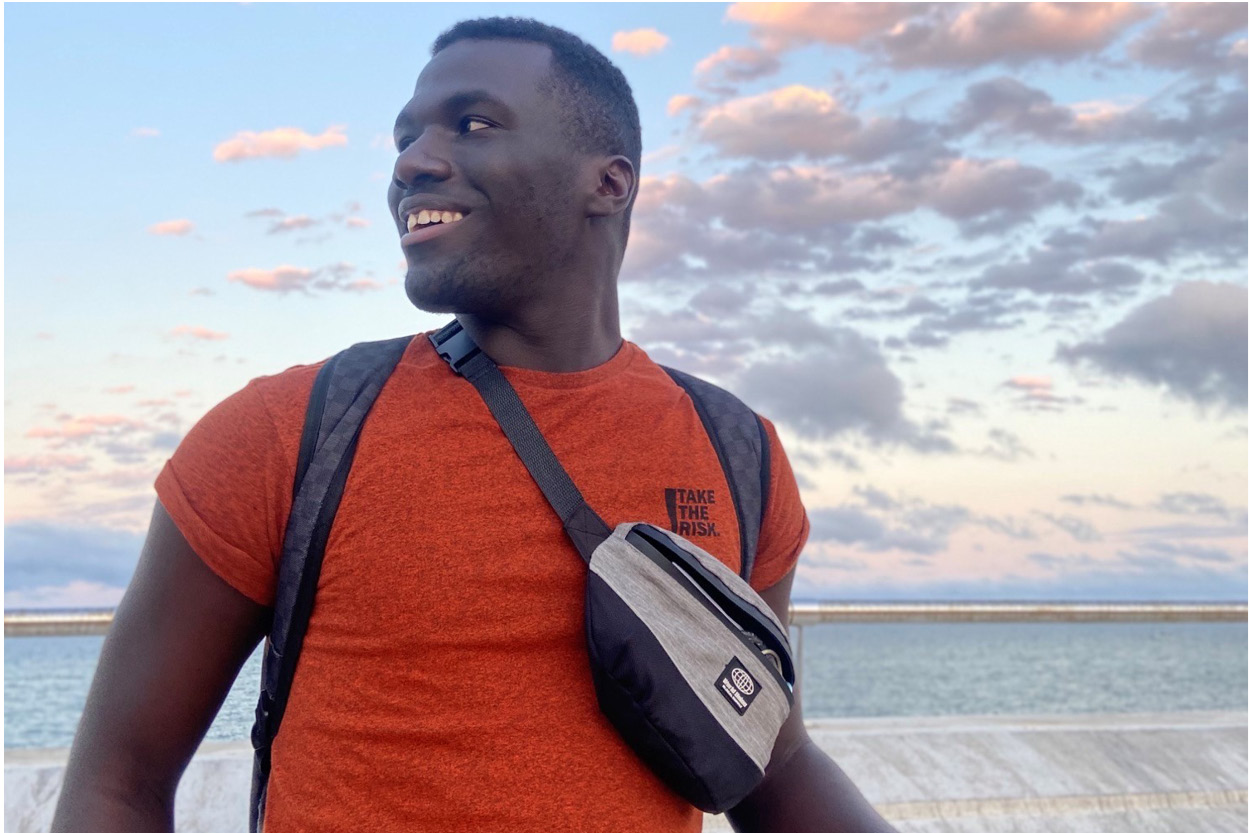 When University of the Ozarks senior Jakobe' Durant walks across the stage next week to receive his college diploma, he will proudly establish a new family tradition.
The Spanish major from Destrehan, La., will be the first in his immediate family to earn a bachelor's degree, and he will be doing so with Cum Laude honors.   
"This is something monumental to me because I have been told that I would not go far, that my goals were too big and that I would not get far in life because of where I was born and because of who my family is," Durant said. "This achievement helps me show the world that nothing is impossible and, hopefully, that can be encouraging for others. I want to be an influencer that can tell and show people that if you work hard enough you will achieve what you have worked for."
Durant's educational pursuits are not stopping at a bachelor's degree. In the fall he will pursuing a master's degree in Spanish Language and Literature at the University of Huelva in Spain.
Durant said he was in shock when he learned he had received a highly competitive full scholarship to continue his higher education in Spain, where he had spent a year studying abroad in 2019-2020.
"I almost cried after seeing my name on the provisional list of the scholarship," he said. "The fact that I was one of the top 20 to receive this prestigious scholarship is a blessing and an honor. My friends, family and professors were the ones that believed in me the most. They believed in me more than I did and that is something that I will never forget."
Durant said he first got interested in Spanish in high school through a particular teacher, Mrs. Machio, and quickly discovered he had a knack for it.
"When I saw how much I was speaking in as little as a year I continued to go above and beyond the Spanish requirements for the Spanish courses," he said. "When I was in my last year of high school, I knew I wanted to do something with languages and business and I wanted to double major in international business and Spanish. At the end, I was only able to major in Spanish and minor in international business."
His love for the language continue to blossom during his time at Ozarks.
"I still remember being a freshman taking senior-level Spanish classes and people asking me to help them with their Spanish, even though I was just a freshman," Durant said. "For that reason I continued to study Spanish."
Durant's said his time studying abroad in Spain was transformational, even though it started a bit rocky.
"My first days were hectic," he said. "From missing a connecting flight to almost sleeping on the streets, and even getting my boots stolen, I still had a smile on my face and didn't let any of that bring me down. The reason being that all of this happened in Spain and somehow I knew this would make a great and fun study abroad story one day. Overall, my experience in Spain gave me an all new perspective about the world that we live in and made me aware of what there is in life."
Durant hopes to combine his love of Spanish with his interest in international business to launch an exciting career.
"My career goal is to ultimately travel around the world helping people businesses expand their companies to other countries," he said. "Before accepting my scholarship offer from The University of Huelva, I found out that I made it to the second phase of the hiring process of becoming an international agent for a soccer company in Barcelona which would have been a really great job opportunity. Hopefully, if they are still looking for more I would be more than happy to apply again and see where that would take me."
Being a member of the swim team was one of the extracurricular activities that made his Ozarks experience even more meaningful.
"It definitely enhanced my college experience by showing me that working hard pays off at the end," he said. "Being named one of the captains for both swim and dive was an honor that I will never forget and I will take with me. These sports have taught me a lot about myself and that I am capable of whatever I want as long as I never give up and work hard for what I am wanting to achieve."
As he embarks on his finals days at Ozarks, Durant is quick to thank the University for its support over the past four years.
"Ozarks has made a community of people that were strangers my friends and family while I was away from my home in New Orleans," he said. "Now that I am about to graduate and it is hard to say goodbye to these special people that have been encouraging me since day one. The support I have been receiving from the faculty and student body is unlike any other and for that I am thankful to be graduating from here."
Topics: About, Academics, Alumni, Alumni Stories, Spanish, Study Abroad