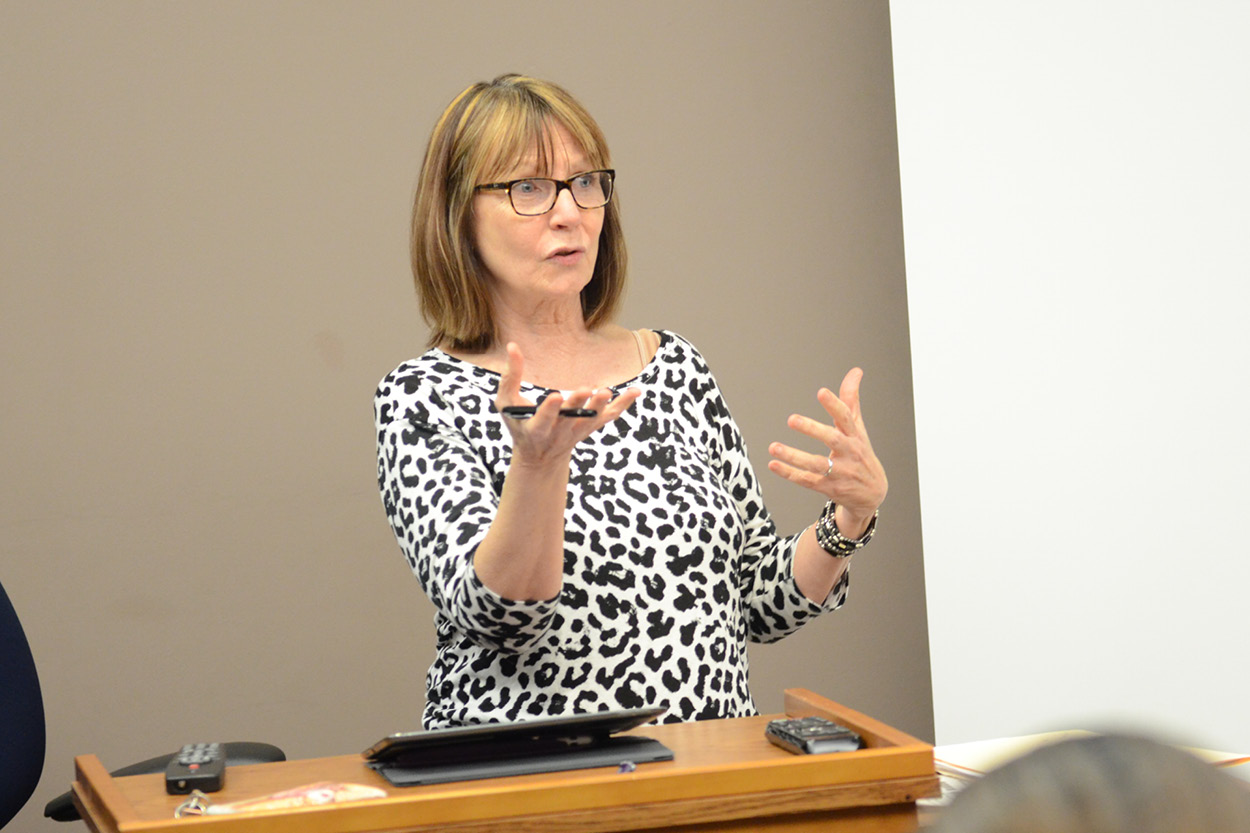 Dr. Rhonda Shook, associate professor of communication at University of the Ozarks, has had two recent articles published in the online music magazine Spin.
The articles, "The Blues Never Die," and "Top 10 Reasons Why I Hate Mark Knopfler," can be found at Spin.com.
Shook, a 1992 Ozarks graduate who has taught at the University since 2013, said she was invited to submit an article by a guest editor of Spin whom she had first met through her connections with the Southern Illinois University playwright program, where she earned her Ph.D.
"I'd not seen her since graduation, and was thrilled when she reached out to me," Shook said. "Publication wasn't guaranteed, but she could assure me that whatever I submitted would be read. I love nothing more than an invitation to write, so I accepted and got busy."
The inspiration for the article, "The Blues Never Die," came from a road trip across several Southern states that Shook took a few years ago.
"In preparation for a course in radio performance, I conducted a mini-tour of southern niche radio stations," Shook said. "One of them was KFFA in Helena, Arkansas. I chose it because it broadcasts King Biscuit Time, the oldest blues radio program in the entire United States. The innkeeper, learning why I was in town, asked, 'Are you going to talk to Bubba?' I interviewed the host of King Biscuit Time, Thomas Jacques, and a young blues performer, Marcus Cartwright. Each of them asked me, 'Have you talked to Bubba?' So, I set out to find this Bubba."
Bubba turned out to be Bubba Sullivan, whom Shook described as "a 78-year-old character with a bill cap and a huge white mustache."
"I had no trouble tracking him down because, apparently, he eats the same thing at the same time at the same place every day," Shook said. "After lunch, he walked me down to Bubba's Blues Corner, his once-thriving shop on Helena's main strip. It was a treasure trove of blues memorabilia, now faded and dusty. I fitted him with a microphone, and started asking questions. I don't even know how long we stayed, because his stories were wonderful. A few months later, I used those recordings to introduce him and his 'live life fully attitude to my radio performance students."
Bubba's stories quickly came back to mind for Shook when she was thinking about a topic for the Spin article.
"Bubba's stories of legendary blues singers immediately came to mind," Shook said. "What is music without the blues? I called Bubba, scheduled another interview, and packed my car. Two years after the first interview, Bubba's Blues Corner was too dilapidated to enter, but we sat in his favorite restaurant and talked – he talked and I listened – for an entire afternoon. He told me about his 80th birthday bash, how lots of people showed up in masks. They were supposed to socially distance, but 'ya gotta hug people.' Famous musicians from all over the world filmed themselves singing Happy Birthday to Bubba and shouting greeting into their phone cameras. He was obviously flattered. 'You really should have been there. It was a sight.' By the time I left Helena, I knew what kind of article I wanted to write and it didn't take me long to craft it."
Shook said the article was received positively by Spin editors and she was invited to submit more work.
"I examined the Spin website and rolled my eyes at all the Top 10 lists," she said. "I started scribbling a humorous piece, 'Top 10 Reason Why I Hate Mark Knopfler.' I sent it off to the editor with a disclaimer of 'this may be completely wrong for Spin, but I sure enjoyed writing it.' I was beyond pleased that they enjoyed it, too."
Shook, who has degrees in English, communication and theatre, said her background is a testament to the University's LENS program, which emphasizes students taking a diversity of disciplines in their majors and minors. She has written numerous plays that have been performed all over the country and has presented her essays on National Public Radio and Radio Free Asia. A sign in her office reads: "You are the author of your own life story, so make it a good one."
"The medium doesn't matter. Whether I'm writing an essay, a play, or a novel, I will never finish, if I'm scribbling, I'm happy. I am a storyteller," Shook said. "With degrees in English, communication, and theatre, and as many psychology classes as I could squeeze in over the years, I am the product of a liberal arts education. Because I enjoy the entire storytelling process – researching, interviewing, and of course, writing – I know I would have thrived in a LENS program. Life is seldom linear, and LENS prepares our students for the tangents. I live for the tangents. That's where you find the best stories."
Shook's articles can be found at:
https://www.spin.com/featured/the-blues-never-die/
https://www.spin.com/featured/top-10-reasons-why-i-hate-mark-knopfler/
Topics: About, Communication Studies, Faculty Spotlights