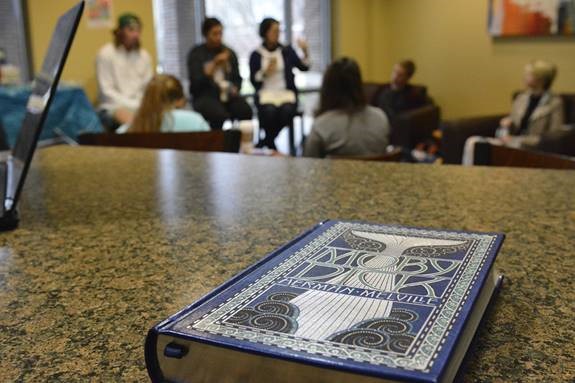 Dr. Amy Oatis, associate professor of English at University of the Ozarks, will participate in the 25th annual Moby Dick Marathon Reading, presented by the New Bedford Whaling Museum in Massachusetts.
The annual event that celebrates Herman Melville's iconic 1851 novel will be conducted in a virtual format Jan. 8-10, 2021.
The event is presented by the museum each January to coincide approximately with the anniversary of Melville's own departure on the whaling ship Acushnet. The weekend of Melville-centered programming includes scholarly and cultural presentations along with a Moby Dick Marathon reading of nearly 25 continuous hours of the novel.
Oatis, who has taught at Ozarks since 2000, was selected to read part of Chapter 42, "The Whiteness of the Whale." Her reading falls during 3rd watch, shortly after 7 p.m. on Saturday, Jan 9.
"I'm excited to be part of this program that falls under the umbrella of the Melville Society Cultural Project, an effort to make this important novel accessible to a broader audience," Oatis said. "I think it's safe to venture that many more of us have heard of Moby Dick than have read it, and I know many readers who have attempted the novel but who were overcome by the ocean and didn't finish it. This reading offers a valuable opportunity to make this challenging work accessible by inviting many voices to read it and explore the history of American whaling through the New Bedford Whaling Museum's rich collection."
Oatis, who teaches a class on Melville at Ozarks, said Moby Dick is one of the most important works of American literature.
"I think it's incredibly helpful to understand the America we live in today: the crew of the Pequod encounters a ship consumed by an epidemic, and you can't get through Chapter 1 without Ishmael referencing his voyage as part of the 'grand programme of Providence' that occurs not long after a 'Grand Contested Election for the Presidency of the United States,'" Oatis said. "Melville's book is about a whaling voyage, but it's about so much more than that. It's about the fragility of the American democratic experiment, about the acceptance of global diversity, about the contradictory multiplicity of meanings encompassed within the idea of whiteness, about the wonders of the natural world on land and in the ocean, about creating community out of isolation.
"I've been saying for months that the book is a key to understanding the world, and I feel more strongly about that than ever in our pandemic-stricken world. Participating in this reading marathon has given me an opportunity to appreciate, on a much deeper level, the great complexity of Melville's writing, offering me new insights to share with my students and to incorporate into my own work in early and 19th century American literature. I'm excited that I have the opportunity to explore the novel with students this spring in my Melville class."
For more information on the Moby Dick Marathon, please visit:
Topics: About, Academics, Faculty Spotlights