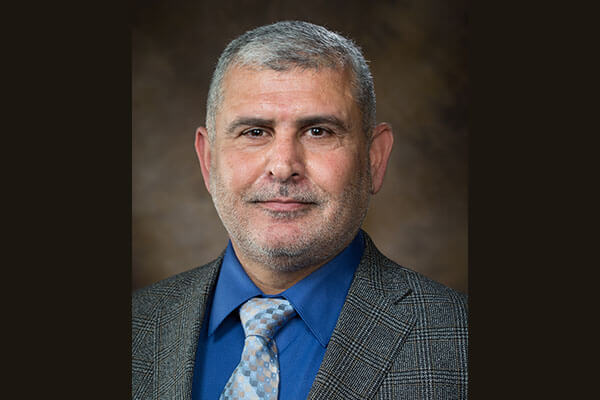 Dr. Radwan Al Faouri will join the University of the Ozarks faculty for the 2018-19 academic year as a visiting professor of physics in the Division of Mathematics and Natural Sciences.
Al Faouri has served as a research assistant professor at the Institute for Nanoscience and Engineering at the University of Arkansas since 2015 and has taught at U of A as a graduate assistant and instructor since 2006. He has also served as a visiting professor at the University of Central Arkansas and as a lecturer and chief of curriculum planning at Prince Faisal Technical College in Al-Balqa Applied University in Jordan.
His research emphasis is on the understanding of how cellular transport takes place and how it can be affected, controlled, and utilized. Specifically, he has worked on investigating the mechanism of gating of ion channels, which could lead to control the mechanism of drug release from carriers such as liposomes.
Al Faouri said his main objective in teaching physics is to stimulate critical thinking, develop problem-solving skills, and inspire a passion for learning science, especially in the field of biophysics.
"Physics searches for the rules of nature, while biology is concerned with the study of life and living organisms, such as their structure, functions, origin, and evolution," he said. "My passion lies at the boundary between these two disciplines, where there is an opportunity for researchers who can solve biological problems with physical tools and methods. As a biophysicist, I enjoy developing and teaching biophysics courses to prepare students for careers that lead the frontier in this area of science."
Background
A native of Jordan, Al Faouri earned his Ph.D. and master's degree in biophysics from U of A. He also has a master's degree in nuclear physics from Al-Balqa Applied University and a bachelor's degree from Yarmouk University in Jordan.
His research on graphene won first place at the Arkansas INBRE Conference in 2016 and his research on lysenin pores took third place at the conference.
An accomplished chess player, Al Faouri is the former president of the U of A Chess Association and has volunteered in teaching chess to middle and high school students in Northwest Arkansas. He is also a former member of the Royal Jordanian Chess Board Federation and was the winner of the King Hussein medal in chess in 1999.