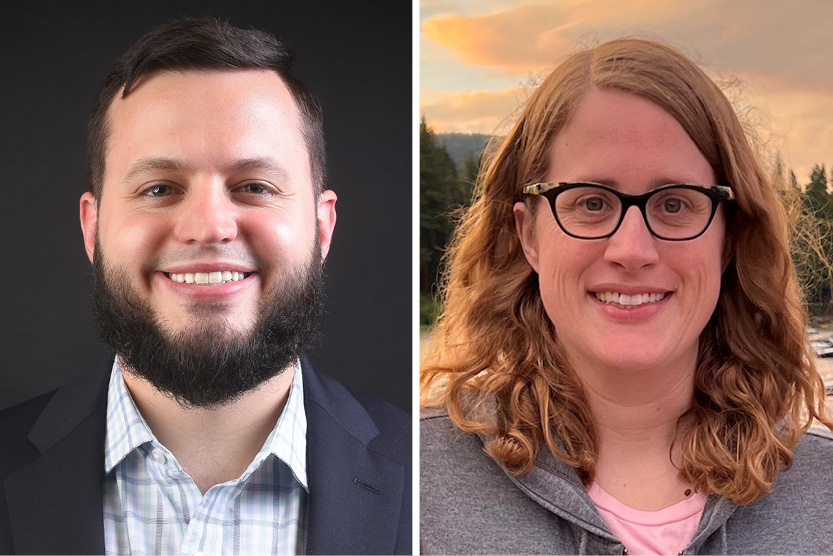 Zach Doty '12 and Courtney Taylor '09 have been named the recipients of the University of Ozarks' Emerging Philanthropist Award for 2022.
The awards will be presented during the Ozarks Awards Ceremony, scheduled as part of Homecoming 2022 at 6 p.m. on Friday, Oct. 21.  
The Emerging Philanthropist Award is presented annually to individuals "under the age of 40 with a demonstrated record of support of the University's mission." The recipients are selected by the University administration.
Doty, who majored in marketing and strategic communication at Ozarks, is a director of online marketing at AT&T in Fort Worth, Texas.
As a student at Ozarks, Doty was a member of the cross country team as well as Phi Beta Lambda, SIFE, and SCM Studio. Since graduating, he has been an active member of the Aerie Club, the University's athletic booster club, and has supported the Ozarks Annual Fund.
He credits Ozarks for his success in his professional field.
"Ozarks provided me a solid foundation to launching my career," he said. "Progressive curriculum and an internship through Career Services Office gave me a foothold into the digital marketing and advertising industry. Giving back to Ozarks is a way for me to pay it forward to leaders of our next generation and support the special place that is Ozarks."
Prior to joining AT&T, he served clients in the S&P 500, and Fortune 100 while working at various marketing agencies. He and his wife, Hannah, have one son, Graham.
Taylor works as a teacher's assistant at her high school alma mater, Town and Country School in Tulsa, Okla. She served on the U of O Alumni Board of Directors from 2015 to 2020 and has supported the Ozarks Annual Fund and the Jones Learning Center (JLC) since graduating from the University.
"It took me five years to get a degree, but I did it," Taylor said. "I am so thankful for Ozarks and the JLC for accepting me and making it possible.  I plan to continue supporting University of the Ozarks so other students like myself can have the opportunity for a successful and enjoyable life. I love working with the students at Town and Country School and showing them that they too can be successful and achieve whatever they set their minds to."
For more information on Homecoming 2022 or to register, please visit https://ozarks.edu/alumni/homecoming/