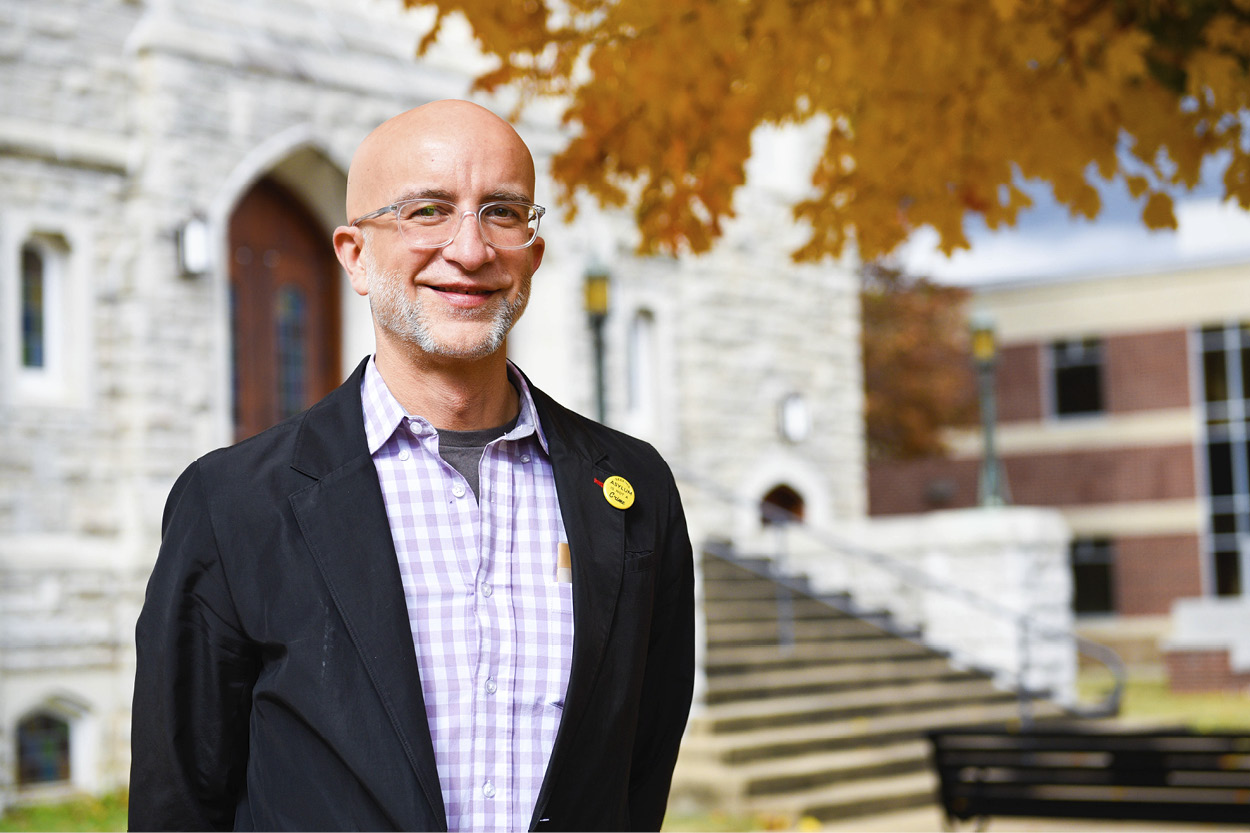 University of the Ozarks Assistant Professor of Philosophy Nathan Eric Dickman has completed his first book, "Using Questions to Think: How to Develop Skills in Critical Understanding and Reasoning."
The book, published by Bloomsbury Academic, is currently available in digital format and will be available in hard copy in the United States in mid-July.
The book's synopsis reads, "Our ability to think, argue and reason is determined by our ability to question. Questions are a vital component of critical thinking, yet we underestimate the role they play. 'Using Questions to Think' puts questioning back in the spotlight."
"I'm very excited for this," Dickman said. "It's the first in a series of two books. This one focuses on the use of questions in thinking and reasoning. I organized and wrote it as a supplemental textbook in a logic or critical thinking course. But I framed it to be useful for anyone where people need to ask questions of one another to build community—interviewers, health care workers, teachers, interpersonal relationships, counselors, researchers with research participants, and more. As a contribution to philosophy specifically, it bridges the two main veins of 'analytic' and 'Continental' philosophy."
Dickman, who joined the Ozarks faculty in 2020, said that students in his logic and critical thinking course will be using the book in the fall.
The book can be found at: https://www.bloomsbury.com/us/using-questions-to-think-9781350177710/
In addition, Dickman recently published an article in the eminent philosophy journal, Teaching Philosophy, titled "Physical Distance, Ethical Proximity: Levinasian Dialogue as Pandemic Pedagogy in Faceless (Masked or Online) Classrooms."
"I was asked to discuss successes, and failures, in teaching during the COVID-19 pandemic, and I rooted my theory in the work of the Jewish philosopher, Emmanuel Levinas," Dickman said.
The article can be seen at: https://www.pdcnet.org/teachphil/content/teachphil_2021_0999_6_10_147
Dickman has also recently contributed to a discussion focused on philosophy of religion on philosophyofreligion.org, where discussants are supposed to address the question of what the future of the specialization should look like. The title of his contribution is "Disturbing the Definite Article: Taking 'The' out of Institutionalized Philosophy of Religion."
In recent months he has also served as a moderator for the Georgia Philosophical Society's bi-annual conference on "Philosophical Perspectives on Contemporary Problems," and contributed to a panel on "Equity in the Pandemic," at the Southwest Commission on Religious Studies, presenting research on health care inequities and vulnerable populations during the COVID-19 pandemic.  
The research for the panel contribution came from work related to two recent co-authored publications: "Nursing is Never Neutral: Political Determinants of Health and Systemic Marginalization," co-authored with Roxana Chicas in Nursing Inquiry and "Cooling Interventions Among Agricultural Workers: Qualitative field-based study," co-authored with Roxana Chicas Xiuhtecutli, Nezahualcoyotl; Flocks, Joan; Scammell, Madeleine; Steenland, Kyle; Hertzberg, Vicki; McCauley, Linda; in Hispanic Health Care International.
Those contributions can be found at:
https://philosophyofreligion.org/?p=525516
https://sites.google.com/site/gaphilosophy/philosophy-events
http://www.swcrs-online.org/swcrs-conference/conference-program/
Topics: About, Academics, Faculty Spotlights, Philosophy