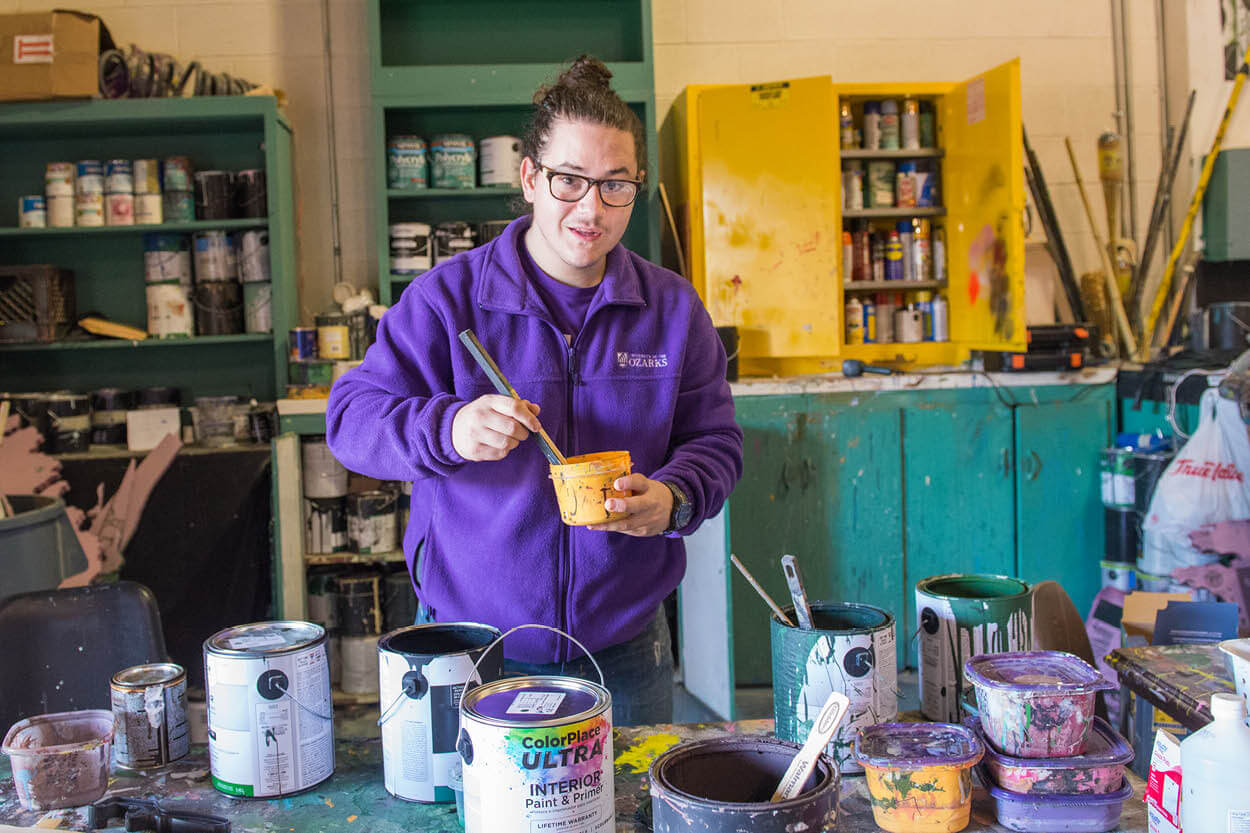 University of the Ozarks senior Ethan Lubera has been accepted into a prestigious graduate degree program in theatre design, continuing a love of the performance arts that first began a decade ago as a sixth-grader when he was cast in a community theatre production of "Cheaper by the Dozen."
The theatre and music major from Siloam Springs, Ark., learned earlier this month that he had secured a spot in the University of Arkansas' MFA theatre program with a concentration in scenic design. The U of A program accepts just nine graduate students in design every three years — three in each concentration of scenic, costumes and lightning.
The acceptance into graduate school is the latest step in a continuing journey in theatre for Lubera, who is scheduled to graduate in May 2020.  
"Ever since I started theatre in the sixth grade, my love for the arts has only grown," Lubera said. "Since I've been at Ozarks, I have had opportunities to enhance that passion in many different roles within technical theatre, including costume designer, scenic designer, stage manager, props master and scenic artist."
Lubera found out that he had been accepted in the MFA program on Oct. 8, less than a week after he toured the program and had interviews with officials from the school. He received the good news via email, learning that he had secured a full tuition waiver, a graduate assistantship and a living stipend of more than $16,000 per academic year.
"I was full of joy when I read the email; it was hard to remain focused during class because it was a surreal experience," Lubera said. "Being a first-generation college student, I never thought that my undergraduate career would be as fulfilling as it has been. I am excited to not only be the first in my family to obtain a four-year undergraduate degree, but to also have this incredible opportunity to pursue a master's degree."
Lubera credited his Ozarks professors, particularly Associate Professor of History Dr. Karen Frank and Assistant Professor of Theatre Rebecca Bailey, for helping him navigate the graduate school application process.
"In prepping for my interview, I met with Professor Bailey at least twice a week this semester," Lubera said. "I was looking into two other programs and Dr. Frank was a wonderful reference when I was writing my letters of purpose and intent. She helped me craft and appropriately articulate my thoughts and present myself and the best of my work. While writing this personal narrative and working towards presenting who I am as an artist as well as a person, I was able to figure out what sets me apart from other graduate applicants: the dedication to my craft that Ozarks taught me, as well as my inherent desire to push boundaries and try new things."
Lubera said his experiences in Ozarks Theatre as well as a pair of summer internships helped prepare him for graduate school.
"I believe the experiences I gained working on the productions here at the university along with my internships pushed me and challenged me as an artist and a training professional," he said. "Every experience, both the good and bad, helped me prepare for graduate school. The late nights working on projects and the tears that were shed when things appeared to be piling up, the moments when something that hadn't been working and we have a break-through figuring out a creative solution, or the times that we just simply broke out into laughter because of the close bond, all that has shaped the professional that I am becoming. I believe Ozarks allowed me the safe space to make choices and decisions without fear that something might turn out wrong. I have learned that theatre is about growth, and true growth comes from when you are able to try new things and explore the possibilities. I do not think that I would be where I am without the love and support from my entire Ozarks family."
This past summer, Lubera interned at the French Woods Festival of the Performing Arts in New York, where he served as a stagecraft counselor and designed the scenery for four productions.
"During this 12-week internship, I utilized the skills that I developed at Ozarks to produce over 30 full-length productions," he said. "This experience gave me wonderful opportunities in repertory style theatre, working on at least eight different productions at one time for five different venues. My summer experience allowed me to explore new techniques and learn from other young professionals to bring new ideas to Ozarks Theatre."
Lubera said some of the highlights of his time with Ozarks Theatre includes serving as stage manager, properties master and doing the musical arrangements for "The Diary of Anne Frank," and handling the scenic design for "Barefoot in the Park." He was recognized with awards by the Kennedy Center/American College Theatre Festival for his work on both productions.
"Working on 'The Diary of Anne Frank,' allowed me the first experience where I was able to connect both of my majors in one of the most beautiful moments of my college career," Lubera said. "After the show, speaking about the prayer, Sim Shalom, that I arranged with the help of Dr. [Jonathan] Ledger, a student's grandfather said, 'I felt the presence of God in that moment.' The music beautifully swelled as we saw a fragmented moment that was a reality for many Jews during World War II. In 'Barefoot in the Park,' I was given the first opportunity that would set me up for what I would want to do for the rest of my life. Here I got the chance to apply the knowledge that I had gained in taking the scenic design and technology class. Through this practical application of my craft, I was able to figure out the beginnings of my design process and this got me ready for my summer job, working as a scenic designer and painter in New York."
Lubera said that as he looks back at his time at Ozarks, he's amazed about how much he has grown since he was a freshman.
"I see the growth that I have made as a professional, but mostly as a person," he said. "I am continuously thankful for my Ozarks experience that has made me the person I am today. I believe that Ozarks has allowed me to fully look at things with an open eye and never take things at face value. As a student, I have grown as an articulate and open-minded individual who has been given opportunities to question how things are and to find solutions on how we can make them better." 
Lubera, who will present a production design in scenic, costumes and lighting in December as his senior thesis, hopes to pursue a career as a theatre educator.
"After grad school I would love to work at a university, serving as a theatre professor teaching design and technology courses and shaping the creative minds of the next generation of artists," Lubera said. "I have always been drawn to the classroom and, through looking at the mentors that I have had over these past four years, I realize that I would love to have the patience and loving nature of Dr. Frank, the openness and compassion of Professor Bailey, and the unending will to make things better like our provost, Dr. [Alyson] Gill. My dream job would be to work somewhere where I can grow as an artist and also push my students to grow and develop who they are and what they do."
Topics: About, Student Stories, Theatre