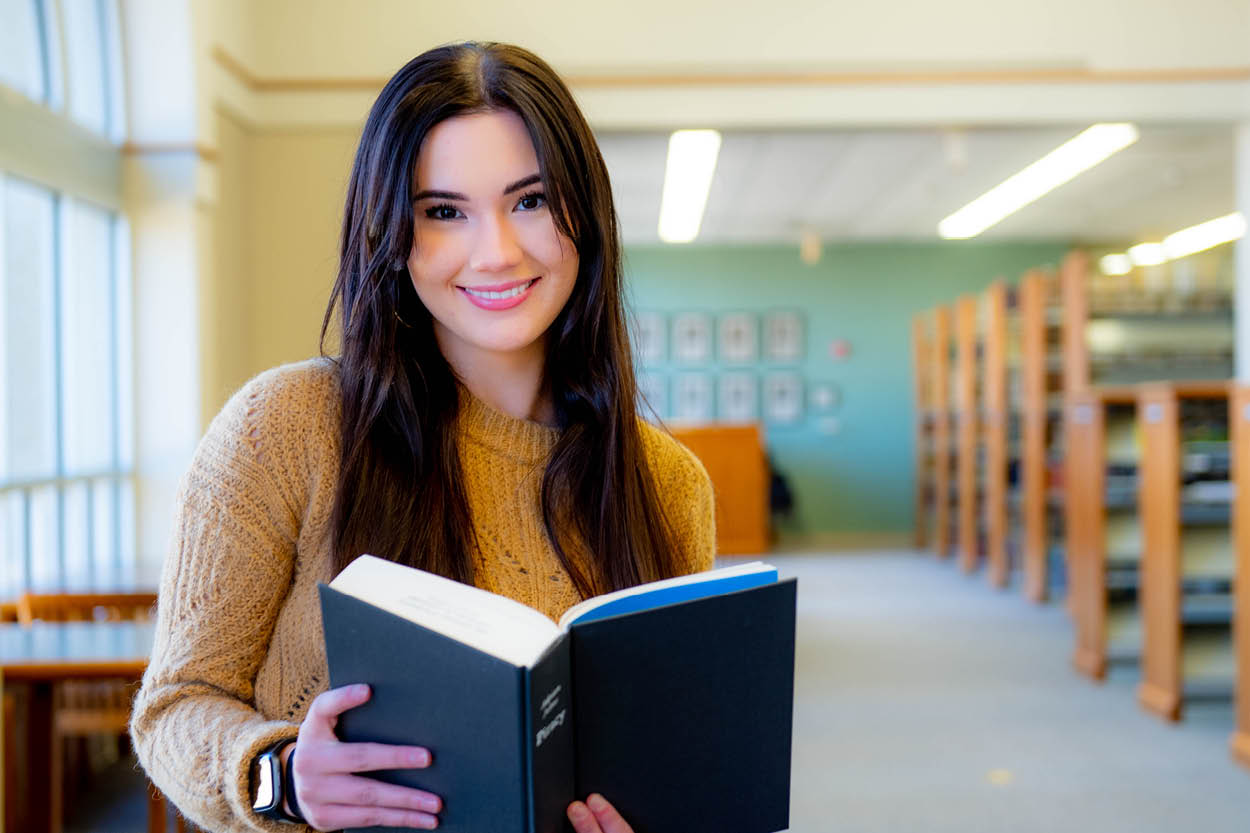 Majoring in theatre may not seem like the most logical route to law school, but don't tell that to Haley Grace Clark.
The University of the Ozarks senior from Tulsa, Okla., will attend Southwestern Law School in Los Angeles this summer as she pursues a career in entertainment law.
The theatre and communications (radio/television/film) major first got interested in law after taking a Media Law & Ethics course during her junior year at Ozarks. The more classes she took in the subject, the more it became clear to her that a law career was in her future.
"Law was something interesting that stimulated my brain and could potentially pay good money," Clark said. "What clicked for me was the methods and reasonings for court proceedings and how the judiciary looks at laws and sentencing. It's not white and black, but the more Supreme Court cases I read, the more I begin to understand justice, morality, and the ideas of right and wrong. It's something that can come up as themes in plays or films I used to desire to be in, but now I think I'd like to be a part of the real world deliberation. I then learned about entertainment law and knew it was the next adventure of mine."
While political science and philosophy are the most common majors for law school applicants, Clark was determined to show that her background in theatre could also be a route to law school.
"Law Schools do like diversity, but they also want hard academic workers," Clark said. "There's this misconception that theatre students aren't very academic. Hard workers, no question, but some of the most analytical and in-depth thinkers that I know are also members of the arts. I was so used to dissecting scripts, plays, and theories that once I started taking pre-law classes it was no challenge." 
Clark remembers the first time that she broached the topic of attending law school with Dr. Stewart Dippel, professor of political science.
"When I first went to Dr. Dippel and told him I wanted to go to law school and be a lawyer, he thought I was joking," she said. "Not many theatre majors apply to law schools."
Clark said Dippel helped set her on a course to prepare for her newfound calling.
"I'm so grateful to him for taking a chance on a sassy theatre kid who said she wanted to go to law school," Clarks said. "He was real with me; he didn't just boost my ego. The weirdest advice adults have told me is 'you can do anything you set your mind to,' or 'the world is full of possibilities,' but that's not necessarily useful or true. Dr. Dippel did not shy away from preparing me for a difficult journey, but he also helped to make sure I was a solid candidate for any program I wanted. Not many law students have theatre and film majors, so we had to make sure they could take me seriously. Once we got my application completed, it was a huge reward. I felt supported and cheered on through every step of the way. I am so thankful to have him as a mentor."
Clark also received help from Dr. David Strain, professor of English, in preparing for the imposing Law School Admission Test (LSAT) and applying for law schools.
"The process of applying to law school seems a lot scarier than it actually is," Clark said. "I took the LSAT the fall of my junior year to see if I even had a chance at law school, and then I took it one more time the fall of my senior year and got it raised a few points before sending applications in. Dr. Strain helped immensely with preparing me for the LSAT, and Dr. Dippel truly went out of his way to help me on anything I struggled with. Dr. Strain sent me practice problems for logic questions, but showed me how to do them in a certain order, not the numbered way they give on the LSAT. There's a lot of tips and tricks to get faster and more accurate on the test, tips that students usually pay thousands of dollars for in prep classes. Dr. Strain and Dr. Dippel made sure that I had adequate preparation without having to pay a fortune."
Clark was accepted into all three law schools she applied to — University of Tulsa, Southwestern Law School, and Brooklyn Law School. She will begin the accelerated two-year program at Southwestern this summer.
"I wanted to apply to one law school in my hometown, one in Los Angeles, and one in New York," Clark said. "Tulsa actually offered me a full tuition scholarship, but Los Angeles is the place I've always dreamed of living. Southwestern offered me a $100,000 scholarship, which is about two-thirds of their complete tuition cost."
While preparing to embark on a career in law, Clark said she is grateful for the lessons and experiences she's had in theatre.
"My favorite character that I've played at Ozarks was in the show 'Circle Mirror Transformation' by Annie Baker my freshman year," she said. "I played Theresa. Her character went through such a beautiful arc through the course of the show and she really resonated with me. My most challenging role was at a community theatre in Tulsa. I played a 16-year-old girl with severe autism in 'Creating Claire' by Joe DiPietrio and it was a beautiful show to be a part of. The greatest lesson the program at Ozarks taught me is to respect every role in the theatre, even the backstage helpers."
It was during a summer theatre internship that Clark realized a career in theatre may not be in her future.
"The summer after my sophomore year I attended an internship for scenic art in North Carolina," she said. "It was a beautiful program with wonderful people and I truly loved being there. However, I quickly realized that while I was having fun there painting all day, it wasn't something I could see myself doing for the rest of my life. I needed a different career, one that stimulated my brain. I never wanted to be a famous theatre actress. I always thought film acting was more suited for me, which is why I picked up my communication major to learn the media production aspects. Then I took the Media Law & Ethics class with Professor Susan Edens and it just clicked."
Clark said her career goal is to be an entertainment and intellectual property lawyer for a firm in Los Angeles.
"Hopefully I will be representing clients that write films and are in the film industry, so I can be connected to something I've always loved and respected," she said.
She also plans to keep one foot in the theatre and film world.
"With living in L.A., it is completely within the realm of possibility for me to audition for small things and be an extra in films here and there while still studying or having a career in law," she said. "I realized acting has to be my hobby, not my career."
Topics: About, Communication Studies, Student Stories, Theatre