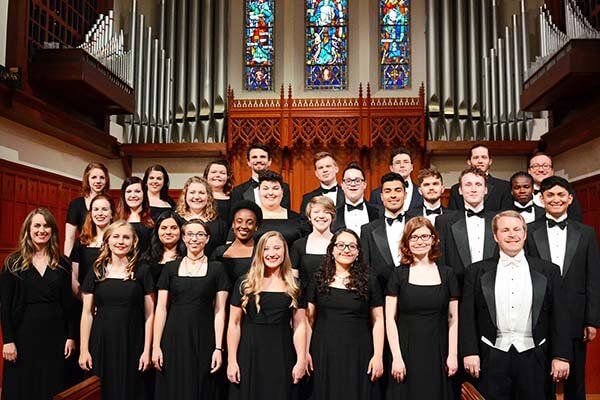 The University of the Ozarks Chamber Singers will kick off their 2019 concert tour with their annual Spring Concert on the U of O campus on Thursday, April 25.
The concert will begin at 7:30 p.m. in Munger-Wilson Chapel. There is no cost for attendance and the public is invited.
The Spring Concert is a prelude to the Chamber Singers' five-event spring tour, which runs from May 19-24 at churches in Arkansas and Tennessee.
The theme for this year's concert tour is "E Pluribus Unum – Out of Many, One," and will feature a wide variety of music that celebrates the diversity of the United States.
"Diversity has always been a part of our country and this land has always been home to immigrants," said Dr. Jonathan Ledger, choral director at U of O. "Embedded within this message is a prayer for world peace. The program will be heard in its entirety for the first time at our spring concert on Thursday, April 25, at 7:30 p.m. in Munger-Wilson Memorial Chapel."
The concert program will include the works, "At the Round Earth's Imagined Corners," by Williametta Spencer; "Cherokee Traveler's Greeting," by Kevin A. Memley; "Chester," by William Billings; "Shenandoah," by James Erb; "Give Me Your Tired, Your Poor," by Irving Berlin; "Paper Crane," by J. Reese Norris; "Homeland," by Gustav Holst; and "Lift Every Voice and Sing," by J. Rosamond Johnson.
Adjunct music instructor Bethany Qualls will serve as the collaborative pianist during the Spring Concert as well as the tour.
Ledger said the tour is the highlight of the academic year for the Chamber Singers.
"We are excited to head east on tour for the first time this year, as we strive to strengthen relationships with potential students, churches, and alumni in central and eastern Arkansas and throughout Tennessee," he said.
The tour will include a May 19 (3 p.m.) concert at Kirk in the Pines Presbyterian Church in Hot Springs, Arkansas; a May 20 (7 p.m.) concert at First United Methodist Church in Jacksonville, Arkansas; a May 21 (7 p.m.) concert at Second Baptist Church in Memphis, Tennessee; a May 22 (7 p.m.) concert at Logan's Chapel United Methodist Church in Maryville, Tennessee; and a May 24 (7 p.m.) concert at Holy Trinity Community Church in Nashville, Tennessee.