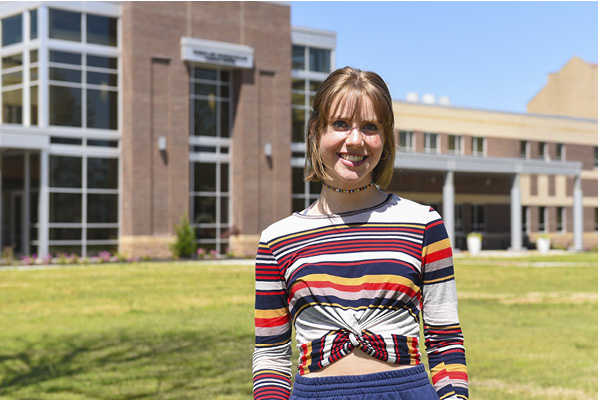 When the University of Arkansas for Medical Sciences (UAMS) College of Pharmacy began notifying applicants last summer of their acceptance into the college's incoming Class of Fall 2022, the first call they made was to Kerigan Bradshaw.
The University of the Ozarks senior chemistry major from Bergman, Ark., learned she had been accepted into the UAMS pharmacy school last August, less than two months after applying.
"I distinctly remember getting the call from UAMS because they told me I was the first applicant they were extending an offer to," Bradshaw said. "I couldn't believe it; I was so happy. In that moment I knew all my hard work and stressful all-nighters were worth it."
Bradshaw, who will graduate next month with Summa Cum Laude honors (3.85 GPA or higher), started out as a biology major at Ozarks, but quickly changed to chemistry, with minors in business administration, biology and American studies.
"After taking my first chemistry class, I fell in love with chemistry and found out it made me more desirable as a grad student applicant because there is far less chemistry students than biology," she said. "I also knew from the beginning I wanted to own my own clinic or business, so I wanted to take as many business classes as I could."
Bradshaw said she chose pharmacy over medical school after volunteering at a non-profit clinic in Branson, Mo., for several days last summer.
"I was shadowing a friend of my family who was a pharmacist at the clinic and I saw her interaction with the patients," she said. "Her love for people shine throughout her day-to-day activities. I want to be able to help people, while incorporating my love for chemistry. "
Bradshaw, who was also accepted to the University of Missouri-Kansas City School of Pharmacy, called the application process "nerve-racking."
"The applications were long, and I had an interview for every pharmacy school I applied to," she said. "One interview was over Zoom and another I had to go to the school for. It was exciting, but I was definitely nervous. The Ozarks professors helped me a lot. I talked to both of my chemistry professors about my career options and about how to find what careers were available for me. They both wrote letters of application for me. I know if I did not have their help, I would not have gotten in."
In addition to starring in the classroom, Bradshaw was a standout on the women's basketball team at Ozarks. The 5-foot-6 guard finished her career with 822 points and 60 three-pointers and ranks among the top 25 in program history in career assists with 184. She earned All-American Southwest Conference (ASC) Third-Team Honors following her senior year after being All-ASC Honorable Mention selections as both a sophomore and junior.
She said juggling athletics and academics was not an easy task.
"Not only are you mentally drained, but you're physically drained from practice and several workouts throughout the day," she said. "I found the key to success for being a successful student-athlete is having good time-management. Sometimes it means instead of hanging out with friends you go to the library and study. Sometimes it means not going out on the weekends and staying at home to take care of your homework. It's all about sorting out the priorities in your life and putting school first. I missed a lot of class because of traveling so I had to make sure I was always on top of my work. I never did things last minute and I learned to do my homework on the bus, which is one of the greatest skills I acquired. I also used basketball as my outlet. When I had a long day and was stressed out from all the schoolwork that had been piling up, I used basketball to take my mind off school. I took out my frustrations on the court and that helped to fuel my skills and build up my level of success in the sport. When I needed a study break, I went to the gym and got shots up. Success is a mindset. I wanted to be successful in both areas, so I made it happen."
Despite the jam-packed schedule, she will leave Ozarks with numerous good memories.
"My favorite Ozarks memories include all the all-nighters, late-night waffle house runs, and then still having 6 a.m. practices the next day," she said. "I don't know how I did it, but I'm so glad that I did and I wouldn't change a thing."
Bradshaw said she is amazed how much she has grown as a student and as a person during her time at Ozarks.
"Not only have I expanded my knowledge, but I have learned so much about myself," she said. "I've learned what people and what things I need in my life and what things I am better off without. I've learned how to make new friends and truly invest in other people. Ozarks has opened my eyes to all the opportunities life has to offer, including introducing me to so many amazing people. I have become more open-minded, more appreciative of what I have, and most importantly I have been prepared to go out into the world and make a difference. I can't wait for my next journey and see what the next step has to offer."
Topics: About, Chemistry, Student Stories