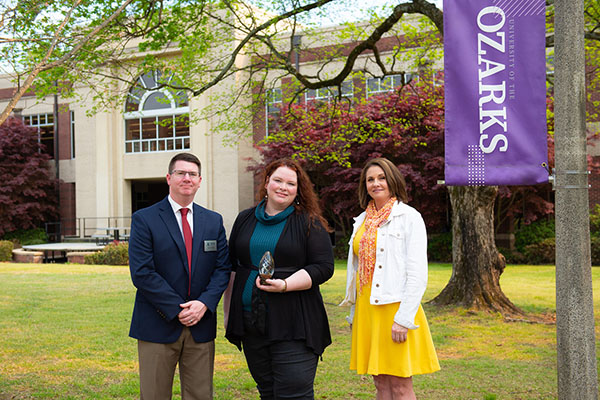 Rebecca Bailey, assistant professor of theatre at University of the Ozarks, has been named the recipient of the 2021 Visionary Award for Arkansas by the National Sexual Assault Resource Center and the Arkansas Coalition Against Sexual Assault (ACASA).
Several members of ACASA were on campus Monday to present the award to Bailey in a surprise ceremony in the Mabee Administration Building. The ceremony was held in conjunction with Sexual Assault Awareness Month.
The Visionary Award is presented to an individual who has "worked to bring awareness and community engagement to the topic of sexual awareness."
Bailey was recognized for her work in promoting awareness of sexual assault through her role in leading the University's theatre program. In 2020, the University Theatre presented the play, "Extremities," an intense drama about an attempted rape. Bailey has also worked with the ACSA in its statewide training and conference event.
The award was presented to Bailey by Monie Johnson, director of ACASA, and Kenny Smith, director of law enforcement training for the program.
"To be a visionary, one must recognize the magnitude of an issue and then act creatively and with purpose to address the issue," Johnson said. "Rebecca has demonstrated outstanding advocacy and community work to end sexual violence and promote safe, healthy communities. She has shown exemplary work that has and will impact the lives of sexual violence victims in our state for many years to come."
Bailey said she was honored to be recognized by ACASA.
"As an artist and teacher, I strive to build the connections between theatre and the world in which we live," Bailey said. "I believe that theatre offers unique opportunities to foster empathy, develop community and celebrate what diversifies us and brings us together. I believe this training will bring the survivor out of the words in a case file and help focus us on the human element of dealing with sexual assault. I want to thank ACASA for the energy, work and talents they bring to this issue and for allowing me to be a part of the process. I look forward to continued collaboration. I am humbled and grateful for the award I received today."
Bailey, who joined Ozarks in 2019, completed an MFA in directing at University of South Dakota in 2016. She earned her undergraduate degree in theatre from South Dakota State University.