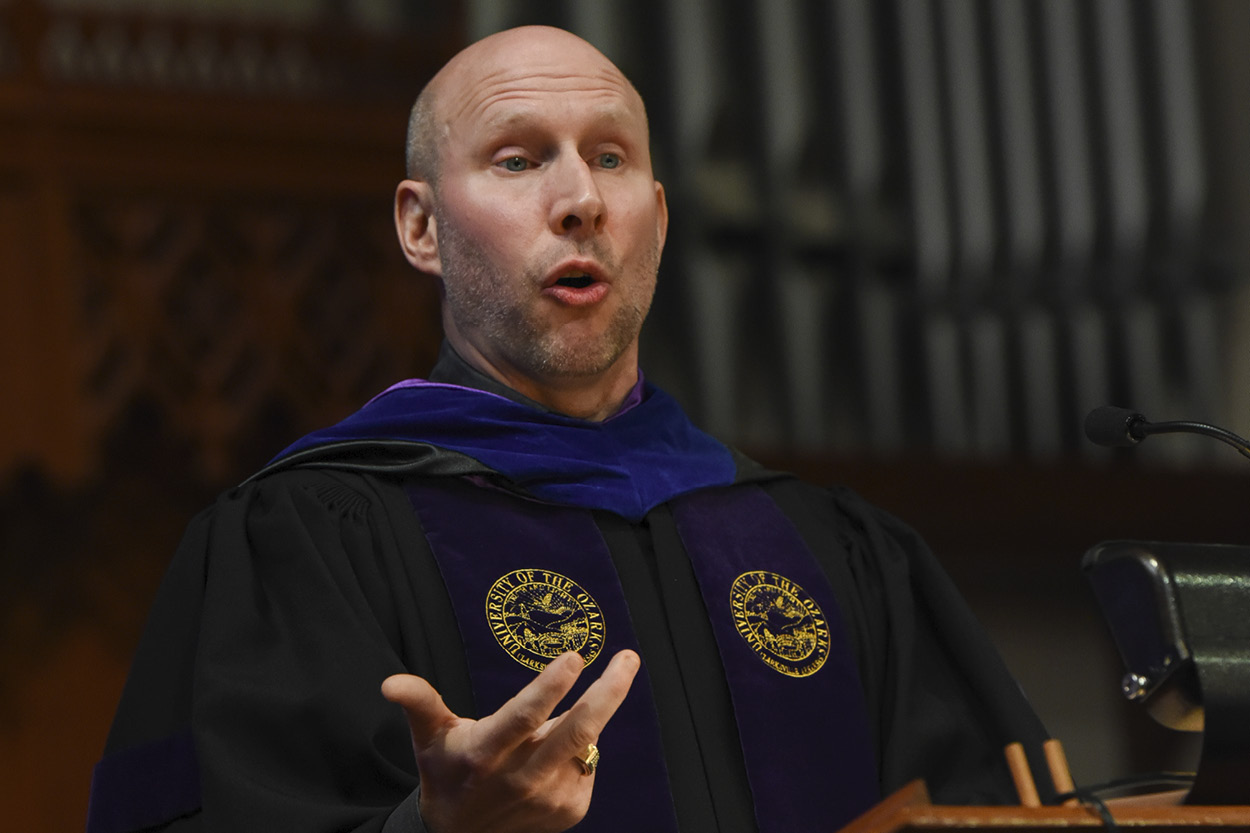 University of the Ozarks alumnus Rick Armstrong '00 has never forgotten the sage advice he received from an Ozarks faculty member more than 25 years ago.
Armstrong returned to campus in December to provide the keynote address at the University's 2022 Fall Commencement ceremony on Dec. 17. He currently lives in Seattle where he is director of product marketing at Tangle, a tech start-up founded by games experts who are building a virtual collaboration platform that brings joy to remote work culture.
Armstrong told the fall 2022 graduating class that words from Dr. David Strain, professor of English and Classics, still resonates with him.
"Nothing stands out more than the words Dr. Strain gave me my freshman year," Armstrong said. "Back then, Strain was feared, not for being uncaring mind you, he just had an unbelievably high bar he expected from his students. After making a perfect score on a Comp II paper, which I thought had to have been a mistake, I remember the one simple bit of advice he gave me: 'You have a gift my boy…use it.' Well, Dr. Strain, I did, and thank you."
Armstrong said he uses "that storytelling gift every day in my job that revolves around developing narratives, whether it's creating a multimillion dollar marketing plan, leading a high stakes product launch on stage in Amsterdam, or giving art direction to world class games designers."
A native of Pottsville, Ark., Armstrong earned a double major in art and marketing while also competing on the cross country team at Ozarks. He went on to earn an MBA from the University of Central Arkansas before beginning his career in corporate marketing at Little Rock-based Alltel Wireless, prior to its Verizon acquisition.
Armstrong soon moved to San Francisco, where from Fortune 100 companies to startups, his nearly 20-year marketing career spanned across games, mobile, SaaS platforms, and immersive technologies. Most recently, he was product marketing lead for Amazon Web Services (AWS) Game Tech, the world's largest cloud platform. Prior to AWS, he was one of the original product marketers at Unity Technologies, a tech unicorn that successfully IPO'd in 2020. While at Unity, he led global campaigns for mobile games and emerging industrial industries.
"So how did I get from that tiny farming community that I still love to this day, to Little Rock, next San Francisco, then Seattle, and now standing before you today?" Armstrong said. "It all started when I was 8, after I looked up at my parents and said, 'I don't belong here.' They knew then that I had big dreams, and they did everything possible to give me the opportunity to forge my own path, starting with the day I visited this very campus. When I toured Ozarks, I received a shirt with a Robert Frost quote from the poem, 'The Road Not Taken.' It read: 'Two roads diverged in a wood, and I—I took the one less traveled by, And that has made all the difference.'  That quote stuck with me throughout life, whenever I faced a crossroads. Should I take the easier paths that most follow? Or, should I take a calculated risk, and see what's down the paths less traveled? Harder?…Yes. Uncertain?…Definitely. Scary?…Sometimes. But it was absolutely worth it."
Armstrong encouraged the graduates to practice "Sisu," a Finnish word meaning grit, strength and perseverance.
"One of my closest friends taught me a phrase that embodies his Finnish national character," he said. "Quite simply, Sisu just means guts."
Armstrong relayed his own experience in defining Sisu.
"My first 'small country mouse-in-the-big-city feeling" happened after moving 2,000 miles west to San Francisco, where I hardly knew a soul," he said. "I laid wide awake in my first studio apartment, surrounded by unpacked boxes. I'm a bit scared, with self-doubt running through my head, wondering if I made the right decision taking this less traveled road. But that's not what was keeping me up. There was a faint, repeating hum that kept sounding in the distance. It was then I realized, 'wait, those are fog horns of the Golden Gate.' And it hit me; I'm living in San Francisco, one of the most culturally rich, diverse cities in the world, and this experience was going to change my life forever. A smile grew on my face as I fell fast asleep, soothed by the rhythmic low hum of those iconic horns. A sound that would rock me to sleep for over a decade, in a city where I eventually formed lifelong friendships, as well as meeting my wife [Laura] and kindred spirit. Always have guts….Sisu."
An avid traveler, Armstrong said Ozarks gave him first true taste of culture when he befriended classmates from Central America and Mexico.
"That awakened the curiosity and my marketing career then ignited the passion, starting with domestic trips and later evolving to international treks," he said. "Now, I take pride in saying that I've been to over 30 countries, with one goal, to have as many stamps on my passport, before I leave this earth. Interacting with different cultures broadens the mind and makes you a more well-rounded person. You learn from others, and they learn from you. You get a taste for how the rest of the world lives, and you become more empathetic to those less fortunate."
Armstrong left the graduates with a piece of advice he learned from his father, a former Vietnam War combat Marine who passed away in April.
"Anytime I faced a challenge, the first thing he'd say was 'see the hill, take the hill son,'" Armstrong said. "Those words would echo through my head when summiting Half Dome in Yosemite National Park, or climbing up 10,000 feet to Mt Rainier base camp. Now, go forth, and see your own hills, and take those hills. Godspeed on the roads that lay ahead of you."
Topics: About, Alumni, Alumni Stories