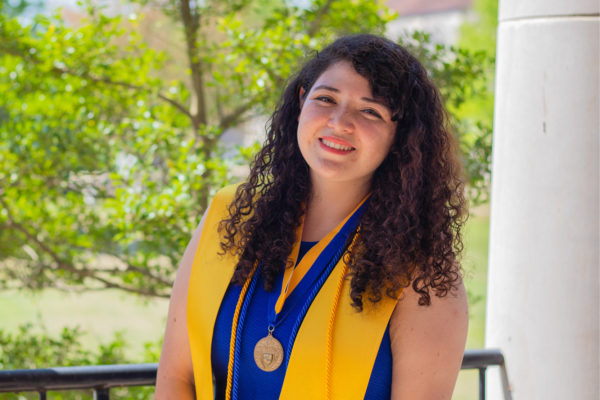 Growing up poor as the child of a hard-working single mother in Guatemala City, Gladis Yessenia Alvarez was determined to make the most of every opportunity she had to succeed and improve herself. If the last four years are any indication, the newly-minted University of the Ozarks honors graduate is well on her way.
Alvarez graduated this month with Summa Cum Laude (3.85 GPA or higher) honors with a double major in business and psychology and a minor in music. It's been a long road for the Walton Scholar, who is the first in her family to graduate high school, not to mention college.
"I grew up just with my mom in her workplace and I remember that my mom and I used to sell pencils, toys, stickers, and snacks outside of my school, just to make some money," Alvarez said. "We would sell multiple things during holidays in big events in the city, such as concerts. Then we used that money to buy my books and notebooks for the next school year."
Alvarez's first opportunity came when she received a sponsorship to help fund her high school education. She made the most of it by earning stellar grades, leading eventually to a Walton Scholarship from U of O.
"I look back and realize that if it wasn't for my sponsor who helped me with my high school education, I would be working now instead of graduating from college," she said. "I've been extremely blessed and have just tried to do the best I could with every opportunity I had."
Alvarez has shined both inside and outside the classroom at Ozarks. She was recently named the outstanding student in both business administration and psychology. She has also served as president of the Phi Beta Lambda organization.
It didn't start how smoothly, though, for Alvarez, who struggled initially with her English in the first few months at Ozarks.
"At the beginning, I felt scared of not being enough or not being able to maintain the scholarship because all my education was in a second language," she said. "But, with the help of my professors, I slowly got better and got more confidence. I put extra effort in the classes that were difficult and challenging and I began to get better in time management, which is everything, I learned to prioritize things better and I ended up finishing everything on time."
Alvarez is excited about returning to Guatemala and helping her country thrive. She would one day like to create her own non-profit organization dedicated to helping children in rural areas. She specifically hopes to assist children with learning disabilities, which was a topic of a thesis she wrote for one of her psychology classes at Ozarks.
"After doing my thesis on the effectiveness of getting early intervention in children with disabilities, that really inspired me to want to create a nonprofit organization back home dedicated to disabled children, especially in the rural areas where there is limited education and resources for them to succeed," Alvarez said. "I believe that to really make a difference in my country, I need to start with making a difference in the lives of the children there. I was one of those children who had limited resources, but God gave me a sponsor years ago who helped me to see and realize my potential. His name is Jose Luis Granados and he believed in me and gave me the opportunity to change my future. I want to give this back and help others, just as I was helped."
Alvarez is also grateful to her Ozarks psychology and business professors, especially Karen Jones, Dr. Joel Hagaman, Deb Sisson and Dr. Isaac Hunter.
"Professor Jones always pushed us to think harder and really got us involved in the topics by comparing and giving real world examples in the tests and homework. All of her classes were challenging, but I learned so much because of that," Alvarez said. "Professor Hagaman always had a smile and encouraging words for us to do better and bigger things. He was always cheering us up and sharing his knowledge in an easy to understand ways. Professor Sisson made me love the marketing and accounting parts of business. She was always pushing us to think outside of the square. And, Professor Hunter is so enthusiastic and I was really blessed to have him in the psychology department. I conducted my seniors thesis with him and he encouraged us to reach our full potential and to make our lives truly meaningful. He was the one who helped me to realize that I want to make a positive change in my home country and that I want a meaningful life and that I want to help others make their lives meaningful."
Alvarez said she felt "extremely blessed and proud to be a part of the Walton International Scholarship program and to be an alumna of Ozarks. There are not words that can describe my experiences here at Ozarks, but if I have to choose a word, it would be 'blessed.' It has been an incredible honor to represent my country and to demonstrate to myself all the things that I am capable of doing and achieving."
Topics: About, Business Administration, International, Psychology, Student Stories