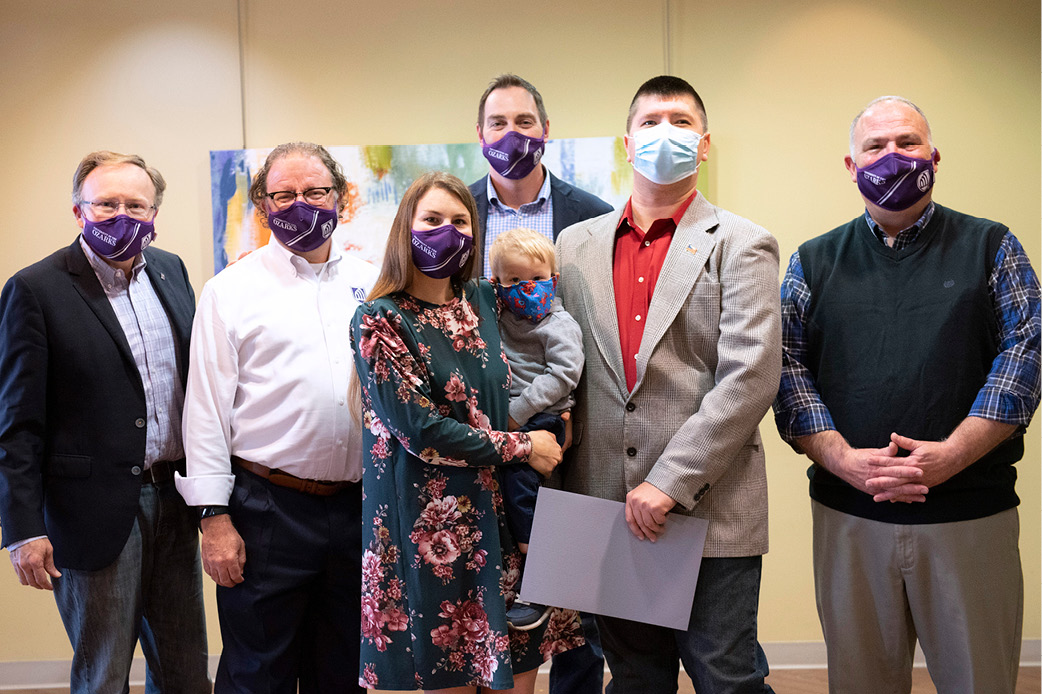 Numerous University of the Ozarks alumni as well as family and friends of Joe Hoing have created an endowed scholarship in memory of the long-time dean of students.
Hoing, who died in 2019, served Ozarks as an administrator and instructor from 1984 until his retirement in 2014. He was dean of students at the University for 29 years, where he had a positive and enduring impact on hundreds of students.
Nearly 40 alumni and friends have donated to the scholarship. Donors met the $20,000 threshold to establish a named endowment earlier this year.
The University held an endowment agreement signing on Feb. 27 that was attended by Hoing's son, Montana, his wife, Samantha, and their son, Carson. Samantha is an academic support coordinator in the Jones Learning Center at Ozarks.
Dr. Pat Farmer, former Walton Professor of Theatre at Ozarks, and George Pittenger, a 1991 Ozarks graduate, represented the supporters of the scholarship by signing the endowment agreement.
"Joe Hoing embodied the spirit of Ozarks," Farmer said. "His love and concern for students were palpable. With publicity limited to social media and word of mouth, the fact that many individuals contributed to the scholarship is testament to his campus legacy."
Among the requirements to receive the scholarship is that a student must have completed at least 30 earned credits with a 3.0 GPA or higher. The recipient should also be active in student life and be involved with community service in Johnson County, Arkansas.
A native of Coal Hill, Ark., Hoing was a collegiate All-American football player before pursuing a career in education. He was a two-time recipient of the University's Broyles Outstanding Staff Award.
"I'm grateful for Joe's friendship," Pittenger said. "He regularly showed his first priority was to the students with knowing the right thing to say whether it was a laugh or words of support. I'm glad that Loraine and I are able to help support the Joe Hoing Scholarship and that he will continue to help students as he always has."
For those who would like to contribute to the Joe Hoing Scholarship, please contact the Office of Advancement and Alumni Engagement at 479-979-1234.
Those pictured include (front row, from left) University President Richard Dunsworth, George Pittenger, Samantha Hoing, Carson Hoing, Montana Hoing, Dr. Pat Farmer and (back row) Brian Henderson, director of annual giving and alumni engagement.
Topics: About, Alumni, Financial Aid, Giving, Scholarship