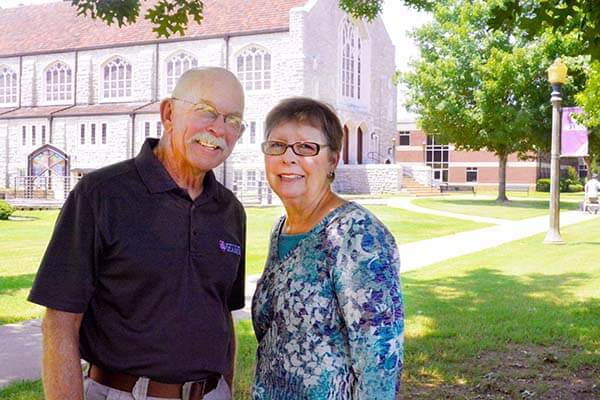 Chris and Martha Allen of Clarksville have established an endowed scholarship at University of the Ozarks to aid future educators.
With a $50,000 commitment, the Allens created the Chris and Martha Allen Scholarship Endowment for Teacher Education. The scholarship will be awarded to education majors at U of O with financial need, with a preference given to those from Johnson County.
Martha Allen spent more than 36 years teaching kindergarten through fourth grade in four states — South Carolina, North Carolina, New Mexico and Arkansas. The last 22 years were spent teaching fourth grade in the Clarksville School District.
Meeting a need
"We wanted to create a scholarship to help students at the University and education seemed like the logical choice," Martha said. "The University does a wonderful job of preparing teachers and this was a way for us to help some of those future teachers pay for their education."
Lori McBee, vice president for advancement, said creating more scholarships for students is one of the University's main objectives in its current $55 million Climb Higher Campaign.
"Nearly 50 percent of our students are Pell eligible, so there is definitely a big need for scholarships," McBee said. "Chris and Martha's scholarship endowment will have a huge impact for years to come for so many students pursuing a degree in education. Our students are truly blessed by the generosity of the Allens and of all those who support Ozarks."
Do more with an IRA
Chris Allen, a retired plant manager at HanesBrand in Clarksville who has served on the U of O Board of Trustees for 17 years, said they were able to create the endowment through an IRA charitable rollover. The Allens will use their IRA's required minimum distribution to fund the endowment.
"We visited with officials at the University and we were able to make it happen," Chris Allen said. "We're extremely blessed to be able to create this scholarship for education students. Having lived with a teacher for almost 50 years, I know personally the tremendous amount of time and commitment teachers put into their profession. We need to do all we can to promote and encourage more young people to pursue careers in education."
The Allens, who celebrated their 47th wedding anniversary in April, have lived in Clarksville for the past 30 years. They have two daughters and three grandchildren.
Topics: Education, Giving, Scholarship