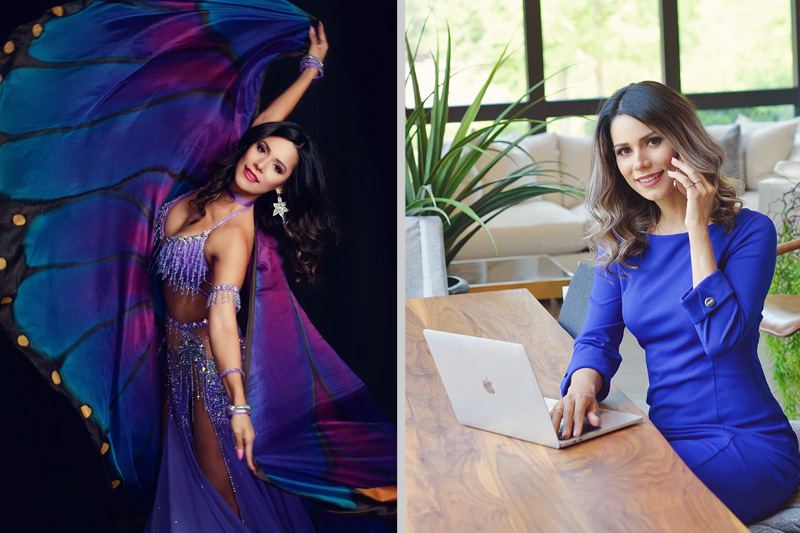 "It is when different cultures meet that different experiences are created, and one learns about the other."
That is one of Giselle Alfaro's favorite quotes and the 2005 University of the Ozarks' alumna is doing her part to bring different cultures together through the art of dance.
Alfaro, a native of El Salvador who graduated from Ozarks with a degree in economics, is the owner of Giselle Theatrical Dance, or GTDance, a nonprofit organization in Little Rock, Ark., whose mission is to "solve the lack of opportunities for cultural exchanges between artists, audiences, teachers and students."  
"We believe in the power of dance and movement to inspire positive change in our community," said Alfaro of the organization that she created in 2022. "By doing so, we will open a new outlet to express and showcase our community's talents."
One of the ways Alfaro hopes to accomplish this is through GTDance's first major theatrical dance production, "The Jungle Book," which will be held at 3 p.m. and 7 p.m. on Saturday Feb. 18, at Wildwood Theatre in Little Rock (20919 Denny Road). The show, held in partnership with BDE Evolution, features diverse top artists in the fields of Middle Eastern dance and music, Tahitian dance, freestyle, contemporary, tribal-fusion and ballet.
"This a beautiful and culturally rich show where we can all learn and have fun together," Alfaro said. "It is my hope that this performance will help create different experiences and that people learn about other cultures through it. Plus, all the proceeds from this show will go towards our movement and wellness programs. I would love to see my Ozarks family and friends be part of this very special moment."
To say that Alfaro's role in the production is multifaceted is a major understatement. She handles the hiring and organizing and serves as the co-producer. In addition, she will be a guest artist in the show, playing the role of the Butterfly. She is assisted by her local lighting team, Wildwood Theater, local guest dancers, and others.
Alfaro said she got the idea to team with BDE Evolution when she toured with the group as a featured dancer in its production of "Fantasm" from 2017-2019.
"In 2019, I was invited to participate as an assistant director for the end of the season performance in Buenos Aires, Argentina," she said. "In 2020, BDE Evolution announced its new production, "The Jungle Book." I was invited to participate as an assistant director for the debut of this show in Germany.  After founding GTDance, I was looking for a show that was in alignment with my new nonprofit mission and goals. That is when I contacted the director of BDE Evolution to propose to her bringing this show to Arkansas. BDE Evolution takes a revolutionary approach to the art of ethnic dances, presenting theatrical dance shows with a storyline, much like a ballet."
Alfaro said she decided to create GTDance during the Covid pandemic. She said what sets her company apart from other organizations is that they provide "innovative entertainment with a purpose."
"I realized that here in Arkansas we didn't have as many opportunities to explore and experience cultural dances and during Covid I was inspired to do something about this," Alfaro said. "I had seen how dance, movement and music can create connections among students and teachers, artists and audiences.  Learning together as a multicultural society can help us create a more welcoming state. Also, this project was important to me because I kept seeing how new generations are focusing more and more in the digital world. I see the struggle in the healthcare system with more and more kids having health issues due to a sedentary life. Performing arts is my passion, and through dance and movement, I want to motivated adults and kids to stay active, have fun, and learn about different movement disciplines."
Alfaro began dancing when she was in her early teens in her home country of El Salvador and quickly fell in love with the art form. Her love for dancing continued to blossomed after she received an international scholarship to attend Ozarks.
"When I moved to the U.S. to attend U of O, I decided I wanted to teach my friends dance and yoga," she said. "So, for a couple of semesters I offered free classes to my friends and participated in the student talent shows as well.  After graduating from U of O and moving to Little Rock, I was determined to further my knowledge in dance, so I joined The Mirana Middle Eastern Dance Company and soon I became a principal dancer at the company.  I started auditioning for international dance shows and furthered my studies with renowned oriental instructors. This led me to travel to Mexico, El Salvador, Argentina, Ecuador, Spain, Italy, Greece, Germany, Australia, as well all over the U.S."
She described her time at Ozarks as "exceptional."
"Academically, Ozarks provided me with all the tools I needed to become a valuable worker and entrepreneur in the business world," she said. "Moreover, Ozarks taught me how to be an independent and socially responsible member of society.  It gave me lifelong friendships. The support and encouragement that I received from my professors and staff members was truly remarkable. "
Alfaro said two moments stand out for her during her time at Ozarks.
"Getting to meet and spend time with my host-mom, Dr. Deborah Sisson, was very special for me," she said.  "She made sure I wasn't alone during the holidays, and she was always supportive and made sure I was OK, even when I caught the flu one year.  My second favorite memory was when the former president Dr. Rick Niece offered to pay for my books for the semester. I was moved by his generosity.  For him, it could have been a random act of kindness, but in that moment for me, it meant everything."
It's those acts of kindness that have inspired Alfaro to give back to her community through dance.
"As a professional artist, I believe in the transformative power of dance and movement to inspire a positive change toward a more diverse, equitable, and inclusive society," she said. "The heart of GTDance is the ever-evolving human connection. We are dedicated to present world-class innovating shows to the Arkansas community. In addition to our contribution to the performing arts world, GTDance serves adults and kids in multicultural neighborhoods that would not normally have access to theatrical shows, dance, Yoga, meditation, non-contact martial arts, among others. Our goal is to provide bi-weekly and monthly free workshops.
Tickets for the Feb. 18 shows of "The Jungle Book," can be purchased here: https://www.gtdance.org/tickets-and-performances
Topics: About, Alumni, Alumni Stories