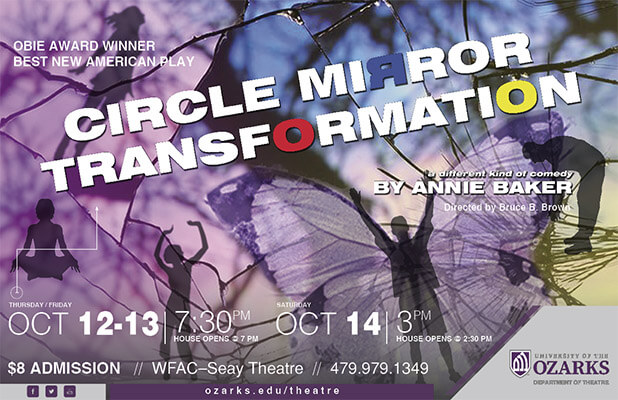 University Theatre will open its 2017-18 season with three performances of Annie Baker's award-winning dramatic comedy "Circle Mirror Transformation" on Oct. 12-14.
The play, which will be held in the Walton Fine Arts Center, will begin at 7:30 p.m. on Oct. 12 and 13 and at 3 p.m. on Oct. 14. Tickets are $8 each.
Seating is limited and guests are encouraged to purchase their tickets early on-line at  www.ozarks.edu/theatre. Tickets can also be purchased one hour before the show each day at the box office.
The Story
An Obie Award-winner, "Circle Mirror Transformation" is set in a small artsy town where an unlikely collection of four strangers sign up for Marty's "Adult Creative Drama" class. The group includes a recently divorced carpenter, a high school junior, a former actress, and Marty's husband. Unfolding like a charmingly funny indie film, the group plays Marty's imaginative, and sometimes awkward, theatre games. But as their relationships develop over the course of the summer, the seemingly silly games generate some real-life drama.
The play landed on top 10 lists of The New York Times and The New Yorker for 2010. It was the second-most produced play in the United States that year.
The New York Times called the play, "absorbing, unblinking and sharply funny."
The Cast and Crew
The Ozarks cast includes Haley Hanks as Marty, Mason Clough as James, Rhett Sells as Schultz, Haley Grace Clark as Theresa and Lacye Day as Lauren.
Bruce B. Brown, Walton professor of theatre, is the director of the play as well as the scenic and graphic designer. Lucas Hoiland, assistant professor of practice of theatre, is the technical director and light designer.
Other cast members include, Eleazar Coronado as stage manager, Tiffany Quinton as assistant stage manager, James Allen as costume designer and scenic charge artist, Daniel Hall as sound designer, Ethan Lubera as property master/designer and Day as scenic artist. The stage, lighting, props and wardrobe crew includes, Kevin Nawa, Jamee Barham, Jimmy Reinier, Lilly Olmsted, Kaylanii Loudon and Ben Howard.
Topics: Community Events, Theatre