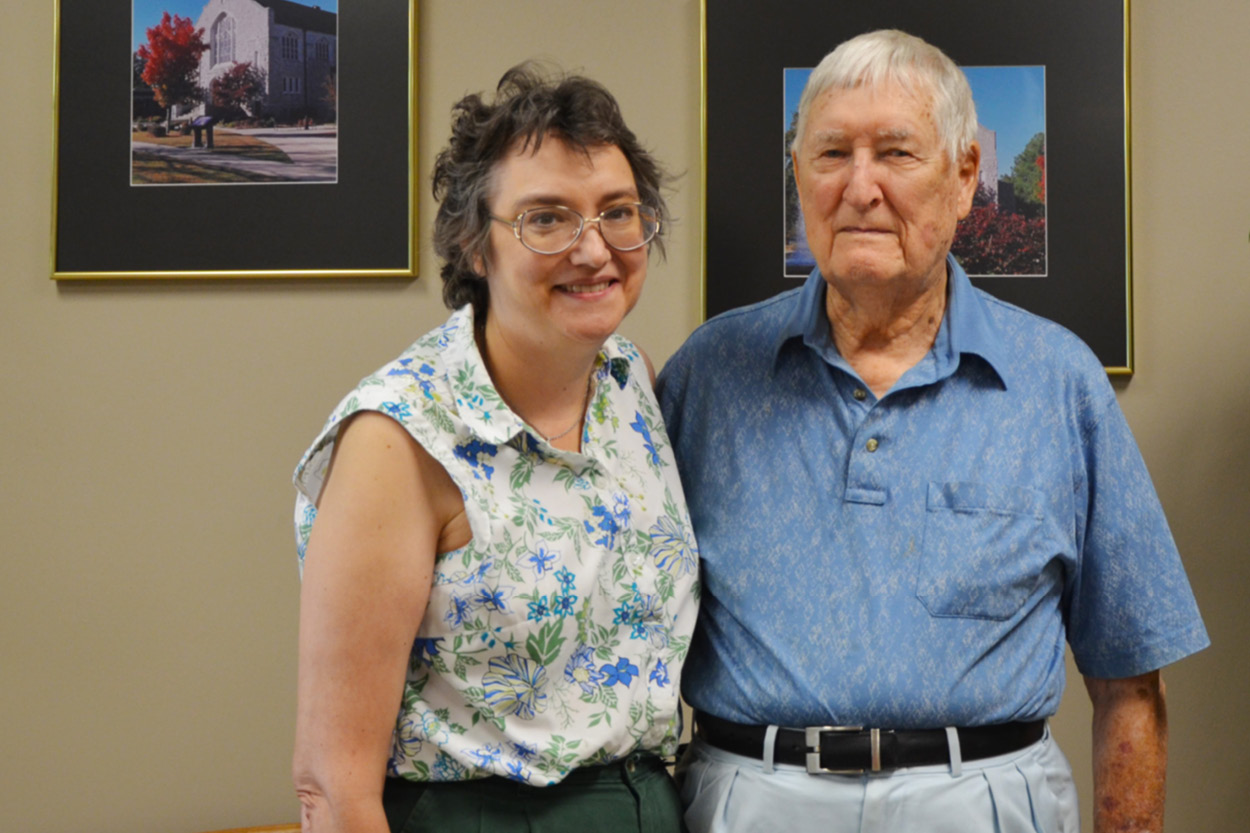 Retired U.S. Navy Commander and Chaplain Bruce Williams, a 1943 University of the Ozarks graduate and one of the University's oldest-living alumni, will speak about his life during a special virtual alumni event on Thursday, March 18.
Williams, who turned 100 last August, will be speaking about his journey to Ozarks, his time there and life after Ozarks.
The event is presented by the University's Office of Alumni Engagement and begins at 6 p.m. It can be viewed on Zoom at this link: https://ozarks-edu.zoom.us/j/95835282485?pwd=dE5CNythREJGOE93RkplVTllTVJjQT09
Originally from Sharon Hill, Penn., Williams left his home to attend what was then The College of the Ozarks in September 1939. More than 80 years later he fondly remembers arriving at Ozarks, where he met Virginia Lou Laster, his wife of 68 years. They had two daughters, Jan and Ginger.
Williams joined the U.S. Navy as a student when World War II started. He was ordered to continue his studies at Ozarks since the Navy would need officers. Upon graduation, he served on active duty as a line officer during World War II through 1946. Williams remained in the Inactive Naval Reserve as a line officer while attending Princeton Seminary.
He was ordained in February 1949 as a Presbyterian minister. Williams was called to serve as pastor for Buckingham Presbyterian Church in Berlin, Maryland. The Williams stayed at Buckingham for five years before they returned to active duty in the Naval Reserve as a chaplain in November 1952. They transferred to the regular Navy Chaplains Corp on September 20, 1955, the same day his youngest daughter was born. Williams continued to serve as a Navy chaplain and ended his Naval career with 33 years, 3 months, and one day as a line officer and chaplain.
In addition to his time in World War II, Williams served in both the Korean and Vietnam wars while Virginia raised their two girls. Upon retirement from the Navy as a commander in August 1975, he trained for a year in a hospital in Houston, Texas, to become a hospital chaplain. He served as a chaplain at the Texas Department of Corrections facility-Clemons Unit in Brazoria, Texas, retiring in 1986. While at Clemons, he also served as interim pastor and pulpit supply in several churches in Texas. Since retiring in 1986, he has continued to serve the local Presbyterian Churches within 100 miles as they need.
After the death of his beloved Virginia, he married the Rev. Tracy Julian. They continue their ministry in local Presbyterian Churches, currently serving the First Presbyterian Church, Brazoria, Texas.
Topics: About, Alumni, Alumni Stories, Presbyterian