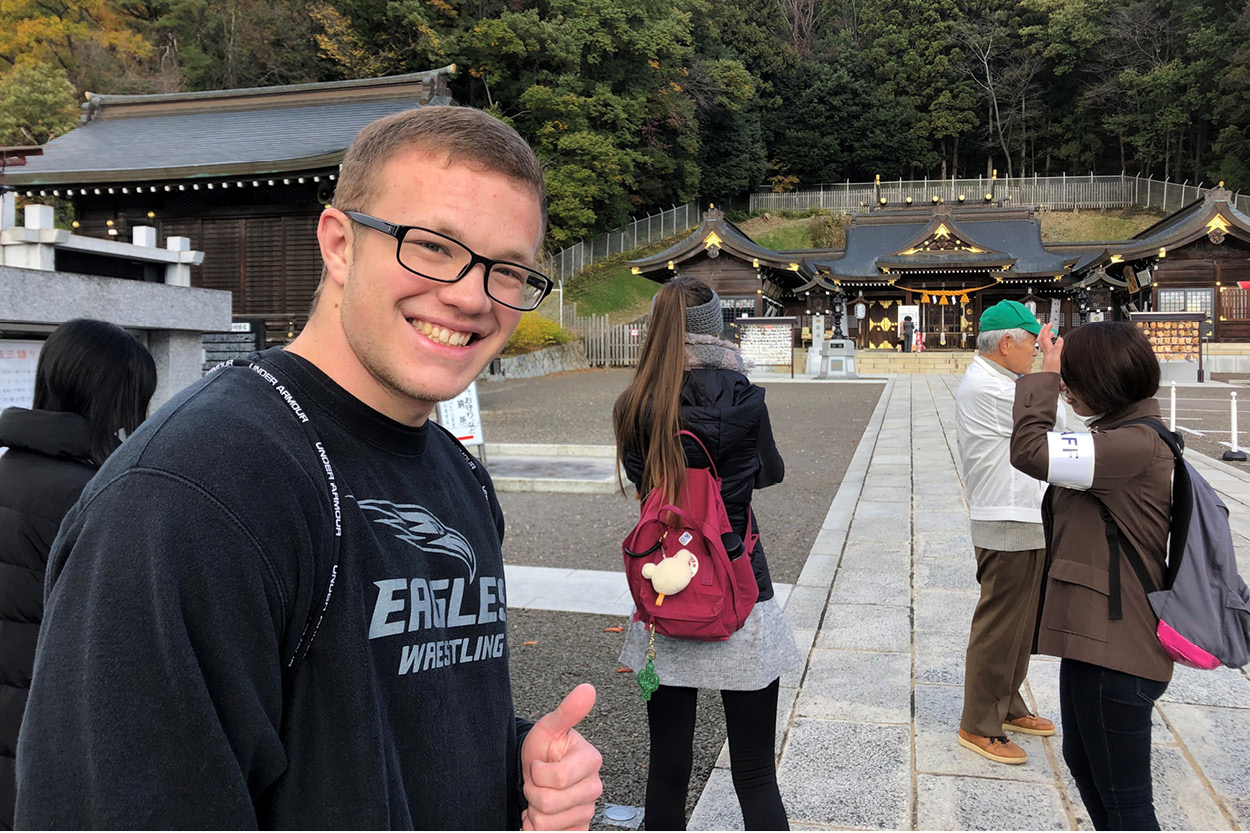 University of the Ozarks senior Jakob Case recently completed a challenging year of study in a completely foreign country during a world pandemic. It's an experience that he wouldn't change for anything.
Case, a health science major and education and religion minor from Keller, Texas, returned from an 11-month study abroad experience in Japan in August. It was a transformational experience for someone who had never previously travelled outside of North America.
Case spent the year taking classes at Fukushima University through the study-abroad program University Studies Abroad Consortium (USAC). His courses, which were all taught in English, ranged from Japanese language and grammar to Asian history to even a class on Anime, a popular style of Japanese film and television animation.
"I've always been fascinated with Japanese culture, their technology, the people and a lot of that had to do with my interest in Anime," Case said. "That was a big part of my decision to go to Japan. In one of my first classes, I had the professor ask the class, 'What is your favorite Anime character?' I remember thinking, that's something I never expected to hear in a college classroom."
The language barrier was the most difficult part of the experience and it forced Case to work diligently on his Japanese.
"The greatest challenge was definitely making friends and the language barrier," he said. "I didn't know any Japanese from the beginning, so no one could really talk to me unless we used a translator. But using a translator wasn't meaningful to me, so I did everything I could do to learn. I overcame it by trying to be positive and hang around my new friends more and listen to how they speak. As the months went on, it became easier and I made many friends and managed to learn some of the language."
When the Covid-19 pandemic hit in the spring, Fukushima University was in between semesters. When classes resumed, they were all completely online. Case rarely left his residence hall while taking classes throughout the summer months.
"When the pandemic first hit, it wasn't that bad in Japan, so I decided to stay here and complete the year," Case said. "Once it got bad here, they pretty much shut everything down and that was difficult. I was basically locked in my room for three months and the only places I could go to was the grocery store down the street. All the area businesses were closed and no one was allowed to be within six-feet of each other. I passed the time by working on the language and doing a lot of eight-hour video chats with friends."
Ironically, Case said that before the Covid-19 shutdown it was the more hands-on, interactive aspect of Japanese instruction that he enjoyed the most about his academic experience.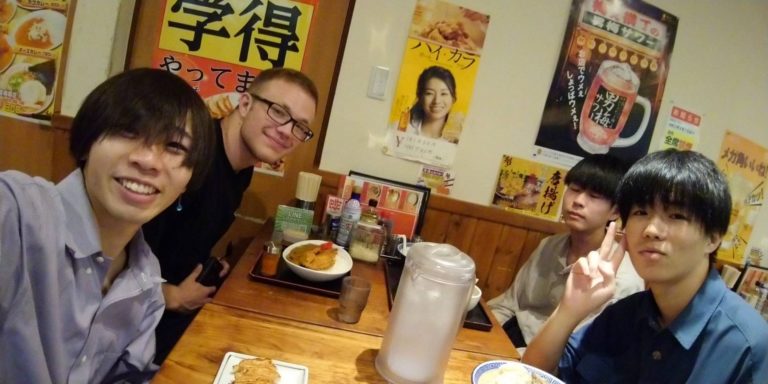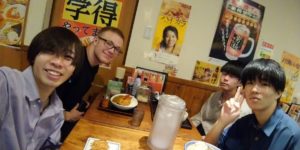 "Their teaching system is much more hands-on instead of a lot of reading and papers, so the learning process was more fun," Case said. "I believe Japanese schools want you to enjoy learning by activities instead of writing or typing on a computer. I was really enjoying that before the pandemic shut us down. I did have some great opportunities to travel around and see a lot of the country before it was shut down, so I'm thankful for that."
The professors at Fukushima University were some of Case's strongest advocates.
"My professors were very supportive of me and were always in my corner cheering me on and telling me that I could do it," Case said. "I believe that made me a little bit more confident in myself. It's certainly scary trying new things, so having them congratulate and encourage me was very uplifting."
Case credited the Ozarks staff and faculty for providing the help and support to make his goal of studying in Japan a reality. He is one of the first students from Ozarks to study in Japan.
"The process to get there was pretty long and tedious, but thanks to [Director of Campus Recreation] Bendex Stevenson and other staff and faculty members, I was able to achieve it," Case said. "I honestly can't thank them enough. To represent Ozarks as one of their first students in Japan was quite an honor and would not have been possible without support from a lot of people."
Case, who would like to pursue a career in teaching, said he enjoyed the experience in Japan so much that he plans to return for graduate school. The next time, though, he expects to have a better grasp of the language and culture.
"My Japanese and my knowledge of the culture improved so much in a year, but I'm continuing to work and improve in those areas," Case said. "I realize that I can do and experience so much more if I can continue to get better with the language. I can't wait to go back."
Calling the experience transformational, Case said he is now confident and inspired to take on whatever comes next following his Spring 2021 graduation.
"This past year has really changed me and given me the confidence to know I can overcome a lot of obstacles and still succeed," Case said. 'To know that I spent a year in a completely foreign country, not knowing anyone at first and then getting through a world pandemic; that tells me I can accomplish anything I set my mind to. That's a great feeling."
Topics: About, Academics, Education, Religion, Study Abroad