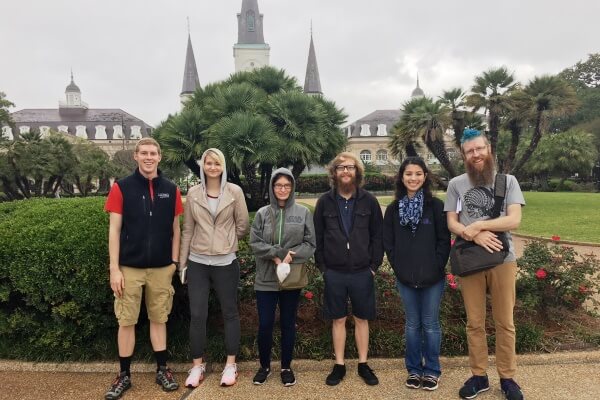 One of the University of the Ozarks' newest student organizations, Wordsmiths, recently spent a weekend in the Big Easy, soaking up the culture and gleaning inspiration from a regional poetry festival.
Several members of Wordsmiths, the creative writing club that was organized in 2016, travelled to New Orleans to attend the second annual New Orleans Poetry Festival. They attended various panel discussions and poetry readings by well-known scholars and poets and also had the opportunity to meet and talk with many of them.
The trip left a lasting impression on the five students who accompanied Ozarks professors Chris Carrier and his wife, Dawn Holder to the festival. Carrier is the advisor of the organization, which was named the University's Up-and-Coming Organization of the Year for 2016-17 during this week's Leadership Awards ceremony.
Members of the University of the Ozarks' student organization Wordsmiths who attended the New Orleans Poetry Festival were (from left) Jake Sawyer, Lauren Dotson, Samuel Binns, Taylor Snellback, Ariana Lujan and Professor Chris Carrier.
"Although our time in New Orleans was short, I feel like we all walked away with new-found inspiration," said Ariana Lujan. "Sitting in each of the readings and panels made me realize the importance of listening to a variety of voices, and how we all have something to learn from those around us. Something that stuck out for me was the community that was present at the conference; readers or presenters from one panel would go to another, and that idea of 'community' is something that can be translated to education."
The group had the opportunity to enjoy a walking tour of some of the cultural and literary sites in the French Quarter, including the Mississippi River, Marie Laveau's House of Voodoo, Preservation Hall Jazz Club, William Faulkner House of Books, and Tennessee Williams' residence. They also were able to see a jazz show and eat beignets at famous Caf? du Monde in the French Quarter.
"The trip to the New Orleans Poetry Festival is going down as one of the coolest things I have done since coming to Ozarks, and that is saying a lot," said freshman Jake Sawyer. "The festival itself was amazing, being able to rub elbows with nationally known poets, talk about their work and listen to their readings. Then just the time we got to spend wandering around the French Quarter in New Orleans. We ate local Cajun and creole food for every meal, visited a bookstore in a house where William Faulkner lived and wrote, and listened to a New Orleans Jazz band in a cafe. As an English major with an interest in writing, being in a city with such a rich literary history and distinct feel was invaluable. I wrote more in those three days than I have in the last month. I've come away from New Orleans with a lot of new ideas, a couple new books, and a wealth of experiences that won't fade easily from my mind."
Samuel Binns, president of Wordsmiths, said the trip was the perfect way for the club to celebrate National Poetry Month.
"I greatly benefited from the intimacy of the New Orleans Poetry Festival as we were able to meet many writers, listen to them read, and contribute to discussions in the panels," Binns said. "We were also able to be a part of a broader creative writing community, which gave us a great example for our own facilitation and development of a creative writing community on campus. We explored the writing spirit that is unique to the city, and it was the perfect location to celebrate National Poetry Month and receive new material and encouragement for our endeavors."
Wordsmiths, which has about 12 members this semester, seeks to promote the creation and appreciation of creative writing and the literary arts at U of O and for the members of its community through a variety of programs, including student-led workshops, group writing projects, community readings, and field trips.