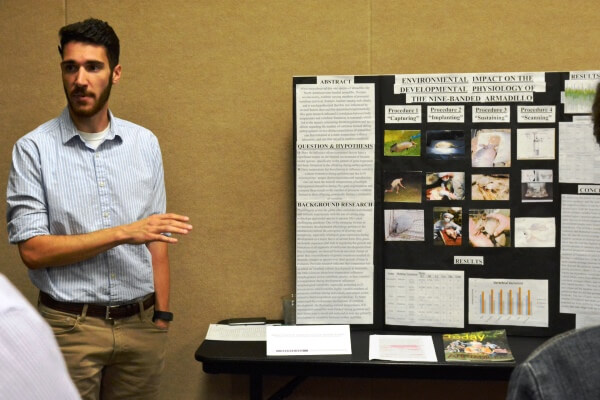 David Estrada, Azalia Molina and the team of Ashley Clayton, James McClellan and Magan Holmes took home the top honors at the fifth annual ARCH (Advanced Research and Creative Highlights) Symposium, held this week in the Rogers Conference Center.
The annual competition is an opportunity for Ozarks students to showcase their research and art projects from throughout the academic year. This year's event drew more than 50 students and 49 projects.
Estrada, a senior RTV major from Costa Rica, won the top award of $200 for placing first in the oral presentation category. Estrada's presentation was titled, "KUOZ Election Night Coverage," and chronicled the campus TV station's work on covering the local, state and national elections in November of 2016. Estrada served as the producer for the election night coverage.
Also in the oral presentations category, senior art major Patrick Brown and senior biology and chemistry major Amanda Paz were awarded distinguished honors. Hailey Hardgrave and Obed Gonzalez won achievement honors and Breanna Hiatt and Valerie Robleto finished with merit honors. Alpha & Omega won the people's choice award in the category.
In the visual arts category, Molina, a senior business administration and art major, took home the top honor and $150 for her artwork, "Victims of A-02," which told of a tragic shooting incident in her home country of Honduras. Other top finishers in the category included, Ana Sofia Camargo Montenegro with achievement, Patrick Brown with merit and Gabby Serrano with the people's choice award.
In the poster presentation category, the team of Clayton, McClellan and Holmes took top honors and $150 for their project titled, "Environmental Impact on the Developmental Physiology of the Nine-Banded Armadillo." The achievement award went to Montenegro, the merit award went to Julio Molina-Pineda and Kelley Criss, and the people's choice award was given to Alpha & Omega.
Event organizer Emma Curry said she was impressed with the event's continued growth.
"The judges were all very impressed by the quality of work that the students presented," Curry said. "It seems like each year the level of dedication of our students and the quality of the projects continue to improve. The support of the campus for our outstanding students was overwhelming and never ceases to amaze me."
Senior James McClellan explains his team's poster presentation, "Environmental Impact on the Developmental Physiology of the Nine-Banded Armadillo," to several judges during the 5th annual ARCH Symposium. McClellan, Ashley Clayton and Magan Holmes took top honors in the poster category with their project that focused on the nine-banded armadillo.
Topics: Student Events