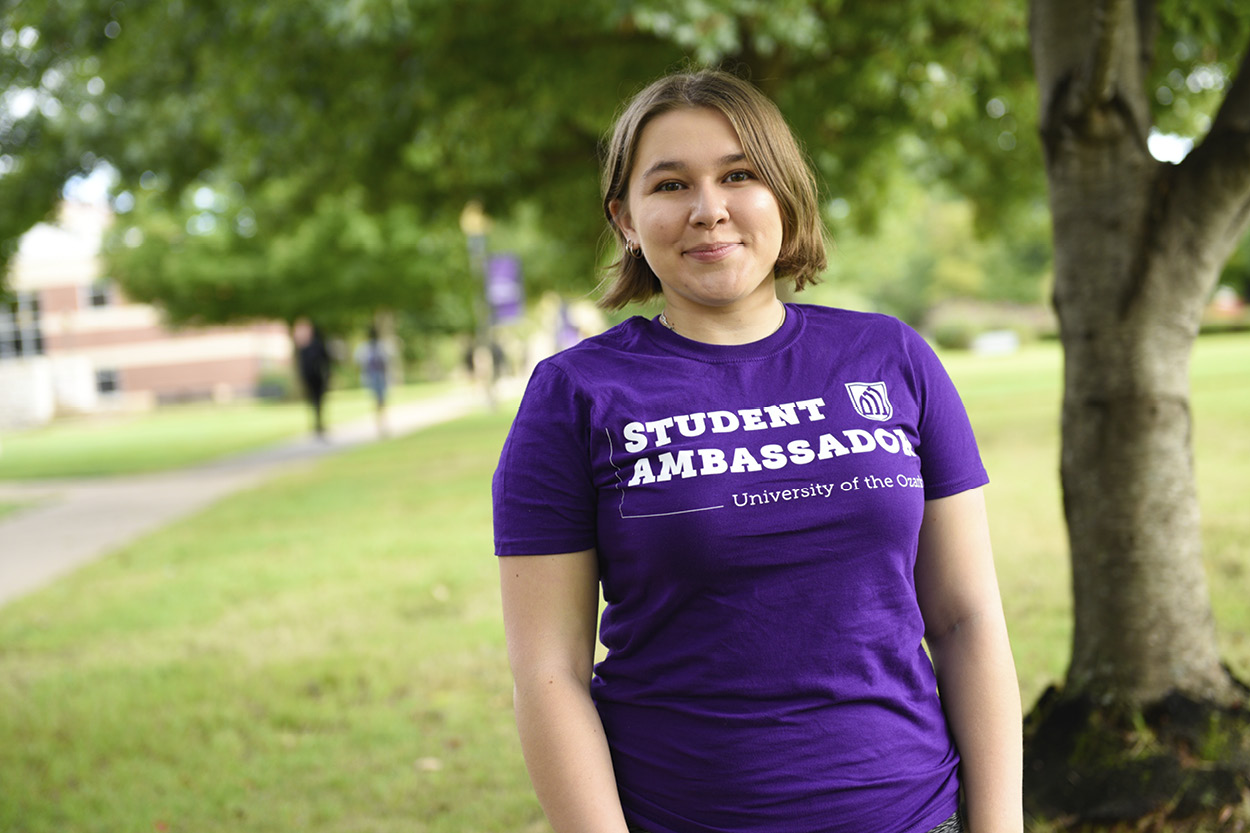 University of the Ozarks senior Maddy Windel is passionate about making a difference in the environment and she believes the best way to do that is through a career in law and policy.
The political science and philosophy major and environmental studies minor from Deer, Ark., plans to pursue a career in environmental administrative law after graduating from Ozarks in May.   
Windel, who said she originally thought about a career in social justice law, said she changed her mind after spending a significant amount of time thinking about the environment and the way humans interact with it.
"The law is deeply entangled in this interest," Windel said. "I believe that environmental law and policy is incredibly important not only in the United States, but across the globe, and as the effects of climate change become more apparent, the need to push for drastic changes in environmental law and policy will only grow. In reality, environmental law is inseparable from the social justice law I was originally interested in pursuing—the inequality inherent in climate change must be addressed."
Earning her undergraduate degree in just three years, Windel plans to spend a gap year pursuing internships, applying to law school and hiking the Appalachian Trail.
She said studying political science and philosophy simultaneously through the University's LENS program was one of her favorite things about her undergraduate education.
"I had an opportunity to explore many of the same philosophers through both LENSes," Windel said. "I studied the practical and philosophical application of Thomas Hobbes and Jean-Jacques Rousseau, for example. However, my favorite classes have always been my constitutional and administrative law courses. From doing case briefs to participating in moot courts, I feel that they, along with my environmental studies minor, have helped prepare me for the career in environmental administrative law that I hope to pursue."
American Constitutional Law with Dr. Stewart Dippel was especially impactful for Windel.
"Dr. Dippel's course gave me the opportunity to participate in moot courts, brief cases and explore public administration in a way I never had before, and I absolutely loved it," she said. "It affirmed my interest in law and government, and I left the course, along with Constitutional Law II, wishing Ozarks had more courses like it."
Windel says that if it weren't for Ozarks, she might not exist. Her parents, Nathan and Kenya Windel, met as students at Ozarks in the late 1990s before marrying and graduating from Ozarks in the early 2000s. Nathan '02 is currently the science instructional specialist at OUR Education Service Cooperative and Kenya '01 is the director of the Newton (Ark.) County Public Library.
"If I am honest, I would almost certainly not exist without Ozarks," she said. "It is an essential part of my family's story. I was actually born while they were still in school and spent my first few years on or near campus. However, I did not come to Ozarks because my parents were alumni. Many of the faculty and administrators they knew had moved on or retired, and I had not really been to Ozarks since I was a toddler. The campus was and is completely different from the one they knew, and I appreciate those differences."
During her senior year of high school, Windel applied to colleges all over the country, and was prepared to go out of state for her undergraduate education.
"My parents encouraged me to pay an official visit to Ozarks and I decided to sit in on classes instead of taking a tour of campus," Windel said. "I attended Dr. Mark Scully's American National Government class and Dr. Stewart Dippel's International Relations class. After International Relations, I met with Dr. Dippel, and he proceeded to outline my class plan and to tell me, quite bluntly, that I could attend law school if he felt like I was good enough to attend law school. In one visit, I felt closer to the campus than I had anywhere else I had visited, and I committed to Ozarks not long after."
In her three years at Ozarks, Windel has served as president of Wordsmiths, Ozarks' creative writing club, and as an assistant editor and the chief editor of Falstaff, Ozarks' literary magazine. She has also been active with the Ozarks Philosophical Symposium and the University's Young Democrats.
Her philosophy thesis, which she presented earlier this semester, was titled, "The Being Community: Forging a New Land Ethic in Colonial Contexts," and addressed historical land ethics through a postcolonial and feminist lens to develop a new land ethic that is more inclusive and considers the broader human experience.
"I was initially inspired to write about land ethics because of a course on environmental literature I took with Dr. Brian Hardman during my sophomore year," Windel said. "I was surprised that so many of the land ethics were written by white men, and I was interested in seeking out more land ethics written by women."
In the summer of 2020, Windel visited Moab, Utah, and went to a local bookstore called Back of Beyond Books. While there, the bookstore's owner referred her to Amy Irvine's Desert Cabal: A New Season in the Wilderness, which had been published in concert with the bookstore.
"The book offered a feminist critique of Edward Abbey's Desert Solitaire and established a land ethic which focused on community," Windel said. "Using Irvine's work, as well as that of Ellen Meloy, the "I and Thou" philosophy of Martin Buber, and Indigenous literature, I began to develop a new land ethic which focused on a boundless ethical community in which all beings could be respected for their subjectivity. I also offered critiques of traditional land ethics, including those of Edward Abbey and John Muir, noting their impacts on the environmental imaginary and the implications of normative subjectivity for human-land interactions, particularly in the law."
Windel said that she feels prepared for her next educational step following graduation because of Ozarks professors such as Dippel; Dr. Eric Dickman, assistant professor of philosophy; and Dr. Danielle Young, assistant professor of political science.
"Dr. Dippel was essential in preparing me for graduate school; he has challenged me more than any other professor, both in academics and personally, and he has taught me to be absolutely fearless," Windel said. "Dr. Dickman has been incredibly supportive as we spent the past year working through my thesis and my comps, and I am glad to have had his guidance as a new faculty member during this past year. Dr. Young has also been exceptionally helpful, and I am so glad I seized the opportunity to take more of her classes this semester. She is now helping me prepare for my LSATs and plan for law school more generally. I am so excited to begin that chapter of my education."
Topics: About, Environmental Studies, Philosophy, Political Science, Student Stories