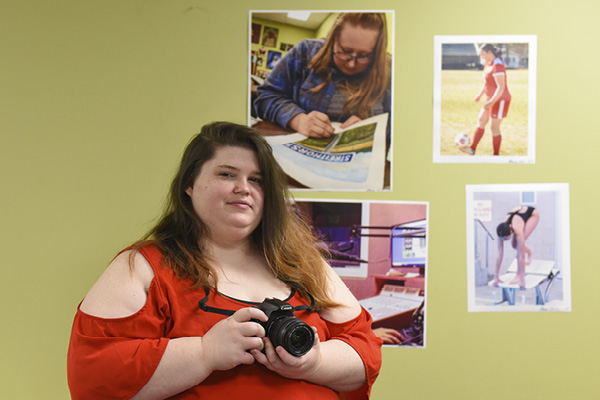 University of the Ozarks senior Masey Wilson will present her Senior Art Exhibit, "The Spark," from April 25 to May 2 in the University's Stephens Gallery.
There will be an artist talk from 7-8 p.m. on April 28, in Baldor Auditorium and a reception to meet the artist from 6-7 p.m. on April 30, in the gallery, which is located in the Walton Fine Arts Center.
Wilson is an art and communication studies major from West Memphis, Ark. "The Spark" exhibit features a series of photographs that "capture a moment in time for college students following their passion."
"These photographs contains a variety of individual students at a point of growth and when a spark has taken place in their field of study," she said.  "These student come from a variety of areas like art, media production, psychology, business, biology, soccer music, and swimming.  The photographs are of small to medium size to create a more immediate connections between the viewer and the subject. The photographs are taken at an eye level perspective to further enhance the connection between the viewer and the subject."
Wilson said the photographs consist of a variety of close-up and full-figure poses.
"The close-ups focus on a more engaging interaction between the student and the props or other people," she said.  "The full-figure compositions show the figure in more action-oriented poses that are immersed in the space around them. Since these are portrait photographs, it is important that the face is clearly visible and the expression shows confidence and motivation."
The piece, "The Future Director," is a close up of a Communication student named Melvin who  is working the camera equipment in the media studio.
"He is ready to record the next exciting event for the University of the Ozarks," Wilson said. "He is in his element and displays comfort and confidence as he works this equipment, full of wires, buttons, levers, and controls."
Another of Wilson's pieces, "The Goal Master I," is a full figure pose of a soccer student named Grace who is making her way across the soccer field.
"Her limbs spreads out at different angles in a spontaneous way but at the same time she is very focused on the ball in front of her," Wilson said. "The colors within the piece complement each other, are vibrant, and shows the energy and spirit that she has."
Wilson added, "These photographs truly shows the 'spark' of these unique Ozarks students. It is evident that the growth, motivation and confidence is clearly communicated in this series of photographs."