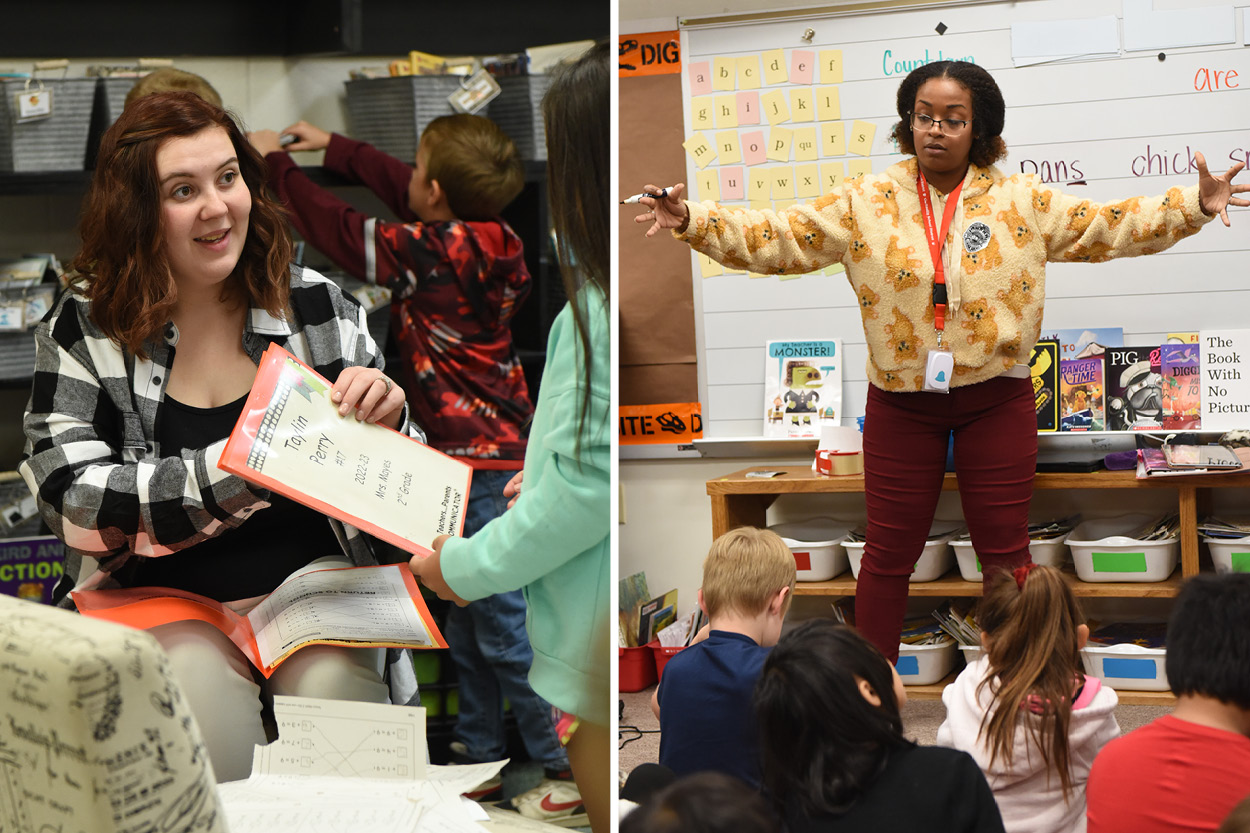 University of the Ozarks senior elementary education majors Kaylee Willis and Samantha Burke can't wait to start their teaching careers and to begin making the same type of impact that their teachers made on them.
Willis (pictured left), from Oark, Ark., and Burke (right), from Berryville, Ark., will both graduate from U of O in December with degrees in elementary education. Each will be the first in their families to graduate from a four-year University.
Willis and her husband, Trever, have a 7-month-old daughter, Callie. Willis said knowing that she is about to graduate in a few weeks is an "overwhelming feeling."
"It makes me so proud of myself because I overcame so many obstacles; I got married in my freshman year, had a beautiful baby girl this past April, and am finally graduating in December," she said. "I know that I'm making my family proud and it is a feeling I can't even explain. I am so thankful for their love and support, from my parents, my grandparents, my husband. Even though my daughter is only 7 months old, I know that one day I'll be able to take her back here to Ozarks and show her my name on the brick that will be placed in the ground and tell her what I did."
Burke, who is originally from Boston, said she is excited about inspiring students the way she was inspired.
"I could have easily been that student that slipped through the cracks in my community," Burke said. "However, I had just the right teacher at just the right time in my education to push me to be more than I thought I could be. I've wanted to be that driving force for students ever since. Thank you Mrs. Youngblood."
Willis said teaching "is something I've always wanted to do."
"Having so many teachers impact my life in the past, I knew that I wanted to be able to impact my students in a positive way and make a difference in their lives," Willis said. "Teaching is not easy, I know, but to go home every day knowing that what I did made at least one of my students' life better, is enough for me to keep going."
Both Willis and Burke are completing their teaching internships this semester, Willis at Lamar Elementary School and Burke at Clarksville Primary School.
"My internship experience at Lamar with Mrs. Beth Mayes was nothing but amazing," Willis said. "Mrs. Mayes and everyone there at Lamar Elementary took me right it and made me feel like I belonged there, from the principal, to the janitors. Everyone was so very caring and made sure I had everything I needed. Mrs. Mayes has been the most supportive, caring and organized teacher. She was an amazing role model and she has helped shape me into the teacher I want to be."
Burke interned at Clarksville with first-grade teacher Jessica (Prater) Crook, a 2014 graduate of Ozarks who was named the recipient of the 2021 Outstanding Mentor Teacher Award by the Arkansas Association of Teacher Educators (ArATE).
"It has been the biggest pleasure working with Mrs. Crook," Burke said. "She has truly done the very best to make me a part of our professional learning community as well as keeping me updated on school events. She has shown me the good, bad and ugly of teaching and reassured me in all of that that this is my calling. She has also inspired me to potentially continue my education in the field of administration in order to advocate for the teachers as much as our teachers advocate for our students. I am beyond proud of how far we have both come as she is about to graduate as well with a master's degree in administration."
Both seniors said they've had their share of surprises during the internships.
"I've been surprised about how accepting the students have been of my authority as well as curious of me as a teacher and a person,"Burke said. "They remind me that at the end of the day, we are each individuals, inside and outside of the school setting, that have needs in order to be the best versions of ourselves."
Willis said it was an eye-opener to her on how much teachers have to do in a typical day.
"I've always known the job was not easy, but actually being able to finally experience it made me truly understand," Willis said. "Teachers are expected to do all of that, love their students, have a life outside of school, get rest, and do it over and over again every day. Teaching is definitely something you have to have a heart for."
Both aspiring teachers agree that Ozarks has prepared them well for their professional calling. Burke has already been offered three jobs and plans to spend the spring semester as a long-term substitute at Clarksville Primary with the hopes of getting a full-time position this summer.
"I believe that very early on, our field placements were giving us exposure to students, how they interact with each other, their teachers and us," Burke said. "I believe that interning for a year gives us an amazing advantage as far as understanding students and where they are rather than where we believe they should be. I am also a huge advocate for the interview processes as well as accommodated times and opportunities we have had to get the necessary documentation for our licensure process."
Said Willis, "Here at Ozarks, our professors care so much about us. That is the benefit of being at such a small school. You get to know your professors more. If it hadn't been for the guidance and patience of my professors, I would not be about to graduate in about a month. The two I've gotten to know the most over my four and a half years here are Dr. Doris Metz and Mrs. Pam Smith. They both are the most caring and loving professors. They made sure we knew that they loved us and that they were here for us. They have answered every question and given me so many resources to help me succeed."
Both students said they were thankful for the scholarships they received from Ozarks to pursue their education.
"I knew very early on that college would not be possible for me without scholarships," Burke said. "So I worked my hardest in high school with a full-time job, full-time classes, and I cheered for my school. Being provided the assistance has helped me continue my education and has provided me with a reason to strive for excellence each year. Knowing that this University had enough faith in my abilities to give me this help makes me want to continue to make them proud each day."
As they prepare to walk across the stage for graduation on Dec. 17, both Willis and Burke said they are happy they chose Ozarks.
"My experience at Ozarks has been amazing," Willis said. "Coming from a small school where my graduating class was only 14, it felt like home immediately. Not only that, but everyone here has been so inviting, helpful and kind. You know you belong. I've met and made so many friends that have turned into family since I've been here at Ozarks. Ozarks will always be a special place to me."
Said Burke, "I am extremely grateful to have had the opportunity to be a first-generation college graduate, and to make a home of this place has truly been an honor. My department as well as others have contributed to the family culture that has consumed and supported me in my many years at Ozarks and I will never be able to thank my professors or friends enough for their unwavering support always. Thank you Ozarks!"
Topics: About, Education, Elementary Education