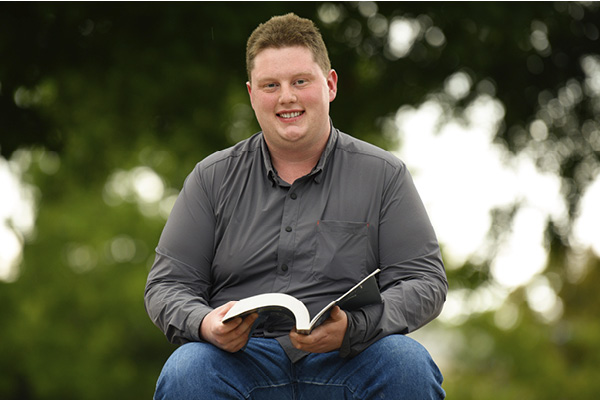 For someone who has loved politics and the law since he was in middle school, Logan Harderson's recent internship in the nation's Capitol was the ideal way to spend the summer.
The University of the Ozarks senior political science major from Oark, Ark., spent this past summer living in Washington, D.C., where he took classes and worked at the Law and Economics Center (LEC) at George Mason University in nearby Arlington, Va.. The internship was through the non-profit program, The Fund for American Studies (TFAS).
Harderson said he enjoyed his time working at the LEC, which serves as a "nexus for academic research and education that focuses on the timely and relevant economic analysis of legal and public policy issues confronting policymakers nationwide."
"The LEC helps to educate lawmakers and judges, as well as the general public, on these issues regarding how law and economics connect," he said. "While there, I assisted with symposiums held for federal judges and helped organize archives from previous events. Along with these projects, I also helped with the LECs annual reports and did research on federal and state judges to assist with outreach. Along with the internship, I also took a class through George Mason University, learning about economic policies and some of the problems posed in our national economy today. I was also able to attend numerous  seminars and meet with various authors and professionals in the way of economics, politics and law."
Harderson said he first learned about the internship at LEC through his political science professor, Dr. Stewart Dippel, and then learned that the University's Student Enrichment Fund could help pay for the experience.  His initial internship was scheduled for the summer of 2020 but he deferred until 2021 because of the Covid-19 pandemic.
During the internship, Harderson lived in the Capitol Hill neighborhood, right behind the Supreme Court. He walked between it and the Capitol every day to get on the metro to go to Arlington.
"The people at the Law and Economics Center were extremely nice and always there for me any time I needed them," Harderson said. "I worked with a diverse group of people from different parts of the world, from California to the United Kingdom, learning about the world beyond us.
Depending on the day, I attended classes and weekly seminars hosted by the TFAS program. Here, I was given great advice from professionals and learned more about careers in lobbying, economics and law. I also got to meet these people one-on-one at workshops and learned more about different professions and how to plan for a future career."
Harderson, who serves as secretary for the University's Young Republicans, said the summer experience strengthened his decision to pursue a career in politics or the law. He plans to apply to several law schools in the upcoming months.
"I have had a deep love for politics and law since I was in the seventh grade and this experience just reaffirmed my career path," Harderson said. "Growing up, I loved to talk political issues with members of my family, such as my grandpa, at a fairly young age. To me, it was exciting. So, coming into Ozarks, I felt I needed to take this love for the subject further and major in political science. While I have been looking towards the legal field to work in for a while, I never truly experienced it first-hand until this summer. I had the opportunity to work next to lawyers, as well as economists daily, learning more about what they do. The experience just showed me that there are many options in the legal field and plenty of room for new ideas."
He hopes to practice law, perhaps in criminal law.
"In some capacity, I want to help others on a personal level," he said. "I want to go into this field to learn more about our legal system while helping others figure it out themselves as their advocate."
Harderson said his political science classes at Ozarks have allowed him to delve deeper into the law and helped hone his critical thinking skills.
"Ozarks has helped me get to know myself more, which I feel is greatly important no matter what career you plan to go into," he said. "The professors have pushed me to push myself. They have purposefully called me out in class to make me argue my point, pushing me to look deeper into the content. Along with this, they have pushed me to make more concise arguments by critiquing my writing. I feel both of these have helped me develop critical thinking skills that are greatly important for anyone going into a legal career."
Harderson's older twin sisters, Laryn and Laykn, graduated from Ozarks in 2014 and both are teachers in the Johnson County Westside School District.
"Because of my sisters, I have been acquainted with the campus since I was fairly young," Harderson said. "The LENS Program really tipped the scales on me coming to Ozarks. Learning more about the curriculum and how it could make me a more well-rounded individual made me love, and ultimately choose, the Ozarks. I believe it was one of the best decisions I have made."
Harderson, who is minoring in psychology and American studies, said he has grown in various ways since enrolling at Ozarks.
"Through my time here, I grew spiritually by attending Chapel, and learned more about the importance of Sabbath and taking time to grow your relationship with God," he said. "I have been forced to look deeper in my faith from various angles, gaining a deeper understanding of the Bible and our Lord and Savior, Jesus Christ. Along with growing spiritually, I have also grown personally, being forced to do things outside my comfort zone. From being called on to answer in class to going to Washington D.C., I have been pushed to do things that I never thought about doing."
"Luckily, however, I have had wonderful professors who have helped make those experiences possible, as well as supported me through the way. This has instilled in me a sense of confidence, and a putting aside of timidity. In this way, I feel that Ozarks not only fostered growth, but has encouraged me to keep growing."
Topics: About, Academics, Criminal Justice, Internships, Political Science, Student Stories