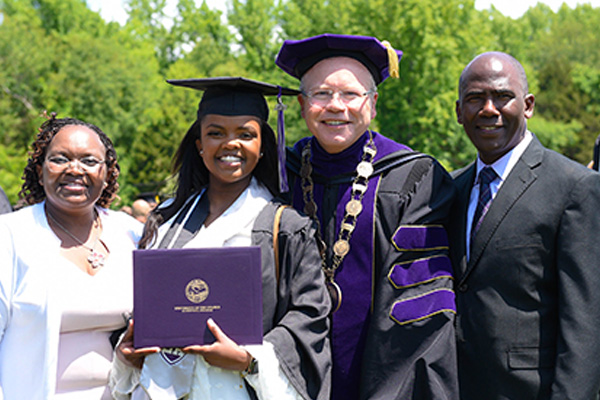 Recent graduate Vivien Wambugu has been named the University of the Ozarks' 2021 Tutor of the Year by the University's academic services program.
The outstanding tutor awards were announced in May and given by academic services based on several factors, including evaluations from students receiving tutoring, GPAs, and staff members' interactions and observations. Academic services is comprised of the University's Jones Learning Center, Student Success Center and TRIO programs.
Vanessa Hollowell, academic services coordinator, said that 125 student-workers provided more than 4,400 hours of tutoring support during the 2020-21 academic year.
"Academic services works with wonderful tutors to support students," Hollowell said. "During this year, the Covid pandemic presented many challenges for both students and tutors. However, both persevered and tutoring continued which is a key factor for many students' success." 
Hollowell said that the tutors are nominated by their peers and evaluated based on qualities such as "knowledge of material, preparedness, empathy, patience, enthusiasm and a strong desire to support students."
Wambugu, a May 2021 graduate, is a health science major and environmental science and religion minor from Tulsa, Okla. She graduated with Magna Cum Laude honors and plans to enroll in Duke University's Master of Science in Global Health Program in the fall.
Other tutor awards for 2021 included, Chris Alexandre in accounting, Alec Severe in chemistry, Yulianna Ibarra in education, Katie Barnwell in mathematics, Kennedy Goodnight in psychology, Sofia Osorio Ruiz in Spanish and Danitra Sargent in writing.
Topics: About, Academic Support, Academics, Environmental Studies, Health Science, Religion