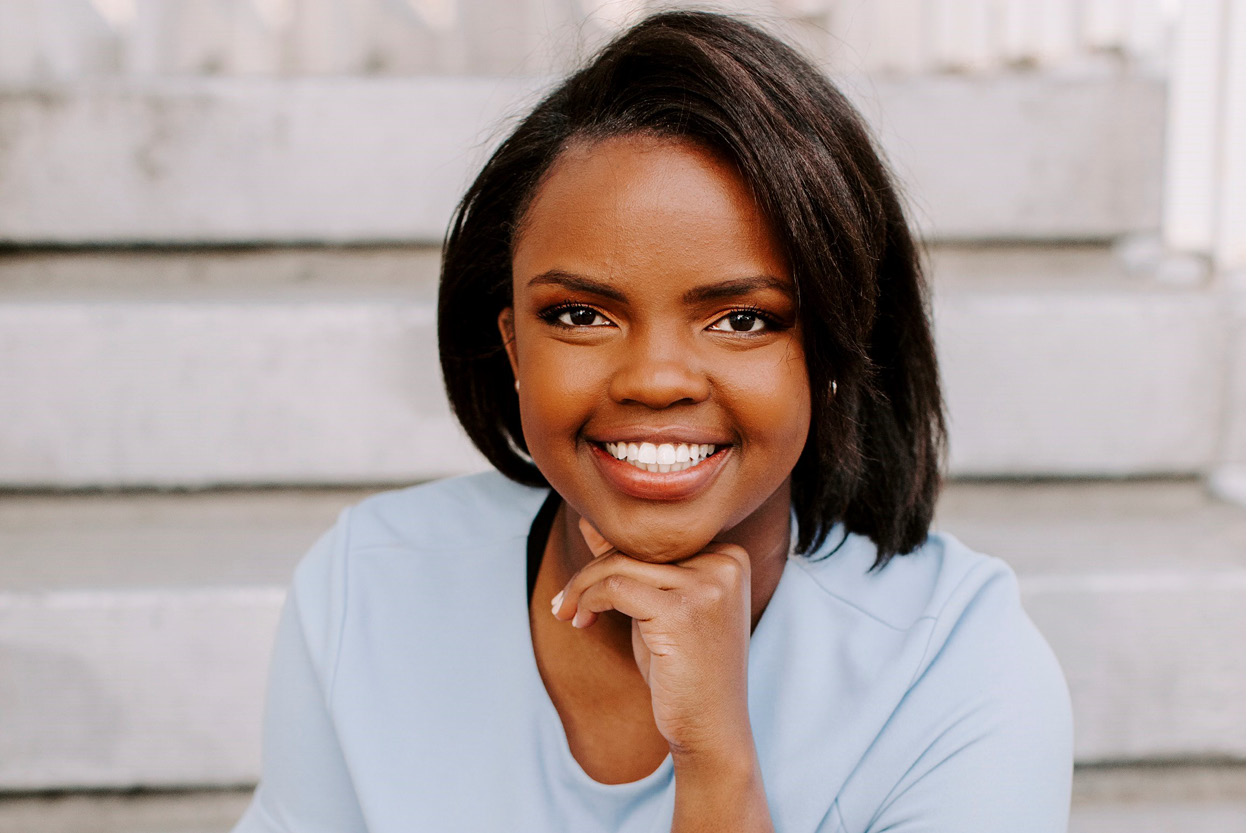 When it came time earlier this spring for University of the Ozarks senior Vivien Wambugu to choose a graduate school in which to continue her education in the fall, she had an enviable problem.
The health science major from Tulsa, Okla., was accepted into four of the top global health graduate programs in the country — George Washington University, Vanderbilt University, Duke University and University of North Carolina. She eventually selected Duke's Master of Science in Global Health Program.
"I was pretty torn between Vanderbilt and Duke because they both offer such great programs and opportunities," Wambugu said. "My roommate, Crystal Oudomvilay, and I took a week-long trip to visit both schools, as well as the graduate school she got into. On a rainy day, Crystal and I walked to Duke West Campus, where we got to see Duke Global Health Institute, Duke Hospital, and the famous Duke Chapel. As we continued walking through the campus, getting rained on, I had this unexplainable feeling that this is where I was meant to be. The master's program for Global Health at Duke differs from the other three that I applied to because it emphasizes research and science. The beauty of the campus, the unexplainable feeling and the academic challenge I will receive at Duke University are reasons for why I chose Duke."
Wambugu, who will graduate on May 15 with high academic honors, said she first became interested in the public health field during her sophomore year at Ozarks.
"I realized that is where my passion lies," she said. "My professional aspirations are to work with non-profit organizations that promote health care and provide health services for under-resourced communities. My goal is to be a program designer, evaluator and advocator within my field. I have always had a passion for public health concerns such as malnutrition, obesity, poverty and environmental determinants of health. Combined with my love for advocacy, I know global public health is the field I am called to be in."
She credited her professors, including her advisor, Dr. Chris Skinner, assistant professor of health science, for guiding her through the graduate school application process.    
"Dr. Skinner has been an excellent professor, advisor and resource with my graduate school applications," she said. "I truly appreciate his guidance through the application process and now the transition process from undergraduate to graduate school. I have had a lot of support from other faculty and staff who offered their advice and wisdom, which helped me be successful with my applications and choosing Duke. I am so grateful for those who invested their time, efforts and care in me."
Born in Nairobi, Kenya, Wambugu spent most of her young life in Tulsa. She also spent considerable time on the Ozarks campus, where her father, Rev. Wambugu Gachungi, graduated from in 2007. Gachungi serves as the associate pastor at First Presbyterian Church in Tulsa and was an active and popular student during his time at Ozarks.
"When I was around 9, my family would come to Ozarks a few times throughout the year when my dad was coming back for alumni events, to preach at the First Presbyterian Church in town, and visit family friends," Wambugu said. "Of course, during those times I was not thinking of which college I was going to. All I knew is that I loved this place. Getting to play around the fountain and hang out in the president suite with former President Rick Niece were always some of my highlight moments of the trips. When the time came to decide which college to attend, I reflected on the joyful moments on campus and had a feeling that Ozarks is where I needed to be. Also, having some family ties to the school was an additional bonus to my decision."
She said she is proud to share an Ozarks connection with her father.
"Coming to Ozarks, I was comforted with the familiarity of the school and that some faculty and staff already knew my story." She said. "I am proud of the legacy my dad left on campus, and I hope to have lived up to it. My dad loves talking about his time at Ozarks. Almost every time he is on campus, he does not fail to mention his time spent in MacLean, the maintenance projects he got to work on around the campus and other joyous memories he created during his time at Ozarks."
When asked her favorite memory at Ozarks, Wambugu pointed to a pair of recent accomplishments by the University's athletic teams.
"Cheering on the men's basketball team to the ASC championship was nothing but extraordinary," she said. "To see the Ozarks family come together to cheer on our team was just beautiful. That was followed by getting to cheer on the men's soccer team as they arrived from their ASC championship win. Those memories, along with many more, I will hold on to and cherish forever."
With a major in health science with an emphasis in health promotion, as well as minors in religion and environmental studies, Wambugu sounds like a poster child for the University's LENS program when she describes her Ozarks education.
"My religion minor allowed me to learn the philosophy and practices of varying religions, which I believe to be essential as I enter a field that works with various people, beliefs and lifestyles," Wambugu said. "My environmental studies minor brought awareness to environmental implications on health, disparities aligned with environmental determinants and the importance of sustainable and eco-conscious lifestyle choices. I believe the knowledge attained from my major and minors works to enhance my effectiveness as a public health advocator."
Wambugu said she has always been a good student, but that her professors at Ozarks pushed her to dig deeper.
"I cannot express my gratitude for the academic knowledge and challenge I have received here," she said. "From Dr. Dave Daily and Dr. Nathan Dickman teaching me the hermeneutics of religion and philosophical thought processes to Dr. Piroska Boros' guidance on how to analyze systematic reviews or meta-analyses using PRISMA, to Dr. Chris Skinner's emphasis on good carbs being far more important than protein in our diet, and to Dr. Isaac Hunter's emphasis on Carl Rogers' three ingredients that extend beyond counseling. The LENS program really stretched my academic knowledge."
Wambugu said her experiences outside the classroom have also been impactful.
"Extracurricular opportunities enabled me to learn and strengthen leadership, communication and social skills and to find passion in advocacy and equity," she said. "Opportunities and experiences formed through being a Resident Assistant for two years, a member of the President Advisory Council, Board of Trustee Student Representative, and Eagle Productions leader enabled the young naïve 18-year-old girl, who entered college intending to try to fill her father's shoes, to blossom and discover the potential she holds within herself. As I reflect on my journey to self-discovery, I owe many thanks to Ozarks for playing a vital role in the progress I have accomplished."
Topics: About, Environmental Studies, Health Science, Religion, Student Stories