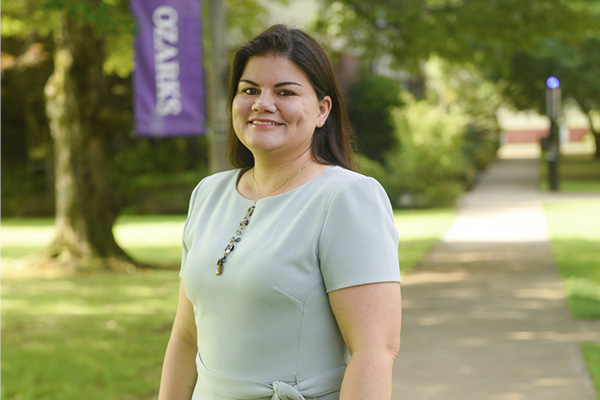 For the second consecutive year, Gloria Arcia, vice president for finance and administration at University of the Ozarks, has been named a finalist for the Arkansas Business CFO of the Year in Education award.
The winner of the publication's 2021 Education CFO of the Year will be announced at an awards ceremony in Little Rock on Nov. 3.
A finalist in 2020, Arcia returns as one of three finalists in the 2021 education division category, joining Julie Bates of Arkansas State University and Jason Tolbert of Ouachita Baptist University.
Arcia, who joined Ozarks in 2019, not only serves as the University's chief financial officer, she is also on the executive management team and leads the administrative, finance, information technology, physical plant, auxiliary services and public safety areas.
"I feel very privileged to be part of this institution and its mission," Arcia said.  "It will not be the first time I say this, but I attribute my success to my incredible team, my colleagues and the executive leaders of this great University.  I am grateful and honored by this nomination. It is a great recognition to be placed within the ranks of past honorees, all of whom have made great contributions to their institutions. I wish my fellow finalists the best of luck."
Previously to joining Ozarks, Arcia served Broward College in Pembroke Pines, Fla., as the college's dean of business affairs for its South Campus and Partnership Centers for two years. She also served as the assistant dean for business and finance at Barry University in Miami Shores, Fla., from 2014-17.
Arcia has an associate's degree from Miami Dade College, a bachelor's degree in criminal justice from Florida International University and an MBA with a specialization in Management from Barry University. She is completing an Ed.D. in organizational leadership and learning with a specialization in human resource development from Barry University.
Topics: About