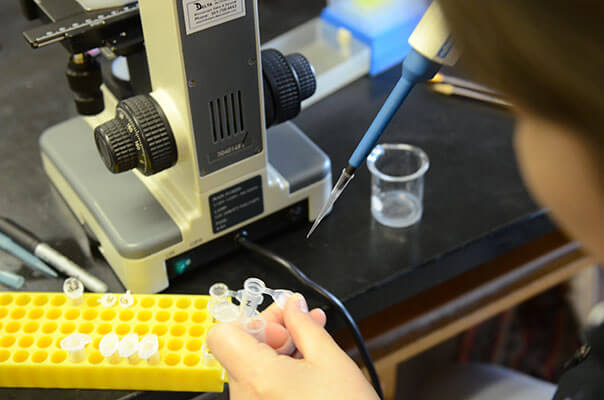 A new hands-on science class at University of the Ozarks will have students hunting for undiscovered viruses to benefit the scientific community.
The freshman-level, two-semester biology class is part of a national pedagogical program called SEA-Phages, which stands for Science Education Alliance-Phage Hunters Advancing Genomics and Evolutionary Science. The program is an initiative of the Howard Hughes Medical Institute and U of O is just the second university in Arkansas to offer the program.
The discovery-based research class will begin in fall 2018 and will be taught by Dr. Sean Coleman, professor of biology, and Dr. Warren Sconiers, assistant professor of biology. The class will be available to both incoming freshmen as well as sophomores.
Over the course of the first semester, students will take soil samples to discover and isolate phages, which is short for bacteriophage, a virus that attacks bacteria. Each student selects a phage to be sequenced. Throughout the second semester, students will progress through a series of microbiology techniques and eventually to complex genome annotation and bioinformatic analyses.
If they succeed in completely annotating the DNA, the students will be able to submit their work to an online database of known phages, allowing their discovery to be accessed and used by the scientific community.
What the Professors are saying…
"To be able to offer real scientific research on the freshman level is very exciting," Coleman said. "The evidence suggests that students who are involved early in real scientific research and discovery tend to persist and do better and move on to graduate or professional schools. Plus, our students have an opportunity to discover a new phage or new strain and get their research presented and published. How great would that be?"
Sconiers said the research skills and techniques that freshman-level students can learn in the new class can only benefit their academic progress.
"Gaining those skills, knowledge and techniques as a freshman or sophomore will help them as they get into upper level classes or when they apply for summer internships or other opportunities," Sconiers said. "I think it can also help us recruit top-quality science students who are excited about being able to do this type of research during their first semester in college."
Coleman said this type of program can have a positive impact for the entire sciences program at Ozarks.
"Getting a cohort of students who are excited about that type of learning will rub off on their classmates and that can spark interest among other students who want to do more research with faculty members," he said.
Both professors said that bacteriophage research has significant real world implications in areas such as health care and agriculture.
"There's still a lot of unknowns out there in the field of bacterial viruses and we have an opportunity to do our small part in doing research and possibly finding the great new virus or strain that can make a positive impact," Coleman said.
U of O is one of 10 new universities that was recently accepted into the SEA-Phages program, following an extensive application process. There are approximately 140 colleges across the country taking part in the program, including Ouachita Baptist University in Arkadelphia, Ark.
Coleman and Sconiers will attend two week-long training workshops to prepare them to lead the class. They are excited about the opportunities that the new program will provide budding scientists at U of O.
"How cool would it be as a freshman to apply for an internship and say, 'Here's my publication,' or 'Yes, I discovered a new virus?' " Coleman said. "Even the best students don't usually have the chance to take part in these types of projects until their senior year. Now, we can offer this experience to as many as 32 freshmen and sophomores each year. It's another great opportunity for our students."