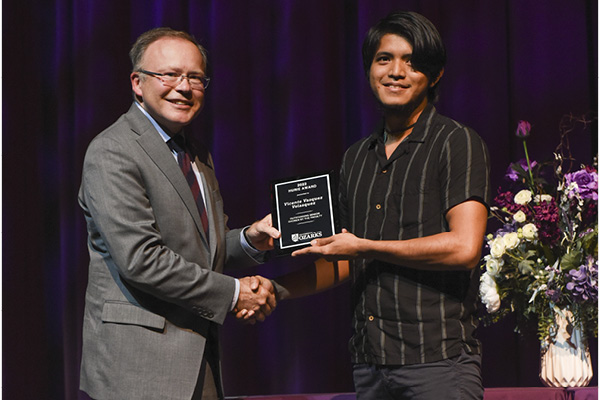 University of the Ozarks senior Vicente Vasquez Velasquez, an environmental studies major from Chitre, Panama, is the recipient of the 2022 Hurie Award, given to the outstanding member of the senior class.
The award was presented during the University's annual Honors Day ceremony, held Wednesday, May 4, in the Walton Fine Arts Center. University President Richard Dunsworth (pictured, left) presented the award to Vasquez (right).
Voted on by the faculty, the award is named for Dr. Wiley Lin Hurie, who served as president of this institution from 1923 to 1949. The Hurie Award is the highest honor an Ozarks student can receive. The faculty members choose a graduate who has been an exemplary scholar, a campus leader and a person of outstanding character.
Vasquez is graduating with Magna Cum Laude honors with minors in sustainable agriculture, sociology and art. He was also named the University's Outstanding Student in Environmental Studies in Natural Science in 2022.  He has served as president of the Chess Club and as garden manager for the University's Food for Thought Garden.
He has worked on numerous research projects during his time at Ozarks and was co-author of a chapter in the 2022 book "Biodiversity Islands: Strategies for Conservation in Human-dominated Environments." He also completed a summer internship with Dripping Springs Garden in Huntsville, Ark.  Vasquez has used his art talent to paint several murals for downtown businesses in Clarksville and place second in a regional collegiate art competition in 2019. He has been a volunteer with the Red Cross in Panama since he was 12.
In his nomination, one of his professors said, "Vicente has approached his educational and professional career holistically. He is now a dedicated researcher, an engaged community member, and a global citizen. I have had the opportunity to engage with Vicente as a student, Ozarks community member, and colleague. As a student, Vicente has demonstrated impeccable engagement with the learning materials and class discussions. He has applied what he has been learning to examine issues, which pertain to his home country Panama. As a community member, I have seen Vicente being part of various extracurricular activities on campus. This includes his participation in Young Democrats and Republicans debates, community gardens, and International students' events. Vicente has also contributed to the Clarksville community thanks to his art works, which are visible now to everyone. As a colleague, I had the opportunity to work with Vicente for more than a year and half on a scientific chapter on reforestation with collaborators from Yale and Boise State. Through this collaboration, I learned about the serious and diverse engagement of Vicente in international efforts to promote reforestation in his home country Panama and the world."
Following graduation, Vasquez plans to pursue a job in conservation or organic agriculture and eventually obtain a Ph.D. in ecology.
"I knew from the moment I got to University of the Ozarks what I wanted to study and do," Vasquez said. "I firmly believe environmental degradation is the greatest threat to my generation and the ones to come. I decided to study environmental studies because the crisis that we are about to face are existential, and we will need all the scientific knowledge and political disposition to deal with it. I think my generation is due to face great challenges. I want to be there.  I want to be in the frontlines of the environmental crisis and use critical thinking to find concrete solutions that protect the environment and human interests. The crises that I talk about are everywhere, from our food systems, to matters of equality and environmental justice. I alone am not enough to solve these problems, but from the little place of earth that I inhabit, I want to make a difference."
Topics: About, Academics, Environmental Studies