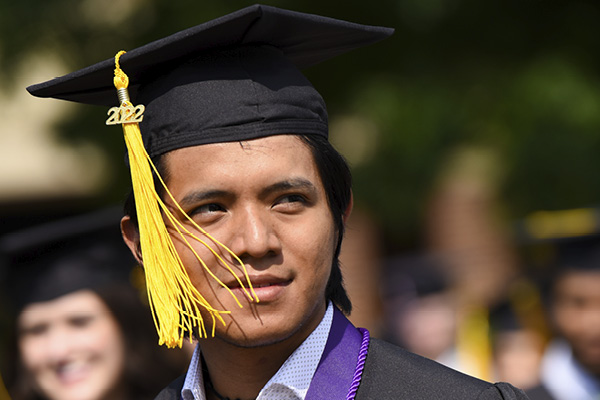 When it came to pursuing his professional calling, 2022 University of the Ozarks graduate Vicente Vasquez Velasquez didn't wait for the opportunity to come to him. He took the initiative.
Vasquez is interning as a research assistant at the Smithsonian Tropical Research Institute (STRI) in Panama. The STRI is considered a standard-setting global platform for groundbreaking research on tropical forests and marine ecosystems and their astounding biodiversity.
The environmental studies major is taking part in the forest carbon lab of renowned scientist Dr. Helene Muller-Landau, whose research focuses on tropical forest diversity and climate interactions with tropical forests.
A native of Chitre, Panama, Vasquez secured the research position in Muller-Landau's lab earlier this summer by emailing her directly and inquiring about research opportunities.
"I learned about her lab and her work when I was reading one of her papers," Vasquez said. "Her research aligned with my academic interests, so I contacted her through email and it worked out that I was able to get an internship here. Being a part of her team has been awesome. She is an expert in her field and has many, many publications; she is a very quantitative scientist. She encourages learning, provides guidance and offers a very progressive research environment."
Vasquez, a Walton Scholar at Ozarks who was named the University's Hurie Award recipient as the outstanding senior in the 2022 graduating class, said the research in the Smithsonian lab revolves around carbon sequestration, the process of capturing, securing and storing carbon dioxide from the atmosphere. The idea is to stabilize carbon in solid and dissolved forms so that it doesn't cause the atmosphere to warm.
"The lab's objective is researching forest dynamics such as carbon fluxes and stocks and its relation to the ecology of the ecosystems," Vasquez said. "Some key questions of the research are: How much biomass is there in a determined ecosystem? How does it vary in the spatial temporal context?  And, how do lianas influence mortality of trees?"
Vasquez said the scientists are collecting data using instruments such as drone photogrammetry, tree dendrometers, LIDAR mobile scanners, field observation and compilation of databases.
"I enjoy the field observations, going in the rainforest, walking for miles, taking boats, drone flying, using the laser scanners," Vasquez said. "You get to see spider monkeys and howler monkeys, colorful butterflies. It's a very biodiverse environment."
He also enjoys the analytic aspects of the research.
"The biggest and most important part of the research is actually processing the data, cleaning the data, formatting the data and analysis of the data," Vasquez said. "This requires a lot of theoretical approaches in ecology and quantitative analysis that goes into stats and programming. I really love this part of the research."
The experience in the Smithsonian lab has reaffirmed Vasquez's goal to eventually pursue a Ph.D. in ecology, something he credits his education at Ozarks for helping spark.
"I am determined to keep working towards a career in ecology, writing scientific papers, working with other scientists and responding to the question of how is climate change going to affect the dynamics of forest," Vasquez said. "I'm always thinking about what questions can I research and what methods can I learn. Ozarks had amazing professors that were close to me; they were approachable and they were there with me when I needed them. I want to be like them, truly curious, community-oriented, dedicated scientists, good friends and critical thinkers. Ozarks allowed me to be close to my professors, which has been very useful for helping me find my path and grow academically."
Topics: About, Alumni, Environmental Studies