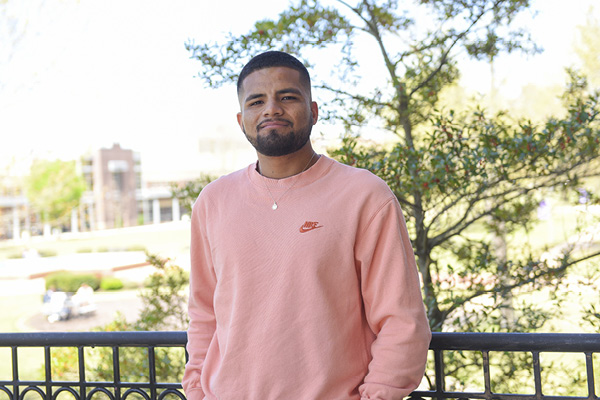 When University of the Ozarks senior Mario Varela of Lamar, Ark., walks across the stage next month to receive his college diploma, he will be the first in his family to graduate college, an accomplishment that he takes great pride in.
"I feel extremely proud because I will be setting an example for my niece, nephews and anyone else in my family that comes after them," Varela said. "My family is the main reason I am getting a degree and that is to help them in the future as they have helped me throughout my entire college experience."
Varela will graduate with Magna Cum Laude (3.50-3.84 GPA) honors with majors in health science and music and a minor in education. The fact that he ended up at his local University was a bit fortuitous.
"Being from a small town, I wanted to branch out and explore," Varela said. "The idea was to apply to the largest state school around me, get accepted, and then go live my life far, far away from everyone. However, my close friend and I actually took a tour on campus as a joke and I realized that maybe my time in a small town was not over just yet. It was a great choice for me. Ozarks has been my home away from home."
Varela received the May Katherine Baker Music Scholarship to attend Ozarks and also relied on hard work to get through college.
"The Baker Music Scholarship allowed me to focus solely on my studies and not have to struggle financially," he said. "I've always had a strong work ethic growing up, so I was constantly picking up jobs since high school and that didn't change entering college. During my freshman year of college, I worked at a local Italian restaurant and a local Mexican restaurant as a waiter. This experience for me was tough at first, especially since I had to adjust to my school schedule and coursework, but I eventually got the hang of managing my time. Not only did this build my skills in multitasking and prioritizing, but it also gave me a more responsible mindset that would prepare me in the future."
Choosing to major in music and health science and minor in education was an easy decision for Varela.
"Growing up, music was my thing." He said. "I was in choir and band throughout my entire high school experience. Teachers such as Mr. Brody and Mrs. Alder helped me appreciate and recognize my love for music. I wanted to share my love for music and decided that maybe teaching music was the path for me. Health Science was actually my wild card. During my time at Ozarks, I realized that I had a passion for health and wellness and that maybe adding a degree in that would work for me."
Ironically, neither music or health science are in Varela's immediate plans. He has worked as a residence hall assistant for the past three years and believes that type of work is his calling.
"Ozarks made me realize that helping others find their different passions was the ideal path for me and that is why I will be pursuing a master's degree in higher education," he said. "A dream job of mine would to be as a director of residential life, ideally at a large institution. Honestly, anything that has to do with working in some capacity of a student life department of an institution would make me content."
For the past four years Varela has been one of the most active and engaged students on campus. Not only is he an RA, he has been an Eagle Productions (C.A.B.) programmer, a member of the cheer squad, a member of the choir and a homecoming ambassador. His friendly, outgoing personality makes him a friend to many.
"From a young age my mom has always told me, 'Trata a todos con amabilidad y humildad y ellos haran lo mismo por ti,' which basically means treat people the way you would want to be treated," he said. "This phrase has stuck with me ever since, which is why I try to make everyone feel welcome. As for my outgoing side, I wasn't always sociable, but coming to Ozarks I became more extroverted. I remember when President [Richard] Dunsworth gave a speech about going out of our comfort zones during the 2018 welcoming ceremony. That speech made me realize I needed to put myself more out there and encouraged me to be more outgoing. The University was the push I needed, opening me up to more opportunities."
Varela said attending Ozarks was one of the best decisions he's made.
"Honestly, at first I was skeptical to attend a University that has been down the street from me for most of my life, especially since I only ever thought about attending a big city university," he said. "However, once I got to campus it felt like a completely different atmosphere, it was almost as if I wasn't in that small town I grew up in. On top of this, being close to family and being familiar to the town was very beneficial."
Topics: About, Health Science, Music, Student Stories