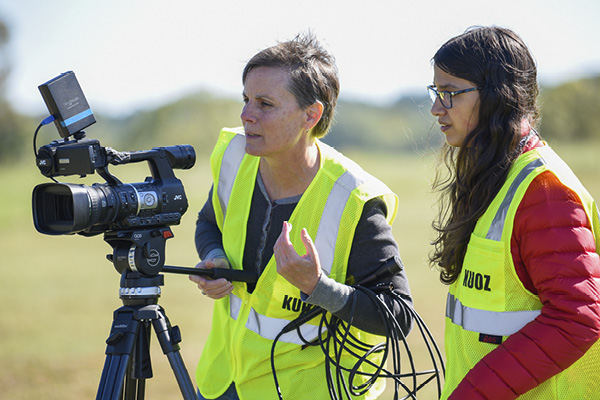 University of the Ozarks senior Sade Seymour will never forget seeing for the first time the video clip that she helped produce appear on the national network ESPN and its popular SportsCenter Top-10 segment last March.
The clip featured Eagles senior guard Bryson Johnson's 25-foot game-winning three-pointer as the final buzzer sounded in the semifinals of the American Southwest Conference Men's Basketball Tournament Championships in Mabee Gymnasium. Seymour, a senior media production major from Nassau, The Bahamas, was serving as the technical director and producer for the team of Ozarks students who were livestreaming the game to a large audience.
"To be able to help capture that crucial shot and then it being showcased on ESPN was pretty amazing," Seymour said. "I felt extremely accomplished and proud in that moment and it's a moment I'll never forget."
Susan Edens, associate professor of practice of communication and manager of KUOZ 6 HD, said the UO Eagle Sports production team has thrived over the past year as Covid-19 guidelines and policies have restricted access to athletic events.
"UO Eagles Sports is the result of a dynamic and synergistic professional relationship between the communication studies program and the University's athletic department," Edens said. "As with many successful initiatives, what we are doing now and the scale to which we are doing it was born out of a problem in need of a solution, combined with staff, faculty, administrators, and most importantly, students, willing to make some changes and make some major time commitments to achieve consistent excellence."
Edens credited Sports Information Director Josh Peppas and Athletic Director Jimmy Clark for making the planning and production process run smoothly.
"They are invaluable leadership partners in this endeavor," she said. "They have opened up a cooperative educational arena where students and faculty alike are flourishing professionally and having a lot of fun. The entire athletic staff makes the work possible and they have welcomed us and treated us like part of the athletic family. Students notice that and deeply appreciate it, and so do I."
During the Spring 2021 Semester, when many of the fall sports were pushed back to the spring, UO Eagles Sports livestreamed approximately 60 athletic events over a three-month period. The sporting events ranged from baseball and softball to soccer and swimming. They also produced a series of interview programs called "UO Eagles Sports Weekly," crewed by the Media Production II class and featuring coaches, trainers and student-athletes.
"This obviously takes a big commitment of time and effort from our student teams," Edens said. "Twenty-plus years of teaching experience has taught me that to have successful productions, the teacher has to work beyond the classroom and meeting space. But the teacher must also know when to stand back and let the students take the wheel. Seeing them do that makes my heart happy. If you put this work into hours, for Spring 2021, I would estimate for the student producers, it was around 15 to 20 hours per week when you include the live events, the meetings, the preproduction and setups, and the video packages. The students have to be willing to volunteer some hours each week in addition to their paid work study in order for the program to excel."
A core group of students called student producers are selected based upon their status in the media production program as well as their interest level and their ability to respond to direction in a positive and productive manner. They are also selected on their ability to lead and mentor other students serving on the production crews. The current student producers are Seymour, Johnathan Smith and Emerald McCourty. Each Tuesday afternoon, Edens and the student producers meet with athletic officials to debrief the previous week and plan for the coming week. After the Tuesday meeting, Edens then briefs her Media Production I or II class and assigns crew positions for the week.
Athletic Director Clark said that Edens and her team of student workers provide an invaluable service to the Eagles athletic program.
"It not only helps our sports information office document the events, but we have parents from Texas, Oklahoma and all over that have the opportunity to watch their kids compete," Clark said. "It's great when our coaches can tell their student-athletes or even their recruits that the games are going to be broadcast and that their families can watch it from wherever they are. It's an extremely valuable part of Eagles athletics and we can't thank Professor Edens and her students enough for providing that service."
Edens said UO Eagles Sports allows her students to practice the concepts they learn in the classroom. She said students are learning such skills as how to operate professional broadcast cameras, editing, shot-composition, audio, directing, interviewing, lighting and working in a team.
"They can put those concepts into practice as early as their freshman year and then continue to practice them and learn advanced skills and concepts as they go through the media production track of the communication studies major or minor," Edens said. "But we also welcome students not taking the production courses and teach them along the way."
Two of the biggest events that UO Eagles Sports have produced in the past year were the ASC Basketball Champions in March and the ASC Cross Country Championships this past October. More than 1,000 viewers tuned into the basketball championship game and nearly 500 viewed the cross country meet, which was broadcast live for the first time in the event's history.
Melvin Mendoza, a sophomore media production major from Panama, said working the ASC Cross Country Championships was one of his favorite experiences, even though he had to be at the course at 7 a.m. on a Saturday.
"We received many praises for our hard work and dedication that day. It was a magical moment," Mendoza said. "I was so happy to work on something I am passionate about. Working with UO Eagles Sports and KUOZ has helped me reaffirm my passion in media production. I can't lie, it's what I've wanted to do since I was a kid and, now, thanks to the support of Professor Edens, Sade, Emerald, and all the other people in charge of Eagles Production, my dreams are coming true."
The media production track was added at U of O in 2020 and one of its first graduates, 2020 alumnus Luis Alfaro, was recently hired as a multi-media specialist by the Springdale (Ark.) School District in Northwest Arkansas.
"His experience with the communication department and working with sports information here at U of O helped him land the job," Edens said. "Coincidently, his boss (Trent Jones '01) is an alumnus of the University of the Ozarks. We believe this concentrated effort will help more students get into graduate school, receive outside recognition and find employment upon graduation."
Seymour hopes to find similar success when she graduates in the spring of 2022.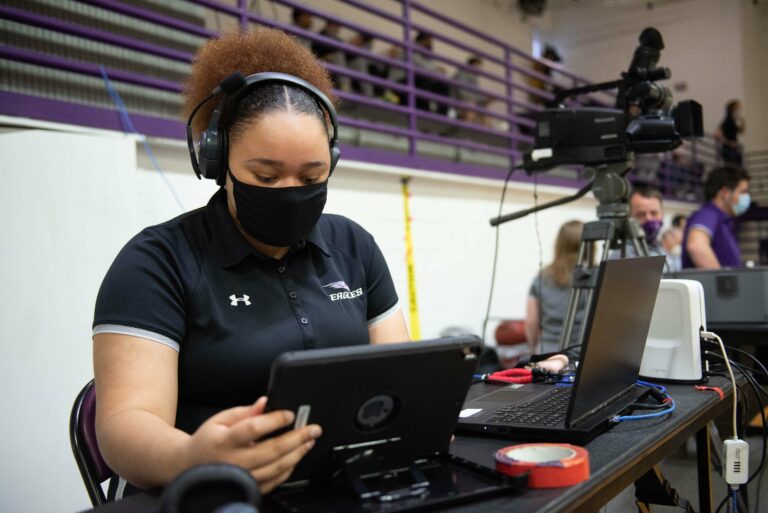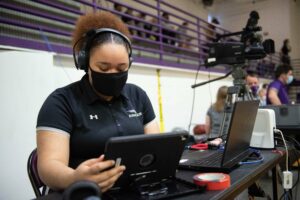 "Working with UO Eagle Sports has allowed me to hone my production and communication skills, and I have grown so much and built a digital portfolio that will aid in my pursuit of a professional career after graduation," Seymour said. "I have also been able to help train others in the field and take on roles such as director and executive producer for major university events."
Edens said that despite the long hours and hard work, she finds fulfillment through her students.
"My greatest reward has been when students are smiling and feeling proud after their first time crewing a live sports event for Ozarks," she said. "They have been making a point to tell me that they had 'so much fun,' and asking, 'When can we do that again?'"
Topics: About, Athletics, Communication Studies, Student Stories