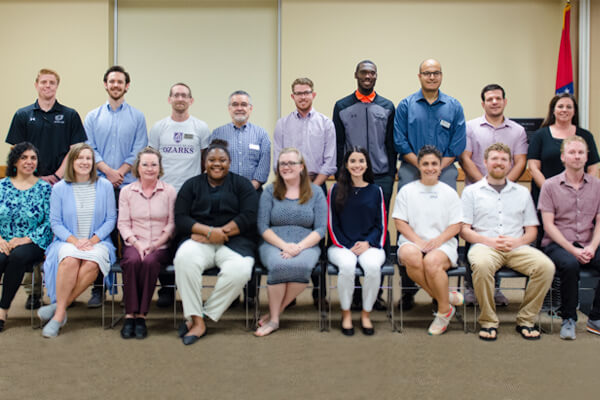 University of the Ozarks welcomed more than 30 new faculty and staff to the campus community this week during the University's annual opening workshop, held on Aug. 14, in the Rogers Conference Center.
Among the new employees for the 2019-20 academic year are (pictured, seated, from left) Dr. Argelia Garcia Saldivar, visiting assistant professor of Spanish; Tina McCain, academic support coordinator in the Jones Learning Center; Heaven Oliver-Kozup, instructor of biology and health science; Dominique Broadus, assistant women's basketball coach; Jennifer Amatya, director of the Walton International Scholarship Program; Nicole Justice, international program and global outreach manager; Suzanna Gardner, strength and conditioning coach; Austin Huckfeldt, public safety officer; Dr. Dennis Bublitz, assistant professor of psychology;
(Standing, from left) Tucker Hughes, assistant baseball coach; Dr. Chris Skinner, assistant professor of health science; Brandon Barnes, office of administrative services assistant; Jaime Encinas, instructor of marketing; Justin McCormick, associate director of alumni engagement; Thomas Orr, assistant men's basketball coach; Dr. Yassine Dguidegue, assistant professor of sociology; Vinny Barber, assistant wrestling coach; and Valerie Hardesty, campus store manager.
The new employees not pictured include, James Bowen, public safety officer; Grace Brown, women's clay target coach; Lance Brown, men's clay target coach; Morgan Frazier, adjunct professor; Jane Harris, adjunct professor; Katelynn Hopson, adjunct professor; Jessica Mongeon, adjunct professor; Gene Morgan, public safety officer; Tyler Mosby, assistant director of residential life; Shane Rogers, public safety officer; Melissa Rooney, adjunct professor; Janette Russell, public safety officer; and Will Vick, public safety officer.