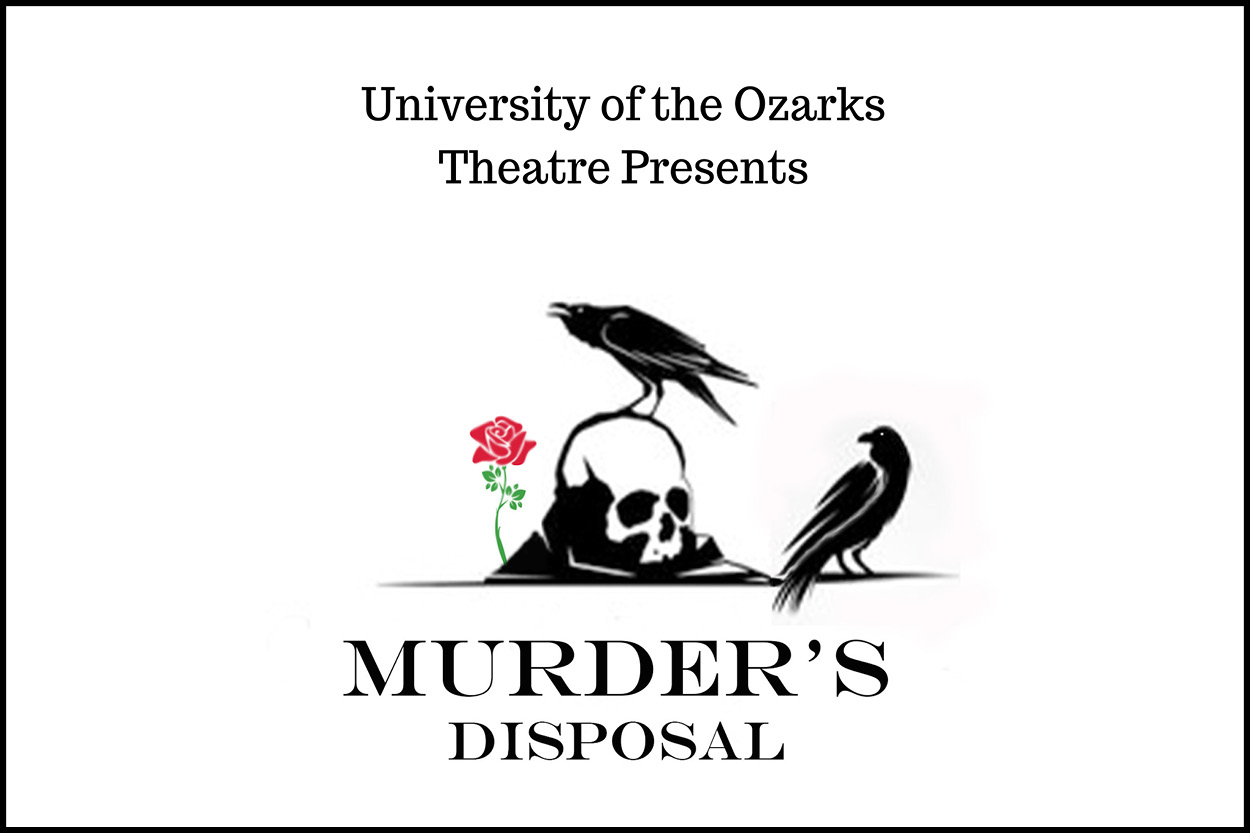 Valentine's Day may never be the same, thanks to the University of the Ozarks Theatre's dark comedy, Murder's Disposal, written and directed by Dr. Rhonda Shook, associate professor of communication.
John Dunn has been swindled. Twenty thousand dollars has disappeared, along with his new girlfriend. When he turns to Murder's Disposal to recover the money and execute the girlfriend, the last thing he expects to find is the woman of his dreams, Murder herself.
Murder's Disposal runs February 12 and 13 at 7 p.m. and Sunday at 2 p.m. on Zoom. On Saturday night, following the performance, Shook, cast, and crew will answer questions posed by the audience.
The public is invited to view the play and there is no cost to tune in. Because of language and violence, the play is recommended for mature audiences only.
The Zoom link to the Feb. 12 and 13 performances is: https://ozarks-edu.zoom.us/j/91349066367
The Zoom link to the Feb. 14 matinee is: https://ozarks-edu.zoom.us/j/95355105750
Shook, who has written numerous plays and essays, said that when the Covid-19 pandemic hit, she, Rebecca Bailey, assistant professor of theatre, and Lucas Hoiland, technical director, were determined to offer their students safe opportunities to practice their craft.
"That meant getting creative," Shook said, "When finding a script to fit our distancing and streaming needs seemed impossible, there was only one option: write our own. Fortunately, we have a playwright in the house."
Once Shook crafted Murder's Disposal, she assembled a team comprised of her colleagues from the Dramatist Guild, professional actors and theatre professionals, for the initial read-through.
"These were the harshest critics I could find," Shook said. "The feedback they provided was incredibly helpful and a revision was written."
Shook said the entire play is a series of Zoom encounters, something most audience members can relate to.
"The Zoom format made safely-distanced rehearsals easy, but digital-capturing challenging," Shook said. "Lucas Hoiland relied on green-screen technology and virtual backgrounds to provide continuity and, assisted by senior Taylor Holland, managed the editing as well."
The fact that the dark romantic comedy is premiering on Valentine's Day weekend is not a coincidence.
"Knowing that we would be airing our play over the Valentine's Day weekend, I wanted to create a romance," she said, "But because I'm me, it's not exactly conventional."
Senior theatre major Tiffany Quinton plays dual roles and serves as costumer in the production. Newcomer McKeehan Dilley has a brief but scene-stealing turn as delivery driver, Dude, and guest artist Kody Walker plays John Dunn.
Topics: About, Academics, Community Events, Student Events