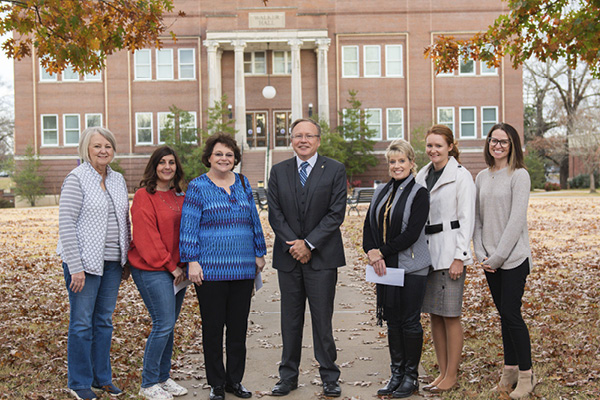 As part of an annual Christmas tradition, University of the Ozarks this week donated a total of $3,000 to five local nonprofit organizations in Johnson County.
This year's beneficiaries included, Safe Haven Ministries, Arkansas Single Parent Scholarship Fund of Johnson County, Johnson County Youth Coalition, the Dolly Parton Imagination Library of Johnson County, and The CALL of Johnson County.
Six years ago the University began a new Christmas tradition of allocating funds normally spent on the production and mailing of thousands of University Christmas cards to support local 501c3 agencies. The nonprofits were nominated and selected by University faculty and staff members.
Among those who took part in the presentation this week were (from left), Reba Pridgin, representing Dolly Parton Imagination Library; Megan Scott, representing The CALL; Kathy Bartlett, representing Arkansas Single Parent Scholarship Fund; University President Richard Dunsworth; and Sharon Garrett, Abigail Garrett and Sarah Bolduc, all of Safe Haven Ministries. Pridgin, Bartlett and Sharon Garrett are all graduates of U of O.
Topics: About, Community Service