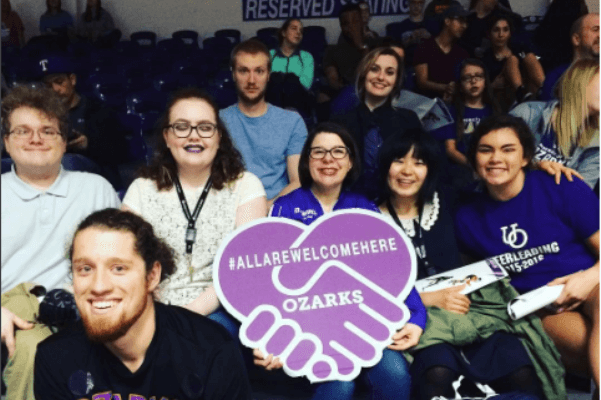 University of the Ozarks has launched a new semester-long awareness campaign, #AllAreWelcomeHere, to celebrate its legacy of being a university that embraces inclusion, equality and justice.
The #AllAreWelcomeHere campaign will kick off during the week of Jan. 23 by being incorporated into a number of previously planned campus events, including a wrestling match on Jan. 24 in Mabee Gymnasium and an Artist of the Month panel discussion at 3 p.m. on Jan. 27 in the Rogers Conference Center.
Steve Weaver, dean of students at Ozarks and one of the organizers of the campaign, said the initiative is a way for the university community to honor its heritage as a trend-setter in higher education in the area of equality in race, gender and disability. Ozarks was the first university in the state to admit women (1875), the first in the state to admit African-Americans (1957) and the first in the nation to develop a program for students with learning disabilities (1971).
"This is an opportunity to not only remind our campus community about the University of the Ozarks' incredible legacy of inclusion and equality, but to emphasize and point out the ways that we continue to live out these values on our campus today," Weaver said. "It is important for us to authentically communicate that all are welcome here. This campaign is a way to promote the inclusive environment we have here at Ozarks and to move us forward to do even more to promote justice and inclusion on our campus."
The campaign will be promoted on the university's social media platforms through a number of contests and features throughout the semester. A logo has also been created to promote the effort.
The campus community is encouraged to participate by displaying the logo and sharing social media posts throughout the semester.
Topics: Student Events