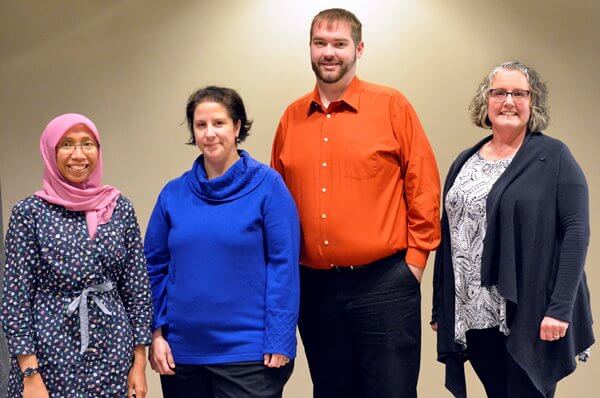 The University of the Ozarks? Board of Trustees presented its annual faculty and staff awards during the 2017 Trustees Awards Banquet, held April 28 in the Rogers Conference Center.
Among the recipients for 2017 were (pictured, from left) Dr. Befrika Murdianti, assistant professor of chemistry; Dr. Karen Frank, associate professor of history; Glendon Jenkins, assistant director of financial aid; and Debbie Eldridge, office manager for the Division of Fine Arts, Humanities and Social Science. Not pictured is webmaster Cara Flinn.
Murdianti and Frank each received the Richard and Katherene Bagwell Outstanding Faculty Award. Eldridge was honored with the Arnold G. Sims Outstanding Staff Award and Jenkins earned the Alvin C. Broyles Outstanding Staff Award. Flinn was presented the 2017 Dr. Rick and Sheree Niece President's Above and Beyond Outstanding Service Award.
Several other faculty members also received service awards, including Jeanna Knight, Phyllis Parsons and Dr. Kim Van Scoy for 10 years; Vickie Alston, Tammy Harrington, Vanessa Hollowell, Brian Hull, Dr. Matt Myers, Dr. Amy Oatis and Joel Rossmaier for 15 years; Wilma Harris, Larry Isch and Debbie Siebenmorgen for 20 years; Dr. Stewart Dippel, John Hodge and Dr. David Strain for 25 years; Dr. Rickey Casey and Patti Schuh for 30 years; and Robert Wofford for 35 years
The trustees also honored two employees who announced their retirements this year, Dr. Pete Leroy and Ginger Hodge.
Topics: About