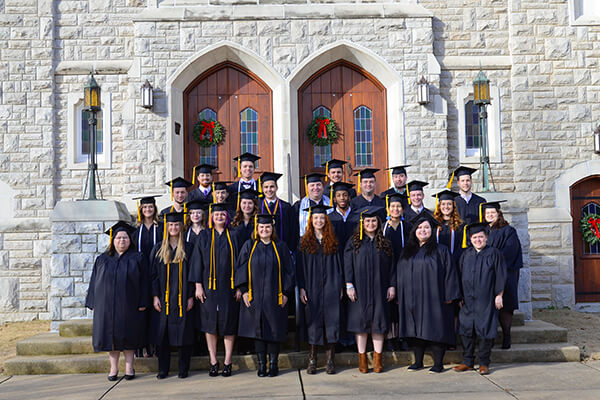 University of the Ozarks awarded bachelor degrees to 26 graduates during the 2018 Fall Commencement on Dec. 15.
Held in Munger-Wilson Memorial Chapel, the ceremony was attended by more than 300 family and friends of the graduates.
Callie (Harmon) Daniels, a 1989 Ozarks graduate, provided the keynote address. Daniels is a professor of mathematics and department chair at St. Charles Community College in Cottleville, Missouri. A former basketball All-American basketball player at Ozarks, Daniels is also an author of college-level mathematics textbooks for students across the country.
The 2018 fall graduates:
Jill Anna Armstrong  
Fayetteville, AR
Bachelor of General Studies
Cum Laude
Breanna Lynn Bates  
Alma, AR
Bachelor of General Studies
Caitlyn Corinne Bell  
Hensley, AR
BS, Biology
Magna Cum Laude
Ana Sofia Camargo Montenegro  
Panama City, Panama
BA, Strategic Communication & Art
Magna Cum Laude
James Alan Coffey  
Seymour, TN
Bachelor of General Studies
Douglas Cade Coggin  
Memphis, TN
BS, Health Science
Magna Cum Laude
Alexis Taylor Felde  
Gilbert, AZ
BS, Health Science
Keshawn Sintrail Franklin
Carmichael, CA
BS, Psychology
Ryan Layne Adan Garcia  
Fort Worth, TX
BS, Management
Cum Laude
Hailey R. Godfrey  
Salem, AR
BS, Health Science
Magna Cum Laude
Erika Ohlin Henderson 
Highland Village, TX
BS, Environmental Studies
Cum Laude
Brooke Lanese Hoffsommer  
Alma, AR
BS, Health Science
Kayley Lanae Holeman  
Drasco, AR
BS, Biology
Cum Laude
Flynn Alexander Hudson  
Rogers, AR
BA, Art
Christian Ryne Johnston  
Hamburg, AR
BA, Radio/Television/Video
Silvia Lizbeth Leiva  
Danville, AR
BS, Political Science
Hannah Michele Oler  
Needville, TX
BS, Mathematics
Andrew James Pierce  
McHenry, IL
BS, Political Science
Jeffrey Allen Proctor  
Hector, AR
BS, Elementary Education
Magna Cum Laude
Elijah James Raatz  
Rogers, AR
BS, Political Science
Taylr Ayn Rad
London, AR
BS, Environmental Studies & Philosophy
Magna Cum Laude
Alexander William James Ross  
Heath, TX
BS, Management
Thomas George Stuart Ross  
Heath, TX
BS, Mathematics
Summa Cum Laude
Katelan McCall Toland  
Gurdon, AR
BA, Religion
Emilio Trevino Vega  
McKinney, TX
BS, Political Science
Bryce Ellis Young  
Plano, TX
BS, Marketing
Checkout our Facebook album: