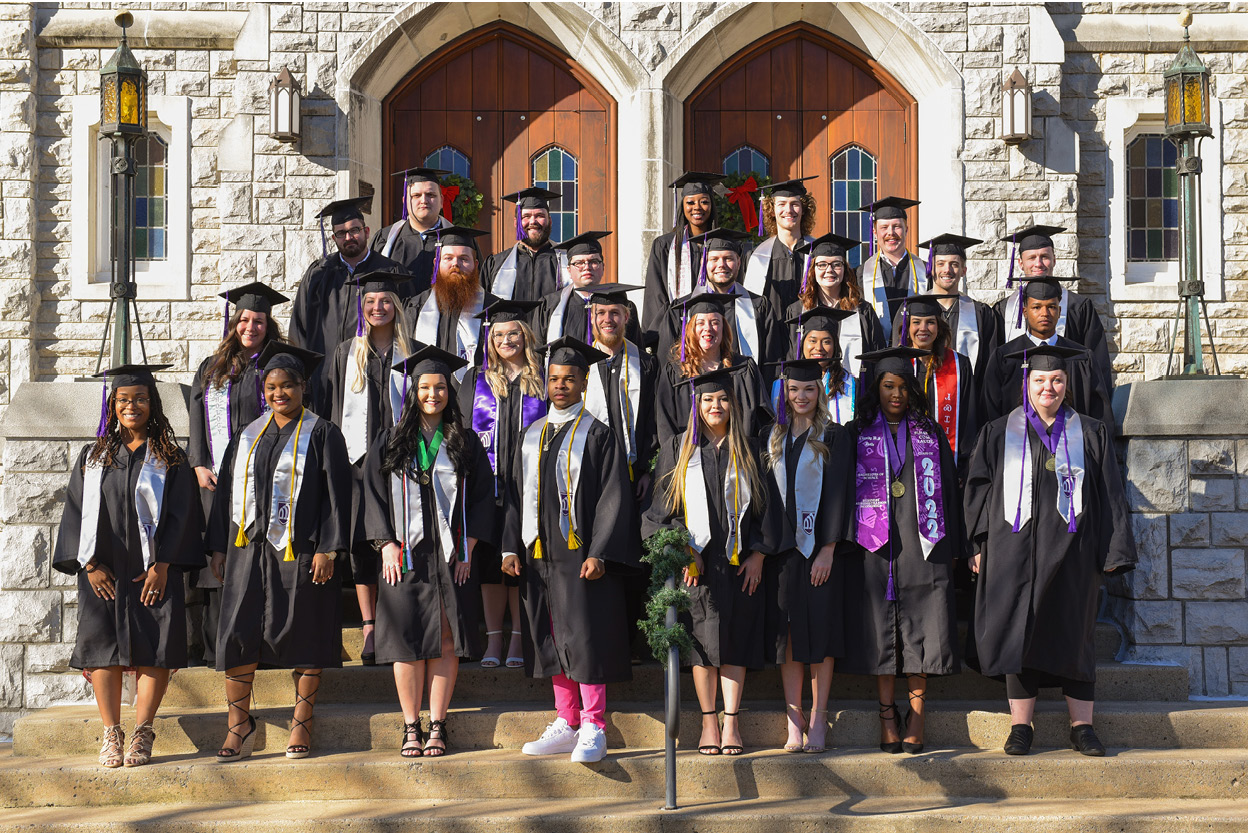 University of the Ozarks conferred degrees upon 30 graduates on Saturday, Dec. 17, during its Fall 2022 Commencement ceremony in Munger-Wilson Chapel.
University alumnus Rick Armstrong '00 of Seattle, Wash., provided the keynote address. Armstrong is the director of product marketing at Tangle, a tech start-up founded by games experts who are building a virtual collaboration platform that brings joy to remote work culture. From Fortune 100 companies to startups, Armstrong's nearly 20 year marketing career spans across games, mobile, SaaS platforms, and immersive technologies. An Arkansas native, Armstrong holds an MBA from the University of Central Arkansas.
Andrea Macario Berben, an elementary education major from Guatemala City, provided the students' welcome address.
"I firmly believe that everyone in this room and the ones who are watching from home deserve to be celebrated," Macario said. "You were the ones who helped us get this far. Thank you for all the effort, all the support, and especially, all the love you gave each one of us as we went through college. I would like to thank everyone who loved us at our worst, everyone who loved us at our best, and everyone who loved us anywhere else in between. It is because of you that we are here today."
The Class of Fall 2022:
Kaleb Anthony Ballard
Beebe, AR
BS, Physical Education
Minor: Athletic Coaching and Health Science
Marshall Alexander Billiter 
Hopkinsville, KY
Bachelor of General Studies
Minors: Physical Education,
Health Science and American
Studies
Samantha Lynn Burke 
Berryville, AR
BS, Elementary Education
Matthew John Coleman 
Gardner, KS
BA, Communication Studies
Minors: Theatre and Health Science
Joel Thomas Coppernoll 
Bryan, TX
BS, Business Administration
Minors: Health Science, History and Religion
Magna Cum Laude
Chandler Alexander Croutch 
Rock Hill, SC
BS, Sociology
Minors: Psychology and History
Nicholas Patrick Freehling 
Bentonville, AR
BS, Elementary Education
Minor: Business Administration
Zuleni Garcia 
Clarksville, AR
BS, Elementary Education
Truman Joseph Hensley 
Edmond, OK
BS, Physical Education and Health Science
Minor: Philosophy
Cum Laude
Jared Steven Hollowell 
Clarksville, AR
BA, Communication Studies
Minors: Health Science and Music
John Stephen Ivester 
Little Rock, AR
BA, History
Minor: Film Studies
William Bronnie Tinker Kinser 
Powell, MO
BS, Physical Education
Minors: Athletic Coaching and Health Science
Benjamin Joseph Lillagore 
Granbury, TX
BS, Environmental Studies
Minors: Sociology and American Studies
Kiplyn Iva Phillips Lindenmuth 
Fayetteville, AR
BS, Psychology
Minor: Sociology
Andrea Sarai Macario Berben 
Guatemala City, Guatemala
BS, Elementary Education
Minor: Psychology
Summa Cum Laude
Jaela Leigh Martin
Star City, AR
BS, Health Science
Minors: American Studies and Sociology
Mirlie Mazile
Cayes, Haïti
BS, Health Science
Minors: Business Administration
Cum Laude
Lyndi Drew Alexandra Melton 
Oologah, OK
BS, Psychology
Minors: Music and Business Administration
Cum Laude
Ty Benjamin Neal Neugebauer
Witchita Falls, TX
BS, Business Administration
Minors: Psychology and American Studies
Faith Victoria Marilyn Hope  
San Diego, CA
BS, Chemistry
Minors: Business Administration, History and Biology
Maddison Nicole Powers 
Eunice, NM
BS, Biology
Minor: American Studies
Magna Cum Laude
Charles Scott Priddy 
Louisville, KY
BS, Business Administration
Minors: American Studies and Environmental Studies
Kayla Michelle Renfroe 
Clarksville, AR
BS, Psychology
Regan Nicole Richmond 
Dover, AR
BA, Music
Minor: Education
Summa Cum Laude
Cassidy Raven Stephanie Rolle 
South Andros, The Bahamas
BS, Business Administration
Minors: Sustainable Agriculture, Spanish and Economics
Summa Cum Laude
Jamal Herman Rolle 
Nassau, The Bahamas
BS, Biology
Minors: Media Production, Philosophy and Chemistry
Cum Laude
Cody Marie Sparks
Lamar, AR
BS, Health Science
Minors: Education, American Studies and Psychology
Magna Cum Laude
Kaylee Lynn Willis 
Oark, AR
BS, Elementary Education
Tori Lynn Woods 
Chicago, IL
BS, Health Science
Minors: Music and Physical Education
Alexis Renae Young 
Moore, OK
BS, Biology
Minors: History and Political Science