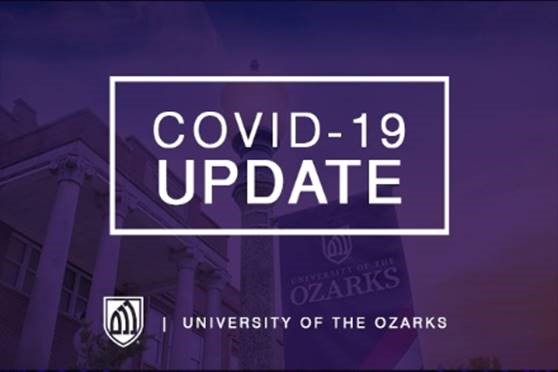 University of the Ozarks is extending Spring Break and cancelling all classes, effective immediately, for the next two weeks to best protect students and the broader community in response to risks associated with the coronavirus (COVID-19) pandemic. Classes will resume on Monday, March 30, in an all-online method of delivery and continue online for the remainder of the semester, University President Richard Dunsworth announced on Friday. 
The University will remain open and most student services, including housing, dining and academic support, will continue to be provided for students who choose to remain on campus. All campus events, including intercollegiate athletic competitions, concerts and theatre performances, have also been cancelled. 
While there are no confirmed or suspected cases of COVID-19 on the U of O campus, the move to transition to an all-online format and cancel on-campus events allows the University to implement "social distancing" protocols that are recommended by the Centers for Disease Control and Prevention (CDC) to minimize the spread of the virus.
"The last few days and weeks have been unlike anything any of us have ever seen," Dunsworth said. "The fluidity of the situation and the pace at which the environment is changing is creating an ever-growing sense of angst and worry. However, this University has an incredible legacy of navigating through uncharted waters and difficult times and I am certain that our core Christian values, such as service, hospitality and justice, will help guide us through these trying times." 
Dunsworth said the University will spend next week preparing faculty and students for the transition from face-to-face teaching to virtual instruction. 
"One of the greatest strengths of our University is the tight-knit and supportive community that we have all come to rely on," he said. "While this situation presents many unique and serious challenges, we are confident that this collective spirit of collaboration and support will elevate us as we navigate the coming days and weeks."
Topics: About, Academic Support, Academics, Parents, Student Life