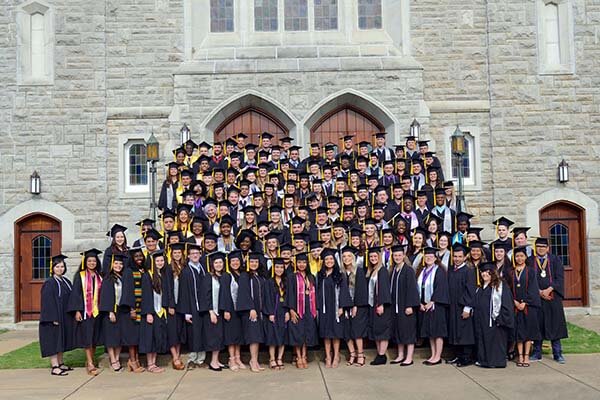 University of the Ozarks conferred bachelor degrees upon 131 graduating seniors during its 2019 Spring Commencement ceremony, held on Saturday, May 18 on the campus mall.
The Class of 2019 is the largest graduating class in the University's 185-year history. More than 2,000 family members and friends attended the ceremony.
The University awarded 92 bachelor of science degrees, 32 bachelor of arts degrees and seven bachelor of general studies degrees.
Alumna Dr. Jeannie Oliver, an educator and evangelist from Horn Lake, Mississippi, served as the keynote speaker.  Oliver is a professional academic advisor at Arkansas State University and the founder of the Women Without Walls nonprofit ministry.
Graduating senior Angie Castro-Flores, a strategic communication major from El Salvador, provided the senior's welcome address and Emilie Williams, a religion and philosophy major from Keller, Texas, led the seniors in the Turning of the Tassel ceremony.
The Class of 2019 includes:
Olivia Lorraine Allard, Rogers, AR
Alma Elena Arredondo Lopez, Paris, AR
Melissa Wmanda Stessyka Augustin, Port au Prince, Haiti
Emily Grace Autry, Fort Smith, AR
Vincent Orazio Barber, Highland, NY
Jonathan Henry Barham, Emmet, AR
Skyler Bleaux Barnes, Farmington, AR
Lamara Bazashvili, Moscow, Russia
Shayanah Ortance Bien Aime, Orlando, FL
Paul Anthony Billings, Dallas, TX
Hailey Elizabeth Bromley, Hensley, AR
Christina Janean Burns, Memphis, TN
Neyssa Maella Cadet, Port au Prince, Haiti
Fantasia Carol Canady, Hartman, AR
Shelby Lynne Carlton, Clarksville, AR
Angie Nathaly Castro-Flores, San Salvador, El Salvador
Katherinn Jamileth Chamalé López, Guatemala City, Guatemala
Clay William Conley, Roland, OK
Cristin Rhiannon Connor, Gunter, TX
Maria De Los Angeles Corea Dubon, San Pedro Sula, Honduras
Eleazar Nava Coronado, Jonesboro, AR
Justin W. Crider, Dallas, TX
Jeremy Brent Cripps, Paris, AR
Ashton Daniel Davis, Clarksville, AR
Derric Colton Davis, Mesquite, TX
Haley Marie Deal, Fort Worth, TX
Ny'Trell Je Qukian Dean, Amarillo, TX
Emily Kathleen Dice, Houston, TX
Lauren Josephine Dotson, Smithville, AR
Bernis Dakota Ebarb, Nevada, TX
Richard Travis Farrar, Plano, TX
Brandi Rochelle Fischer, Dickinson, TX
Makara Julise Frazier, Smackover, AR
Duston Ray Furtick, Crandall, TX
Sean Andrew Garcia, Fort Worth, TX
Rosendo Garcia Cortes, Clarksville, AR
Lance Martez Gardner, St. Paul, MN
Jonathan Cody Gonzales, Austin, TX
Diamond Chavae Goodwyn, Gladewater, TX
Dylan Cole Gray, Siloam Springs, AR
Christopher Shakur Green, Lewisville. TX
Shanice Courtney Guzman, Corozal Town, Belize
Bailey M. Hall, Sheridan, AR
Benjamin Louis Hall, Fairbanks, AK
Daniel Lee Hall, Sherwood, AR
Haley Ann Marie Hanks, Carthage, TX
Falon Kay Hanson, Fayetteville, AR
Edladin Hensen Harmon, Dallas, TX
Selena Alexandria Haunty, Belton, MO
James Austin Hedgpeth, Frisco, TX
Kaitlyn Elizabeth Henrietta, Aledo, TX
Fernanda Hernandez Sanchez, Michoacan, Mexico
Nathan Woodrow Hodge, Olive Branch, MS
Mary Cathleen Hoiland, Clarksville, AR
Chauzney Breanna Hooks, Texarkana, TX
Spence Jean Baptiste, Tabarre, Haiti
Kenneth Skylar Jewett, Bryant, AR
Romeo Desmond Josey, Nassau, The Bahamas
Brooklyn Nicole Keeling, Farmington, AR
Claire Elisabeth Kennedy, Arlington, TX
Adam Michael King, Memphis, TN
Chance Arivann Koy, Haltom City, TX
Grasyn Michelle Langley, Dallas, TX
Sierra Nicole Lasher, Olive Branch, MS
Gabriel Vincent Lavoi, Lake Charles, LA
Tristian Dale Leonard, Fort Gibson, OK
Rocky David Liveoak, Granby, MO
Jada Kimecia Mack, Monroe, LA
Maria Eugenia Marcia Mora, Rivas, Nicaragua
Henry Aldair Marín Arias, Colón, El Salvador
Fredy M. Martinez, Hot Springs, AR
Andrew Reid Mashburn, Little Rock, AR
Whitney Nicole McCrary, Mayflower, AR
Kaci Reene McDonald, Traskwood, AR
Ryan Carter McNeill, Rogers, AR
Rodman Stewart Mena Cespedes, Medellin, Colombia
Cheyanna Jordan Miller, West Plains, MO
Emily Anne Miller, Gravette, AR
Maggie Elizabeth Miller, Pittsburg, KS
Julio Andres Molina Pineda, Tegucigalpa, Honduras
Shelby Taylor Morales, England, AR
Kimberly Lizbeth Moran, Danville, AR
Kaija Javee' Muldrew, Texarkana, TX
Paige Michele Myers, Harrison, AR
Krystle Desha Nicholson, Clarksville, AR
Robert James Norton, Lamar, AR
Ana Paulina Ojeda Gonzalez, Chihuahua, Mexico
Riley Jackson Oliver, Bowie, TX
Daniel Olvera Cruz, Garland, TX
Carlos Israel Orozco Castillo, Jalapa, Nicaragua
Hailey Nicole Ostrander, Alma, AR
Tonya Michelle Palmer, Monticello, AR
Stephanie Lynn Payton, Hackett, AR
Regan Douglas Puryear, Gravette, AR
Mitchell Dae Rains, Pangburn, AR
Cody Alan Rea, Clarksville, AR
Samantha Leann Reed, Wynne, AR
Amada Maria Reeve, Memphis, TN
Miguel Angel Reyes, Canyon, TX
Bradley Dean Rice, Fort Smith, AR
Edwin Antonio Rodriguez Matta, Mayaguez, Puerto Rico
Rebecca Ann Rogers, Oologah, OK
Oscar Rodrigo Roldan Leyva, Mexico City, Mexico
Jasmine Nicole Rosales, Berryville, AR
Brenda Gabriela Sandoval Hernández, Guatemala City, Guatemala
Rhett Allen Sells, Wagoner, OK
Jacob Ezekiel Sherrill, Katy, TX
Rebeca Briana Silva, Rockwall, TX
Emma Aubree Sisson, Clarksville, AR
Hannah Nicole Smith, Blue Eye, MO
Savannah Katelyn Smith, Perryville, AR
Dalton Emerson Spurgeon, Lee's Summit, MO
Zachary Dale Stanley, Fayetteville, AR
William L. Kaden Stuart, Keller, TX
Samuel Jaden Swartz, Granby, MO
Brady Andrew Taylor, Plano, TX
Jamy Odeth Tení Beltetón, Cobán, Guatemala
David Tyler Thomas, White Hall, AR
Catherine Marie Thompson, Conway, AR
Samuel Pearce Todd, Bentonville, AR
Manuel Ray Torres, Keller, TX
Mackenzie Paige Turley, Clarksville, AR
Breyden Lee Varner, Collinsville, OK
Shane Alan Walker, Fort Worth, TX
Zachary Taylor Walker, Fort Worth, TX
Georgia Warren, Wexford, Ireland
Anicka Danielle Wilcox, Ola, AR
Emilie Katelyn Williams, Keller, TX
Bahar Yapal, Berlin, Germany
Katherine Yosmeri Zamora Lagos, McKinney, TX
Isaías Daniel Zapata Batista, Volcan, Panama