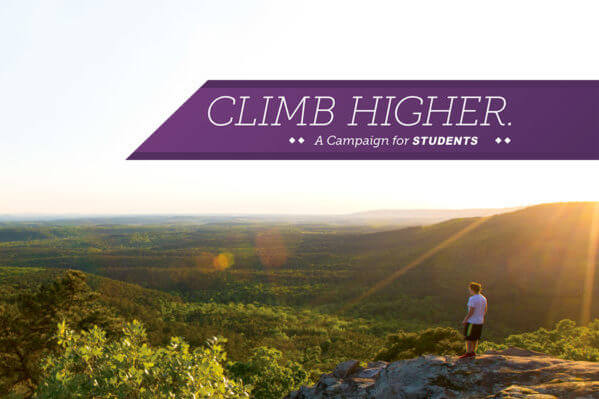 University of the Ozarks officials announced on Friday a $55 million fundraising campaign through 2020 that will emphasize student scholarships as well as science and athletic facilities.
The announcement of "Climb Higher: A Campaign for Students," came during a special ceremony in the university's Robson Library that was attended by more than 200 students, faculty, staff, trustees and members of the community.
Sue Tull of Little Rock, the chair of the University's Board of Trustees, called it a "very special day for us to publicly communicate this wonderful news."
"We believe that this campaign will help our students go further and climb higher to create a generation of bold new thinkers with the skills and knowledge to lead in a changing world," Tull said. "We firmly believe that this effort will not only transform our campus but, first and foremost, will transform the lives of our students who are our highest priority."
University President Richard Dunsworth shared with the audience that the private, Presbyterian-affiliated university has already raised $29.9 million toward the $55 million goal during the silent phase of the campaign, which began on July 1, 2014. The campaign will run through Dec. 31, 2020.
"We've been blessed with a great start to this campaign with several gifts for scholarships, endowments, renovations and athletic facilities," Dunsworth said. "We plan to build on this impressive momentum over the next several years with the support of our tremendous alumni, friends and supporters who believe strongly in the mission and values of this university."
Reminding the audience that one of the university's primary objectives is reducing student debt and making an Ozarks education affordable, Dunsworth said student scholarships will be a top priority during the Climb Higher campaign. In November, the university announced a $10 million gift from the Walton Family Foundation to establish an endowed scholarship program to assist promising students from low and middle income families.
"We're putting a stake in the ground to say we're serious about economic justice and about making higher education accessible," Dunsworth said. "Here in the River Valley, across Arkansas and throughout this region, if a student wants what we can provide we're going to do everything we can do to make that education affordable. Our goal is to create an environment where a student can receive a high-quality private, Christian education and not be burdened with more debt than they should have. We see that goal as wholly consistent with our mission and long history of social and educational leadership."
Another area of emphasis in the campaign is science and laboratory facilities. The university plans to expand and enhance its Smith-Broyles Science Building, which was built in 1969 and received renovations in 1996 and 2011.
"What you read on the national landscape about STEM is also alive and well on this campus," Dunsworth said. "The demand for professionals in the STEM fields is only going to grow. Our professors and students have done an amazing job with the resources they have and that's evidenced by the great success we've had in placing students in graduate and professional schools in the sciences. We have amazing faculty who invest their hearts and soul and expertise into students. We want to provide them with better labs, technology and space to grow so that we can support the students we have today and the ones who will be here in the future."
The effort to upgrade athletic facilities will include an emphasis on baseball, softball and soccer fields as well as a new clubhouse. The university announced last fall that they will begin construction on a new championship-caliber tennis facility this summer after receiving a gift from a donor who wished to remain anonymous.
"For many students, athletics is a part of their lives and they don't want to give it up when they go off to college," Dunsworth said. "They know they are not here to major in baseball or basketball, but just as they are committed to their academic pursuits, they are committed to be the best they can be on the athletic fields. We are in a very competitive part of the country and prospective students are evaluating us on what our facilities look like. We want to take what we have and make it a little better."
Other major gifts that have been secured in the silent phase of the campaign included a $2.5 million gift from Frances E. Wilson for renovations to Munger-Wilson Memorial Chapel and construction of the new Wilson Family Plaza in 2016, a $2 million commitment from Dr. Helen McElree for faculty enrichment, and a $1 million gift from the late Virginia L. King for student international study opportunities.
The silent phase of the campaign also included more than 50 scholarship endowments established by individuals and families.
"The thing about scholarships is that people can invest in them without having to donate hundreds of thousands of dollars and they make an immediate impact on students," Dunsworth said. "People can establish a scholarship to honor a friend, a former classmate or professor or even a current student. More than 50 percent of our students are eligible for federal financial support, which means their families are doing the very best they can but there may not be a whole lot left at the end of the month for education. If we're able to create scholarships and build our endowment, we're opening a faith-based Christian education for students who may not see that as an option."
The Climb Higher campaign is the second most ambitious fundraising effort in the university's 183-year history. The Pride & Promise Campaign from 1998 to 2003 raised $60 million for faculty positions, salaries and facilities. In 2011, the university completed the Promise of Excellence Campaign that raised $40 million for endowments and facilities.
Topics: Campaign